Memories of Mac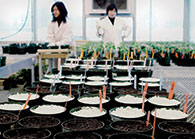 Nicolas Morin
Thank you for your focus on Macdonald Campus last issue. As a recent graduate, I can attest that despite all the "agie" stereotypes, Mac is a world-class institution for zoologists, environmentalists, dieticians and, yes, agricultural scientists.
As a New York City kid, I was pleasantly surprised with the assortment of disciplines and the diversity of backgrounds of the students there, given its small population. (My high school in Queens had two thousand more students!)
I joined Mac in 1996 a shy, blend-into-the-crowd biophiliac, and graduated as the campus student president and valedictorian. The tight-knit community of students and faculty is absolutely unique and nurturing as perhaps no other university setting can be. For a biologist, the hundreds of acres of forested land, hands-on field experience and multitude of animal and plant courses was an absolute paradise.
Without finding Mac I would never have been able to fulfill my childhood dream of becoming a collections-based zoologist. Where many universities have shifted their focus almost completely to the more economical side of biology (pharmaceuticals, bioinformatics, etc.), Mac kept its focus on fundamentals and practical applications. Because of that focus, Mac graduates stand out among their peers in many sub-disciplines of the sciences.
Mac also gave me my wife. I met Annemarie Noël herping (collecting amphibians and reptiles) during a Natural History of Vertebrates class outing in the Arboretum. (You know you've found the right one if she can still love you after seeing you do a belly flop to catch a garter snake.) Mac has such a special place in our heart that we got married there in 2004.
Prosanta Chakrabarty, BSc(Agr)'00
Postdoctoral Fellow
Department of Ichthyology
American Musuem of Natural History
New York, New York

The Mighty Martlets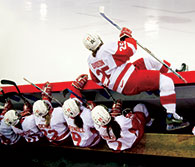 Claudio Calligaris
I very much enjoyed the article about the Martlets hockey team in your latest issue ("Net Gains," Summer 2007). I have participated in and followed sports since boyhood, but have, of late, become increasingly disillusioned by professional sports. After I read the fine article on McGill's fine women's hockey team, it occurred to me I might follow college athletics more closely. They seem closer to the ideal of what sport should aim toward, what sport can and should be. Now, I will go check if the Martlets have a website...
Brother Luke Michael Couillard, MSW'73
Westminister Abbey
Mission, BC
I was pleased to see the article on the Martlets hockey team and the reference to coach Peter Smith: "But in addition to their performance on the ice, Martlets players have to meet McGill's tough academic standards — and Smith is careful to stress to his players that school should always come before hockey." McGill does not have special admission criteria for athletes, but we find that people who succeed in school are often successful in other aspects of life, such as athletics. In 2006, McGill student-athletes established a Canadian record for academic performance.
One hundred and forty-seven (38 per cent) of McGill's student-athletes earned Academic All-Canadian status under Canadian Interuniversity Sport guidelines (earning a GPA of 80 per cent or better). Over the past 17 years, McGill leads all CIS universities with a total of 1,526 Academic All-Canadians.
Morton Mendelson, BSc'70
Deputy Provost (Student Life and Learning)
McGill University

Define Evil
In reference to the article "Building the Case Against Evil" (Summer 2007), I would like to ask the members of the Centre for Human Rights and Legal Pluralism how they define "war crimes." The reason I ask is that I found the list of cases mentioned in the article to be rather limited. I know far less about international law than they do, but I can recognize war crimes and violations of human rights when I see them. It does not matter to me whether our "enemies" or our "allies" are committing them.
For instance, the lack of world reaction to the detention facilities (a euphemism for concentration camps) operated by the U.S. in Iraq, Cuba and elsewhere is a sad commentary on our world. There are people in those facilities whose human rights have been violated daily for years. There are several lawsuits going on in connection with those detainees. Those efforts could be assisted. I was hoping to see that item on the top of your list of concerns. I saw nothing. Don't shy away from certain cases because they have to do with allies. I wish you good luck with your program.
Eugene Bercel, BEng'63
Naples, Florida

Not Just a Deep Thinker
Philosophers can also be doers.
I met McGill emeritus professor of philosophy Charles Taylor ("Taylor Takes Templeton," Summer 2007) in the spring of 1957 in Vienna, where he was managing a refugee shelter for Hungarian students who left their country after the failed revolution of October 1956. It was his help and encouragement that led many of us to choose Canada and McGill for a new future. We knew 50 years ago that he was someone very special.
Gabriel Laszlo, BEng'60
Ottawa, Ontario

Debating the Boycott
I write in reference to Principal Munroe-Blum's condemnation ("Breaking Down Barriers," Summer 2007) of the proposed boycott of Israeli universities by the United Kingdom's University College Union. Whatever view one might have of the proposed boycott, and there is indeed a plethora of views on the issue among partisans of the Palestinian-Israeli conflict, Principal Munroe-Blum's intervention manifests a double standard. She has devoted much ink and energy in the McGill News and elsewhere to condemn the boycott proposal. I wonder if she has been moved to the same extent, if at all, to condemn specific measures that cause Palestinian academics and students to suffer and that violate their academic rights and freedoms, be it through Israeli checkpoints, military closures of universities and schools, or outright violence against the Palestinian academy by the Israeli army.
I stand to be corrected, but Principal Munroe-Blum has not condemned the illegal wall constructed by Israel on Palestinian land, choking the Palestinians off from their livelihoods and schools. Yet, she speaks of breaking down barriers.
The oppression suffered by Palestinian academics and students under Israeli occupation seems to be less worthy of condemnation.
Are not our academic colleagues in Palestine as much a part of the McGill community as are "our academic colleagues in Israel"? Principal Munroe-Blum undoubtedly claims to defend everyone's academic rights and freedoms equally, but it seems that some people are more equal than others.
Azim Hussain, BA'95, BCL/LLB'00
Montreal, Quebec
Principal Munroe-Blum responded to Mr. Hussain and shared her comments with the News. She wrote, "The fact that Israeli academics and institutions are the target of the proposed boycott is irrelevant. My stance on this issue in no way relates to Israeli or Palestinian politics. Rather, my statements, and those of many of my academic colleagues, are based on the firm conviction that a boycott of any group of academics and universities should be roundly condemned."

Thinking Creatively
Regarding your summer issue's "Letters to the Editor," I would also like to comment on the letter from Bev Akerman, who so categorically regretted that McGill had no creative writing program, and on the response from your editor, who says courses have been offered for "the last 10 years or so." Perhaps there was a hiatus somewhere that I don't know about, but back in 1970, Bharati Mukherjee and Paddy Webb ran prose and poetry courses in creative writing at McGill and I was in the poetry section. I made friends with whom I am still in contact today as a result of that course.
Lidia Wolanskyj, BA'74
Yaremche, Ukraine

Sexist Story?
Regarding your article on astrophysicist Vicky Kaspi ("The Star Gazer," Summer 2007), the next time McGill News features a pioneering male scientist, perhaps the details of his daily child-care schedule could be provided too.
I am joking; the inclusion of that information was glaringly sexist.
I seriously doubt that an article on a man would ever include anything on his family life, beyond the name and (maybe) title of his spouse.
Elizabeth Hostetter, MLIS'04
Ottawa, Ontario
Ms. Hostetter raises a fair issue and the magazine's editors certainly weren't blind to it when we ran our piece about Professor Kaspi. The decision to include aspects of Kaspi's family life in the article was the subject of some debate at the News itself.
In our interview with Kaspi, she mentioned how, in her high school yearbook, she had listed her life ambitions: to be a famous scientist and to have six kids. We were struck by how she had come so close to achieving those goals and how, on a daily basis, she worked hard to make sure that neither side of her life got short shrift. We weren't looking for a "mommy" story per se, but Kaspi herself turned out to be quite thoughtful and engaging on the topic. Maybe magazine and newspaper profiles ought to focus on that aspect of our lives more often — for men and women. It's part of what makes us human and of interest to one another. If readers do detect that the subject of parenting only comes up in McGill News stories about women, please feel free to bust our chops. Hard.

What did Cyril Say?
I was surprised to see the photo of F. Cyril James, and delighted to learn that it was taken at the 1950 graduation, as it was at that event that I received my science degree from him. Furthermore, this is an opportunity to find out, if anyone remembers, just what Dr. James said to each graduate. This question has dogged me for the last 57 years, as my recollection is that he said, as I approached him, either, "Oh brother," or "Here comes another," or "I know your mother." I realize none of these are likely, but I really would like to set my mind at rest. So, if you remember, please let me know.
Joseph Shapiro, BSc'50
LaCrosse, Wisconsin