Homecoming
Seeing old friends is always cause for celebration, but the alumni who attended Homecoming 2007 found themselves in the midst of a truly landmark event. Over 4,000 graduates packed McGill's downtown and Macdonald campuses between October 18 and 21 for a weekend of exciting and educational activities. For some graduates, the trek back was a long one—Homecoming participants journeyed here from such places as the Dominican Republic, England, Israel, Puerto Rico, Barbados, the Czech Republic and Bermuda. While in Montreal, they helped to mark an extraordinary series of special occasions, including the 150th anniversary of the McGill Alumni Association (MAA), the closing festivities for Mac's Centennial, and the first-ever Parents Weekend. To top it all off, alumni had the opportunity to take part in the official kickoff ceremonies as Campaign McGill: History in the Making got underway. The wine glasses have barely been put away, but the MAA staff and volunteers are already hard at work planning for next year. Even though 2007 was great, they're determined to make Homecoming '08 even better.
Cities in crisis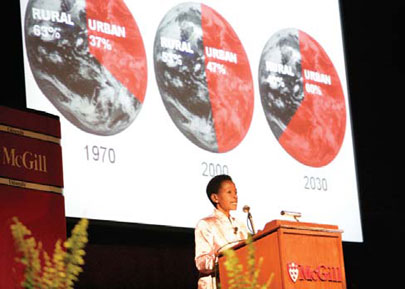 Nicolas Morin
Anna Tibaijuka illustrates the rapid and chaotic urbanization occurring in developing countries around the world. Over 650 people got up early on a Saturday morning to hear the Executive Director of the United Nations Human Settlement Program, (UN-HABITAT), discuss ways to make cities more socially and environmentally sustainable.
Don't build 'em like they used to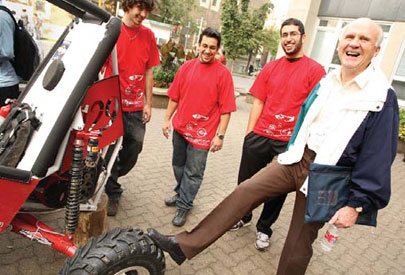 Owen Egan
Following the Dean's Breakfast for the Faculty of Engineering, mechanical engineering students Mathieu Patenaude, Nicholas Gervasi and Karim Sawaf look on as grad Eduard Hoyer, BEng'67, kicks the tires of their Mini Baja. No word on whether they took it for a spin around campus.
Teacher's pets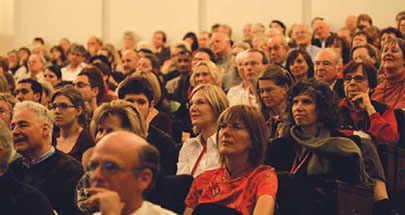 Nicolas Morin
Once again, alumni flocked to Homecoming's Classes Without Quizzes (CWOQs), hoping to relive their student days without the stress of exams. Enthusiastic participants spent the afternoon learning about everything from the history of gossip magazines in Canada to scientific explanations for paranormal events.
Hearing aid
Nicolas Morin
In his CWOQ lecture, "This is Your Brain on Music: The Science of a Human Obsession," psychology professor Daniel Levitin explored why our favourite songs inspire us to feel love, longing or an uncontrollable urge to get up and dance. Levitin is an award-winning producer and consultant who has collaborated on albums with the likes of Stevie Wonder, Steely Dan and Blue Öyster Cult.
Word buffet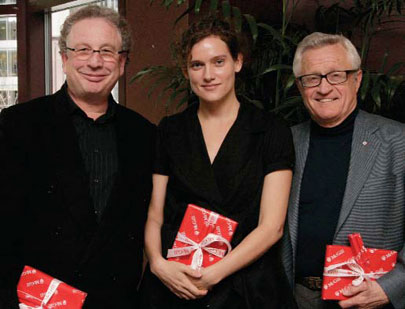 Nicolas Morin
(Left to right) Authors Bill Brownstein, BCom'69, Heather O'Neill, BA'94, and Alex K. Paterson, BCL'56, served up a side of literary insights at this year's Lunch et Livres event. The three graduates read from their latest works, answered questions and signed a few books for their adoring fans.
Unearthing Montreal's Past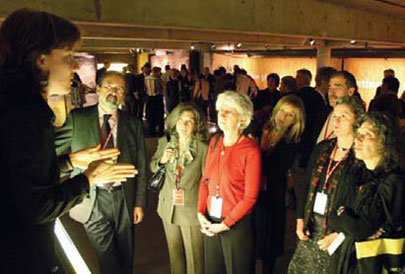 Nicolas Morin
Participants in the first-ever Parents Weekend got an in-depth look at Montreal's history during a tour of the Pointe à Callière Museum. Nearly 600 proud parents attended an array of family-friendly events, including classes, a football game and a hike on Mount Royal.
Schulich shines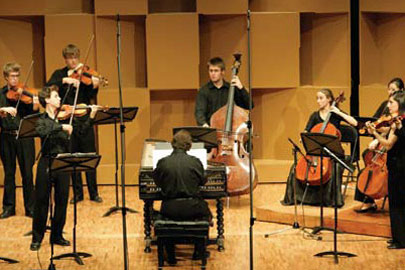 Nicolas Morin
The Spotlight on Schulich concert got Homecoming 2007 off to a classy start.
The musical extravaganza featured live jazz, opera and orchestral samplings, plus a demonstration of experimental instruments and innovative research gadgets, all from the faculty and students of McGill's world-renowned Schulich School of Music.
Chuckles all around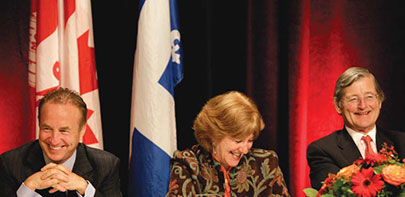 Nicolas Morin
The jokes came fast and furious again this year at the 38th annual Leacock Luncheon. Head table guests, international entrepreneur and philanthropist John McCall MacBain, BA'80, Westmount mayor Karin Marks, CertEd'72, and Senator Michael Meighen, BA'60, couldn't resist the sharp wit of guest lecturer George Bowser from the acclaimed comedy duo, Bowser & Blue.
Raining laughs

Nicolas Morin
Chancellor Richard Pound, BCom'62, BCL'67, braces for a deluge of good-natured ribbing from the Leacock Luncheon's perennial moderator, emeritus professor of architecture Derek Drummond, BArch'62. McGill Alumni Association board member Daniel Lalonde, BCom'67, Martlet volleyball star Jennifer Thompson, McGill board of governors member Lili de Grandpré, MBA'81, and guest lecturer George Bowser momentarily forget that they could be next.