Keys to our Success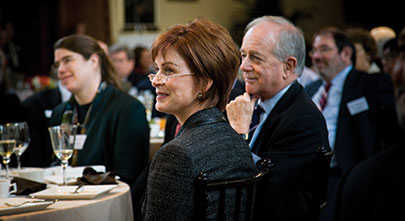 Principal Heather Munroe-Blum sits with Campaign McGill co-chair Yves Fortier at a luncheon following the campaign's official launch.
These are rewarding days for McGill. In November, the London-based Times Higher Education Supplement ranked McGill the number one Canadian university and number 12 among the world's top 200 universities — a significant jump from 21st last year.
As if that weren't enough good news, McGill was named Canada's number one medical/doctoral university in the annual Maclean's University Rankings, for the third consecutive year.
The medical/doctoral category includes the 15 Canadian universities that possess a broad range of PhD programs as well as medical schools.
Certainly, McGill entered the 21st century with advantages shared by no other Canadian university, including the highest proportion of graduate students in Canada, an outstanding and enviably pan-Canadian and international student body and faculty, and a powerful global reputation.
We have built upon these strengths by choosing our targets carefully, and by making hard choices when necessary, to emphasize areas of academic priority when we allocate resources or make new faculty appointments. For their part, our faculty members continue to distinguish themselves from their peers at other universities, in terms of their dedication to teaching and their interest in multidisciplinary research collaboration. And we are placing a major emphasis on the quality of our undergraduate programs, through the follow-up on the Principal's Task Force on Student Life and Learning.
All of this being said, we have also benefited—indeed Canadian universities in the broadest sense have benefited— from strong leadership at the national and provincial levels.
The fact that 11 Canadian universities are now on theTHES global top 200 list is in part a reflection of policy decisions made over the past decade.
In particular, the creation of the Canada Research Chairs program and strong private support have helped make it possible for McGill to hire close to 800 new professors since 2000. The establishment of the Canada Foundation for Innovation, enhanced support for Canada's national granting councils, and Quebec's strong support for university research have also played a key role in our research success. And generous support from our alumni and friends, as well as graduate funding from Quebec and Canada's national granting councils, have made it possible for McGill to attract undergraduate and graduate students that, by every measure, rank among the top in the world.
The result: McGill graduates, McGill faculty and McGill research are having a global impact in virtually every field of human endeavour.
I am very proud that our university—actually, our faculty, our students and our programs—are receiving such acclaim. The reality, however, is that competing universities, at home and abroad, are hardly standing still.
Neither is McGill. In October, we launched the most ambitious fundraising campaign in Canadian university history, Campaign McGill. We are asking our alumni and friends in Montreal, across Quebec and Canada, and around the world to help us raise $750-million for our students, our faculty and our programs.
Campaign McGill will help us ensure we can welcome talented students with the intellectual gifts and character to succeed at McGill, but who cannot afford to come here without assistance. It will provide an opportunity for alumni and friends to help us attract and retain superbly talented professors and graduate students, and to support their work once they choose McGill and Montreal.
We launched Campaign McGill at the beginning of Homecoming and our first-ever Parents' Weekend, involving hundreds of students, staff, faculty, alumni, parents and friends, because this Campaign represents our collective ambition to attract and retain top talent, to increase access to quality education, and to further enhance our ability to contribute as a great international university.
We are also continuing to advocate in partnership with our Quebec and Canadian university peers for a progressive policy approach to funding teaching and research that is competitive on the world stage—for the benefit of Quebec and all of Canada. Faculty and students at Canada's leading research-intensive universities have achieved so much over the past decade — and we can achieve so much more with the right support.
Through Campaign McGill, and through the ongoing advocacy efforts of our alumni and friends, we will be telling our stories in Montreal, Quebec City and Ottawa, and from Bay Street to Beijing and beyond. In the nearly 200 years since James McGill made the magnificent bequest that established this University, every generation has redefined our priorities and worked diligently for their achievement. Now, it's our turn, and Campaign McGill will be a powerful vehicle to carry our legacy forward.