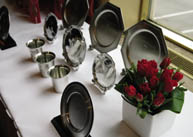 It's too late, you missed it. The McGill Alumni Association's Honours and Awards Banquet has always been a popular event, and this year was no exception. The MAA gathered at the St. James's Club on May 19 for great company and bad jokes, and to pay tribute to some of the best volunteers of the year among McGill graduates, friends, faculty, students and staff. The News is pleased to offer warm congratulations to all award winners and thank all of McGill's extraordinary volunteers. For those who didn't make it to the event, here are some snapshots of the evening's highlights.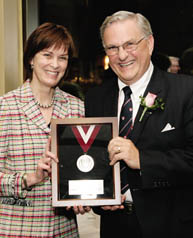 Principal Heather Munroe-Blum presented Robert Winsor with the Alumni Association's top prize, the Award of Merit. Among Winsor's many contributions to McGill: he was instrumental in the creation of Friends of McGill Football and helped oversee the renovation of the McConnell Winter Arena.
---

Award of Merit
Robert B. Winsor, BEng'62
E.P. Taylor Award
Doreen Laszlo, BEd(PE)'62, DDS'69
David Johnston Award
Nicholas Kasirer, BCL'85, LLB'85
Distinguished Service Awards
Stuart (Kip) Cobbett, BA'69, BCL'72, and Harold Blenkhorn, BSc(Agr)'50
Honorary Life Membership Awards
June Morrier and G. Stewart Brown
Faculty Award for Excellence in Alumni Education
Antonia Maioni
President of the Year Award
Brett Hickey, BCom'02
Special Recognition Award
Kappy Flanders
(Mini-Med, Mini-Law, Mini-Music)
Charles Peters Branch of the Year Award
McGill Alumni Association of Southern Alberta
Event of the Year Award
Yorkville Brunch and Gallery Tour
organized by Mary Usher Jones, BA'67, and Andrea Alexander, BPE'60
D. Lorne Gales Award
Class of Engineering of 1955
Gretta Chambers Student Leadership Award
Shawna Starnes, BA'05,
Jennifer Becker, BA'05, and
Seong-Eun "Esther" Oh, BA'06
---
Changing of the guard: outgoing Alumni Association president Morna Flood Consedine, DipEd'71, MEd'77, DEd'85 (right), handed over the reins to successor (and the evening's master of ceremonies) Ann Vroom, BA'67, but not before receiving a gift from the MAA in appreciation of her many contributions.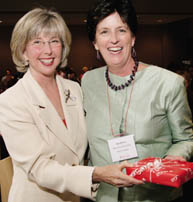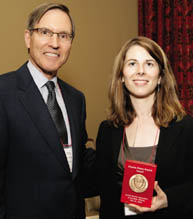 The Alumni Association of Southern Alberta earned the Charles Peters Branch Award for organizing a wide range of popular events, from symphony outings to softball games. C. Timothy Peters, BA'61 (the prize is named after his father, a longtime supporter of McGill and the MAA), presented the award to Silvia Scandella, BScArch'93, BArch'94, president of the Southern Alberta branch.
Brett Hickey, founding president of McGill's New York Young Alumni Association, received a friendly squeeze from Alumni/Annual Fund associate director Trish Duff, BA'88, after being named Branch President of the Year.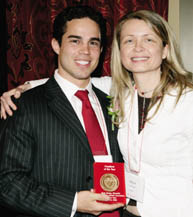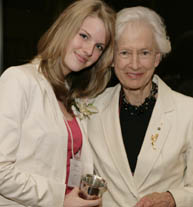 Former Student Organization for Alumni Relations president Shawna Starnes was one of three new alumnae to earn the Gretta Chambers Student Leadership Award from the prize's namesake, Chancellor Emerita Gretta Chambers.
G. Stewart Brown (right), who has played a pivotal role in funding undergraduate teaching labs, scholarships, research-oriented greenhouses and other priority projects at Macdonald Campus, received an Honorary Life Membership Award from MAA honorary secretary Bruce Dobby, BSc'76, DDS'81.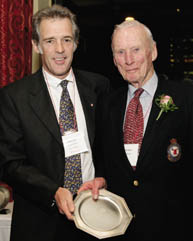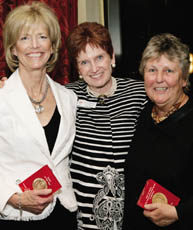 Honora Shaughnessy, MLS'73, Senior Executive Director of the Alumni Association, is flanked by Toronto Branch stalwarts Mary Usher Jones and Andrea Alexander, who earned Event of the Year honours for organizing an annual gathering for Toronto-area grads that features brunch and a tour of some of their city's finest art galleries.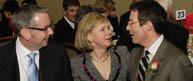 Dean of Law Nicholas Kasirer (right) knows a thing or two about rallying the troops - his faculty boasts the highest average giving level at McGill from its alumni, and the 2005 McGill Centraide Campaign, which he co-chaired, surpassed its fundraising target. Winner of this year's David Johnston Award, Kasirer received congratulations from former Dean of Law (and newly named president of the University of British Columbia) Stephen Toope, BCL'83, LLB'83, and former Dean of Agricultural and Environmental Sciences Deborah Buszard.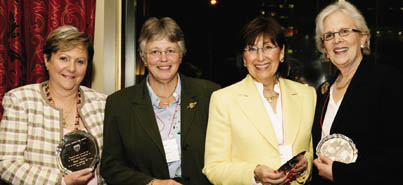 McGill's wildly successful "Mini" public lecture programs (Mini-Med, Mini-Law, Mini-Music), shepherded by Kappy Flanders, received a Special Recognition Award. Pictured are Flanders, former MAA president Sally McDougall, BSc'68, DipEd'69, and "Mini" program coordinators Sandy Eisen and Ibby Shuster.