Marcel Desautels chats with management students Caroline Morrisette and David Poon the day his gift to their faculty is announced

That music indeed makes us human is a sentiment Marcel Desautels would strongly endorse.The possessor of a marvelous singing voice, Desautels nearly charted a path that could conceivably have had him attending the Schulich School rechristening event as a McGill voice instructor.
He remembers literally singing his way through university. "I paid my tuition by singing at weddings, funerals and local clubs," he says. He once considered opera for a living and his talent attracted some impressive mentors. One, the late Gisèle MacKenzie, a Winnipeg-born singer known as "Canada's first lady of song" on the 1950s TV series Your Hit Parade, unwittingly persuaded her protegé to abandon the idea of a musical career.
"She told me stories about the hard life of a singer, how she would have to perform ten shows in ten cities in a few days," he recalls. "It's not an easy life, and I thought I had better get my law degree."
Raised in St. Boniface, a francophone suburb of Winnipeg, Desautels says his father stressed the importance of succeeding in university. "He always regretted not having a higher education," remembers Desautels. "My father was very proud that I became a lawyer and my brother became a doctor."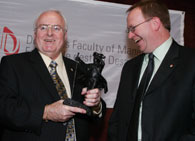 Martin Roy
After earning two degrees from the University of Manitoba, Desautels ran a private legal practice, then worked for Great-West Life Assurance Company and the Treasury Board of Canada.
In 1970, he took over the helm of Creditel, a small credit reference firm, and built it into an 800-employee company with 16 offices across Canada and 12,000 corporate clients. When Creditel was purchased by a large American competitor, Desautels convinced Creditel's stakeholders to invest a sizeable portion of the proceeds into improving business education in the country. The Canadian Credit Management Foundation was born, with Desautels as its head.
"It was hard to find good people who weren't specialists," he says of his own time in the business world. "Universities need to develop people who think of a business as a whole."
Desautels and the CCMF tend to back business education initiatives that are out of the ordinary. His support was instrumental in the creation of the University of Toronto's Marcel Desautels Centre for Integrative Thinking. The premise behind the centre is that major business challenges are rarely solved by one form of expertise alone. The centre invites experts from such diverse fields as sociology, philosophy and artificial intelligence to collaborate with business scholars on its research programs.
Collège universitaire de St-Boniface
"What's striking about Marcel is his ability to integrate and conceptualize ideas," says Roger Martin, a CCMF board member and the dean of the U of T's Rotman School of Management. "Marcel was willing to look at studies in integrative thinking, an idea many academics found too esoteric, yet he understood our vision."
"Corporations need global-minded managers who know as much about leadership and ethics as they do about finance and accounting," Desautels says. McGill's focus on such areas as social innovation and corporate responsibility and its commitment to developing broad-thinking business leaders appealed to him.
The fact that McGill is located in a city that's close to Desautels's heart didn't hurt. He lived in Montreal for four years in the '60s and his family has deep roots here. Pierre Desautels, a direct ancestor, immigrated to Canada in 1653 as one of the city's founders.
"Marcel is very proud of his heritage," says Derek Drummond, who, as McGill's former Vice-Principal of Development and Alumni Relations, is well acquainted with Desautels. "Marcel's family history is so important that, whenever he visits a new city, he's apt to pick up a local phone book and call people who share the same surname."
Desautels is quick to agree. "I've always been very interested in family genealogy," he says, noting he travelled to his family's ancestral village in France to discover his heritage.
"It's quite fitting that one of Montreal's original founding families is bestowing its name on business education at McGill," says Principal Heather Munroe-Blum. "This gift will solidify one of Canada's most global-minded, multidisciplinary business schools."
The gift's impact on the faculty will be widespread. Three endowed chairs will be created, a visiting scholars program will be established and an annual symposium will be set up. The gift will also support scholarships and fellowships, research programs and renovations to the Samuel Bronfman Building.
"This gift heralds a new era for business education at McGill," said Dean of Management Peter Todd. "We now have the critical resources needed to build on McGill's long tradition of developing broad-thinking business leaders with a global outlook."
This isn't the first time Desautels has given McGill a boost. He played an instrumental role in the creation of the CCMF/Marcel Desautels Chair in Integrative Health Management. (Schulich, too, has been generous to McGill in the past, the Schulich Library of Science and Engineering being one prominent example.)
Desautels still revels in singing. The Collège universitaire de St-Boniface, one of his alma maters, convinced Desautels to record a fundraising CD for them, and when he received an honorary doctorate from the University of Toronto in 2003, his address included a rendition of "The Impossible Dream."
Desautels knows that recent highly publicized corporate scandals have given the business world a black eye. He hopes that the programs he and the CCMF support will play a role in turning out managers who are both principled and able.
"If universities are able to develop better managers, it's like a gift that keeps on giving."
One of the first congratulatory emails Munroe-Blum received after the Desautels announcement came from Seymour Schulich. With his old faculty $22 million richer just weeks after he made a similar gift to McGill, Schulich, ever the savvy investor, finds himself on the winning side yet again.
---
In Canadian philanthropic circles, Marcel Desautels and Seymour Schulich stand out as champions of higher education. Desautels and the Canadian Credit Management Foundation he heads have provided Canadian universities with about $50 million in support. Schulich has donated more than $100 million to universities across the country. Here is a sampling of where some of that money went:
Marcel Desautels and the CCMF
$22 million to McGill's Desautels Faculty of Management
$21 million to the University of Toronto to create and support the work of the Marcel Desautels Centre for Integrative Thinking
$5 million to establish the University of Manitoba's Marcel A. Desautels Chair in Private Enterprise and the Law
$1 million to McGill to establish the CCMF / Marcel Desautels Chair in Integrative Health Management
$1 million to the Collège universitaire de St-Boniface
Seymour Schulich
$20 million to McGill's Schulich School of Music
$26 million to the University of Western Ontario's Schulich School of Medicine and Dentistry
$25 million to the University of Calgary's Schulich School of Engineering
$15 million to York University's Schulich School of Business
About $3 million in gifts to McGill, which went towards the Schulich Library of Science and Engineering, other McGill libraries and the Faculty of Management