The principal result of the "Un juste café" campaign was a dramatic increase in the availability of fair trade coffee and in the number of importers and roasters who adopted fair trade practices. Waridel points out that before the campaign, fair trade coffee was available in Montreal at two outlets. Today, there are 1,500 places in Quebec, including mainstream supermarkets and coffee chains, where fair trade coffee is sold. In Canada as a whole, sales of fair trade coffee grew 29-fold between 1998 and 2003. At the same time, fair trade in cocoa, chocolate, sugar, tea, rice, nuts, soccer balls and running shoes has also increased substantially.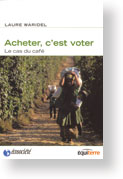 A year after graduating from McGill, Waridel published her first book, Une Cause Café (Coffee with a Cause). It got noticed. The media began seeking her out. She was invited to give talks. She travelled to British Columbia to do a master's degree in the University of Victoria's exclusive eco research program - the program expects its students' research projects to have real-world impact and it only accepts two new students each year. Waridel's thesis became another book - Coffee With Pleasure: Just Java and World Trade.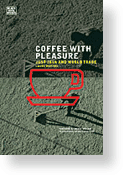 Waridel's student activism wasn't restricted to coffee. She also helped popularize another concept that has moved from the political fringes to mainstream acceptance - community-supported agriculture. The basic notion behind CSA is to support local farmers by having customers purchase a share of the harvest in advance. Farmers know they will have a reliable revenue stream and customers know they will have a source of fresh, locally grown produce. Customers also often volunteer their services, working a day or two on the farm as part of their responsibility as shareholders.
Waridel says the CSA campaign, titled "Hungry for Justice," was inspired by Macdonald grad Brigitte Pinard, BScAgr'93. "She was studying agronomy and had heard about CSA in Europe and Japan and wrote an article in Perspective, the PIRG magazine," recalls Waridel. "I knew of an organic farm near my parents that was on the verge of bankruptcy and thought they might be interested. The farmer didn't think it would work, but he was willing to give it a try."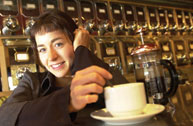 Waridel and her two roommates went into action, lining up 50 shareholders to invest in the beleagured farm. From that first small success, the idea caught on. Today in Quebec there are over 100 CSA farms serving more than 10,000 shareholders.
What's impressive is that Waridel did much of her pioneering work promoting fair trade and ecological agriculture while she was a full-time student at McGill. "I had a lot of energy back then," laughs Waridel, now a mother of two. And she credits fellow PIRG members. "We were lots of highly motivated people."
In 1993, Waridel and other young activists who had participated in various preparatory conferences for the Rio de Janeiro Earth Summit a year earlier joined forces and created a new organization that has come to play an important role in Quebec in promoting environmentalism and social justice - Equiterre.
The group - its name is a play on the French words for equity and earth - has helped build a more comprehensive network of CSA farms and played a key role in the creation of the Quebec Action Centre for Climate Change, a new government-supported organization that aims to reduce greenhouse gas emissions in the province. Equiterre also sponsors home visits by advisors who offer tips on how to make residences more energy-efficient and encourages people to be less reliant on cars for their transportation needs. And, of course, it promotes fair trade. Today Equiterre boasts 3,000 members, a permanent staff of 20 and an operating budget of almost $2 million.
Her collaborators are quick to say that Waridel's considerable charm and communication skills were instrumental in getting Equiterre off the ground and in the success of the fair trade and CSA efforts. Sydney Ribaux, co-founder and coordinator of Equiterre, recalls Waridel's first time before the television cameras in 1993. "We'd organized a trip for the media to the supermarket in order to talk about our food, where it comes from, how the numerous coffee brands are owned by a very few, very big companies, and so on. There were three cameras on her and I saw right away that she'd be a great communicator for us. She's got that winning combination of an ability to explain things simply, a fantastic smile and great presence."
Louis Chauvin, a faculty lecturer in McGill's Desautels Faculty of Management, can attest that Waridel has plenty of charisma and knows how to use it. Eight years ago, he invited her to talk to his class about sustainable development. He soon ended up on the board of Equiterre. "Who can say no to those eyes and that smile," he laughs. "She has that innocent angel kind of look that throws everyone off. They don't see the shrewd mind operating behind the eyes."

Her charm was on display at a book signing at the Université de Sherbrooke. As Waridel bounced her youngest child on her knee, fans eagerly lined up for an opportunity to share a few words with the author. Each was anxious to outline their own contributions to Waridel's causes. A high school teacher shared a recent triumph about school composting while asking about getting copies of Waridel's L'envers de l'assiette (The Other Side of the Plate), a book targeted to younger readers, for his students.
Waridel is no longer an employee of Equiterre, but continues as president of the organization's board of directors and as its most public representative. She receives plenty of invitations to present her views at public gatherings. Last fall, for instance, she addressed the business-oriented Club St-Denis, on "the responsibilities of business in today's world."
For her next project, Waridel is turning her attention to film. Her husband is documentary movie-maker Hugo Latulippe, whose recent film about Tibet, What Remains of Us, was selected by the Toronto International Film Festival as one of Canada's top ten movies of 2004.
Waridel will be producing a movie for the National Film Board that looks at how children are affected by globalization, an idea that grew spontaneously from conversations she and her husband had with school kids. The couple asked the students to name major companies linked to logos and to name five common species of birds. The kids knew all the corporations and none of the birds, a result Waridel found disturbing.
Seeing a problem and taking action is second nature to her. As Chauvin says, "This is not a job for her, this is her life. There's no division between what she does and how she earns her living."
Waridel isn't sure where the film will lead and is comfortable without long-term career goals. "If I'd been a planner, I wouldn't be doing what I'm doing. I accept the opportunities when they come my way and I've been lucky to have people around who have confidence in me."
What she is certain of is that ordinary people can make a difference to the health of their planet in the choices they make each day - some of them at the grocery store.