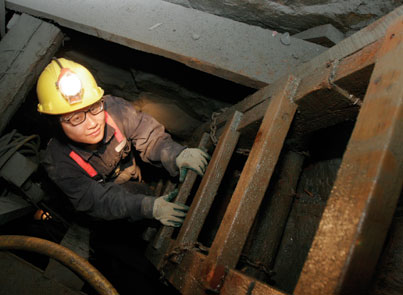 Mining engineering student Catherine Chu descends deeper into the Mouska mine to do some surveying work.
While a quarter of the students in McGill's mining program are women, that percentage is rarely reflected in the mines. Emilie Williams, BEng'00, works as a production engineer for the Doyon gold mine, just down the road from the Mouska mine, and she recalls having to "learn to take a joke and to laugh at yourself" when she worked alongside seasoned miners.
"A standard joke the miners play on students is to ask them to go to the warehouse for a box of bootlegs. The warehouse person will say he's out of them and send the student a long way to find them elsewhere. After they've had a good laugh, the miners take pity on the student and tell them what a bootleg is: the half-inch-deep holes left in the rock after blasting."
Williams says the pranks aren't mean-spirited. "You're working with miners who've been here for 25 years and they'll try to take you down a notch."
Adds Chu, "You have to get used to the jokes, but basically the miners are really helpful and they watch out for you." She discovered that first-hand when she broke out in hives while doing some surveying underground this past summer. Noticing that her rash was spreading at an alarming rate, Chu's co-workers hustled her to the cage and quickly got her to the local hospital.
Williams has no regrets about her choice of career. "What I love about my work is that it's all applied and the field is always changing. You're not just at the computer or the drawing board," says Williams, who goes underground once every week or two to see if what she's planned is working out in the tunnels. "I need to see if I have to adjust my plan."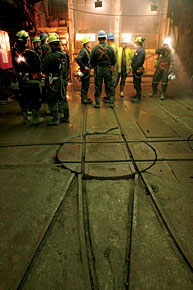 Much of her job involves consulting with co-workers at the mine, gauging their needs. And most discussions take place in French, a language Williams picked up during her four years at McGill, thanks to the fact that the mining engineering co-op program is offered in conjunction with the Université de Montréal's École Polytechnique. The students from each school's mining engineering program take 20% of their courses at the other university.
McGill and École Polytechnique got together to create a co-op program in 1988. The student enrolment numbers at the time didn't justify two separate programs - in fact, both the University of Saskatchewan and the University of Toronto closed down their mining engineering programs during this period, though U of T's later reopened. The two Montreal universities decided they could build better relationships with the mining industry by pooling their resources and operating as a united front. Working together also enabled the universities to produce graduates who would boast a linguistic and cultural flexibility that would make them unique.
Nigel Fung knows all about adapting to different cultures. Fung, BEng'01, lives in Geneva but spends 40% of his time outside Switzerland as a junior sales representative for Caterpillar International, the company that manufactures the four-ton mining trucks that are widely used in open-pit diamond and coal mines. Working with sales-people in Europe, the Middle East and Africa, Fung says the French he learned at McGill comes in handy, as does the Spanish he picked up during his first co-op term in a Mexican zinc, copper and lead mine.
His experience with the human side of mining is invaluable in his work today. Charged with keeping those who sell Caterpillar vehicles in his territory up to date with the latest technological information, Fung regularly surveys mining engineers about their current needs. "I have my ear to the ground so that the salesperson can be knowledgeable for his clientele," says Fung.
Recently Fung was in Scotland talking with mining engineers in an open-pit coal mine. "There's a huge tire shortage right now, and so I see, according to the conditions of the mine, what they can do to prolong the life of the tires.
"I spent a week on the site, taking pictures, watching trucks, checking the loads on the tires and their pressure and watching the operators in action." The senior sales reps, who aren't necessarily mining engineers, use his studies to anticipate their customers' needs and develop sales strategies. Thanks to Fung's efforts, the company has been alerted to a potentially serious problem and can address the dilemma.
Students in the mining engineering program are a close-knit bunch. Fung keeps in touch with the 11 people who graduated in his year and recently attended the wedding of classmate Marc Lucas, BEng'01, now a mine captain at the Falconbridge Fraser Mine near Sudbury. The ceremony, held in Mont Tremblant, Quebec, attracted mining engineering graduates from Australia, Suriname and Bulgaria.