From the desk of the principal
The Season of Renewal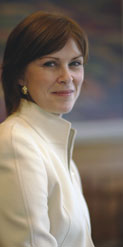 The beginning of the fall semester is my favourite time of year at McGill. Walking around campus, it is wonderful to meet our new students and their families, arriving at McGill for the first time.
They come from all over Canada, and from more than 140 countries around the world. They come to Montreal because our city is known for its quality of life, and they come to McGill because our university is renowned for its excellence.
I'm privileged to share in these first McGill moments, and mindful of the trust our students and their families have placed in us. By now, our first-year students are making McGill their own, finding their way, making friends, attending classes and preparing for mid-terms, even falling in love.
And although university life may begin in the classroom, it doesn't end there. A major part of our roles - as faculty, administration and staff - is to ensure that our students take the most that they can from this privileged opportunity, and to acquire knowledge that will stay with them for a lifetime. There's a difference between information and knowledge. Information is available on the Internet. Knowledge comes through interactions with people in a special environment. It comes from an education, an experience and a shared place.
The Principal's Task Force on Student Life and Learning continues this fall to be hard at work, formulating recommendations to enhance student services and the student experience at McGill. The Task Force is soliciting your views on a range of student matters and student services. To provide input, you can log on to www.mcgill.ca/studentlife. I also look forward to the town halls during this academic year - at the downtown campus, the residences, and the Macdonald campus - to hear from students, faculty and staff, and to discuss our shared McGill experience.
The fall semester is a time of renewal and continuity, and this year is particularly exciting.
In addition to our wonderful and diverse core and multi-disciplinary programs, new programs this year include the joint Bachelor of Arts and Science, a new medical curriculum to improve doctor-patient interactions, and an online forensic dentistry program that is a world first. As well, the new Faculty of Science Office of Undergraduate Research is giving students more opportunities to participate in some of the extraordinary research happening at McGill while earning credits towards their degrees.
Already this year, we've hired 75 new professors to join the McGill team of over 1,500 professors, many of them leaders in their fields. We will continue hiring the best minds as part of our ambitious ten-year recruitment campaign started almost six years ago to recruit 1,000 new professors from elite institutions around the world. For example, Jody Heymann, from the Harvard School of Public Health, has a joint appointment as a Professor in the departments of Political Science and Epidemiology, Biostatistics and Occupational Health. Wendy Thomson, BSW'76, MSW'77, from the Prime Minister's Office in London, joins us as the new Director of the School of Social Work.
As this column and the McGill News go to press, we are preparing for thousands of alumni to return to McGill for Homecoming for a weekend of academic and social activities and reunions. One of the highlights of Homecoming is the opening of the new $70-million building for the Faculty of Music. The eight-storey building, at the corner of Sherbrooke and Aylmer, is a world-class research, teaching and recording facility. The Faculty is also poised to announce a gift that will rank among the largest in McGill's history and the largest to a school of music in Canada. Other exciting news and announcements will be made later this fall and will be reported in the next edition of the McGill News. Watch this space!
We've completed major renovations and improvements to the Sir Arthur Currie Gymnasium, adding climbing walls and other new facilities.
We're launching a number of new publications including our new research magazine in English and French, called Headway: Research, Innovation and Discovery at McGill University (En Tête : Recherche, découverte et innovation à l'Université McGill). The magazine will highlight the dynamic research and researchers who contribute to our international impact.
To improve communications on campus, we've launched a new electronic newsletter called Voilà McGill, sent to all faculty and staff every two weeks. And the McGill Reporter, now newly revamped and redesigned, will be published more frequently. You can find all these publications on our website at www.mcgill.ca.
Finally, I'm delighted to be doing this column, which will appear quarterly in the McGill News, to have the opportunity to connect with McGill's alumni. Have a wonderful fall.
Heather Munroe-Blum is Principal and Vice-Chancellor of McGill.