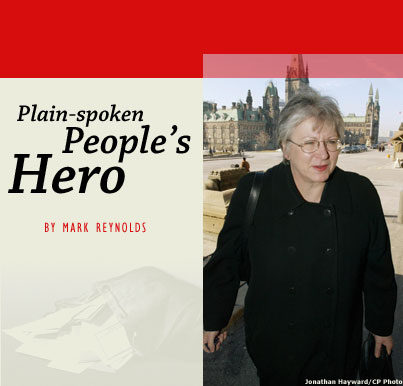 One of the most talked-about women in Canada in the last couple of years is Sheila Fraser, BCom'72. She's no teen idol and Hollywood's never heard of her. But this mother of three has politicians squirming and has already changed the shape of government. Meet the bureaucrat who gets flowers and fan mail from an adoring public.
In the hushed hallway leading from the waiting room to the office of the federal Auditor General is a long line of official portraits of all the distinguished personages to have held the job. Together, they form a study in the changing face of power, from stern-looking Victorian gentlemen with magnificent facial hair, to stern-looking men with no facial hair.
At the end of this procession of dark-suited masculinity is a portrait of the current office holder, Sheila Fraser. Her picture stands out strikingly: she is the only woman and the only one wearing white. And unlike many of her predecessors (among them her grandfather's cousin, John Fraser, who held the office from 1905 to 1919), she is also smiling.
Appointed Auditor General in 2001, Fraser has become the best-known non-elected public servant in Canada, but smiling is not what she is known for. Her damning reports on federal government misspending are delivered with an anger and passion that have made her an unlikely hero in Canada, to the point that the Quebec current affairs magazine L'actualité named her and her office the personalities of 2004, calling them "the Untouchables" and "Zorros for your taxes."
Inside Fraser's blocky Ottawa office there are no signs of swords or masks, just Innu stone figures and pictures of her children. The view is of the Ottawa River and the city of Hull, and one can almost imagine telescopes in the windows of government offices across the water keeping a nervous eye on Fraser and her staff.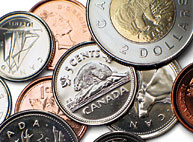 In person, Fraser is exactly what you would hope for from someone in her position: forthright, to the point in manner and speech, and open. She seems born to the job, yet 30-some years ago when she started as an accountant straight out of McGill she wasn't sure that she could make it at all.
"I can still remember my first day, walking to work, and saying to myself you don't know what you're getting into. I made myself a promise - if I didn't like it, and I wasn't learning and enjoying it, I would change," she recalls.
After seeing her on TV, it's hard to imagine Fraser feeling uncertain of anything. Her scathing reports are delivered with a force and fervour born of absolute confidence in her facts and her people. This perception has led many to characterize her as a watchdog of government, a crusader against fiduciary wrongdoing. That isn't how she sees herself or her job.
"We're here to ensure that government is spending its money wisely, and making sure that they are doing the things that they say they will," she says. "Our role is to provide the information to Parliament to help them in that accountability exercise."
The Office of the Auditor General of Canada is responsible for examining the books of the entire federal government, all the Crown corporations like Canada Post or VIA Rail, and the three territorial governments. They also audit two United Nations agencies. Appointed for a ten-year term, Fraser is responsible only to Parliament, and therefore is not beholden to any political party or agenda.
"Famous" and "auditor" are not words that are natural bedfellows, yet Fraser makes the combination work. In some ways, she is the Auditor General from central casting, even though she insists it was never a job she expected, or even pursued.
Of Scots extraction, Fraser was born in Dundee, Quebec. Her ancestors established themselves in the area around 1820, and by the time Sheila was born the Frasers were prosperous and prominent dairy farmers. Her father was a provincial member of the National Assembly for ten years, and while his local leadership gave Fraser insight into the political process and a sense of public service, it also meant that as the oldest of six children, she had added responsibilities around the farm, which had 150 animals, 600 acres under cultivation and two part-time farmhands.
"Women's liberation started very early in our home. There was no difference between the girls and the boys - we'd have to do the haying in the summertime and chores at night. It teaches you a lot about values," she recalls. "You learn the value of a dollar and you're reminded often that money doesn't grow on trees."
Education was important to her family, especially for the girls (it was expected that the boys would stay home to look after the farm). When Fraser enrolled at McGill, the idea of becoming a chartered accountant had never occurred to her. Instead, she started her degree in science and mathematics. A brush with illness started her on a career path that would eventually take her to Ottawa.
"I wasn't really sure what I was going to do, I thought of maybe going into teaching. At one point in my second year I decided the math was getting way too theoretical, and at the same time I had mononucleosis. I missed a lot of school and I was in contact often with our family doctor, and it was he who said, 'Well, why don't you try accounting?'" She adds with a laugh, "It wasn't very thought out, or very researched."
She joined the profession in an era when women were rare in the field. She was one of only a few women in her class at McGill, and recalls receiving a letter from one accounting firm saying they couldn't hire her because there was a limit on how many women they were employing that year. She was hired by Clarks/Gordon (now Ernst & Young) in their Montreal office, part of a staff of 150 people.
"I was the first woman on the team. I'd go to clients and be the first female auditor they had seen. The firm was always very supportive, they never made an issue of it," says Fraser.