Preston pleases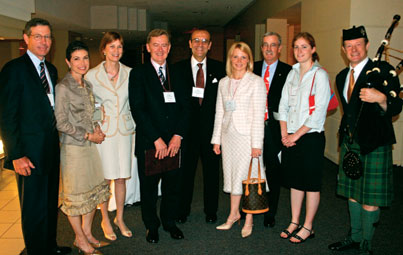 From left: David Kerr, BSc'65, Marla Shapiro, MDCM'79, Principal Heather Munroe-Blum, Preston Manning, Jim Pantelidis, BSc'66, Dip Man'74, MBA'77, McGill Alumni Association of Toronto president Susan Nickerson, BA'93, Leacock Luncheon emcee Derek Drummond, BArch'62, Peggy Donahue, BEd'06, and piper Rob Crabtree.
Former Reform Party leader Preston Manning's talents might have been wasted in politics. Manning delighted a crowd of Toronto alumni with his wit at the most recent Hogtown edition of the Leacock Luncheon. Manning has been a hit with Leacock crowds in Montreal and Calgary as well.
Canada Day in California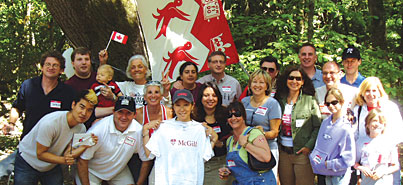 Members of the McGill Alumni Association of Northern California assembled in Huddard Park in Woodside to mark Canada Day and to raise a toast to the true north strong and free. Pictured in the middle, proudly displaying a McGill t-shirt, is branch president Rié Shigematsu Collett, MBA'96.
Bellairs Birthday Bash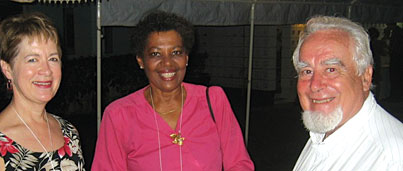 On hand for the festivities were Peggy Downey, BEd'85, MA'88, PhD'92, Monica Scott Newlands, BSc'62, MSc(Agr)'64, and Michael Newlands.
McGill's Bellairs Research Institute in Barbados recently turned 50. Canada's only research and teaching institute in the tropics, Bellairs has played host to a wide range of McGill projects, ranging from the protection of sea turtles to the testing of underwater robots.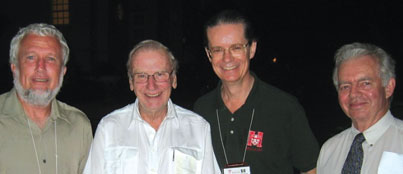 Among attendees at the 50th anniversary celebrations in Barbados were (left to right), Pro Vice Chancellor of Research for the University of the West Indies and former director of Bellairs, Wayne Hunte; Emeritus Biology Professor John Lewis, BSc'49, MSc'50, PhD'54; former Dean of Science Alan Shaver; and Animal Science professor Bruce Downey, PhD'81, the institute's current director.
Eastern-bound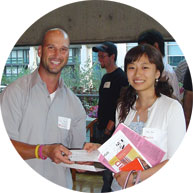 Over 60 soon-to-be McGill students from the Vancouver area came out for a Summer Send-Off Party organized by the McGill Alumni Association of Vancouver, the McGill Student Organization for Alumni Relations (SOAR) and the McGill Alumni Association. The event offered incoming students the chance to meet with graduates, current McGill students and Alumni Association officials to get the lowdown on everything from on-campus employment possibilities to McGill's athletics facilities.