Home Away From Home
Five years ago Nadege Conger, MBA'90, and her husband, former McGill management professor Jay Conger, began travelling regularly to London, England, from their home near Los Angeles. Jay had joint appointments at the University of Southern California and the London Business School, and the Congers soon discovered that finding temporary living quarters in Britain was no easy task.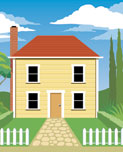 "It's very hard to plan ahead over there," says Nadege. "A lot of places only become available at the last minute."
She thought somebody should do something about helping academics track down places to stay when they journey abroad for sabbaticals or other purposes. In the end, she decided to tackle the job herself. Conger now oversees Sabbaticalhomes.com, a website that helps professors and other university staffers find, rent or swap homes away from home. The site has offered lodgings in just about every place imaginable, from a castle in Tuscany to a remote beach house in the wilds of New Zealand.
"Some of the places listed sound incredible. I do a lot of daydreaming about going to them myself," Conger chuckles.
It's proven to be an ideal job for Conger, the mother of two youngsters and a woman who still travels a fair bit. "The hours are very flexible and I can run it out of anywhere. I've spent many hours working on the site in Internet cafés around the world."
Conger charges users of her site a US $25 set-up fee, and a further $30 to $70 when they succeed in finding a place to stay or in locating tenants. Fees are currently being waived for anyone offering a home to victims of Hurricane Katrina.
To learn more, visit Sabbaticalhomes.com or contact Conger at nconger@sabbaticalhomes.com.
Dental Detective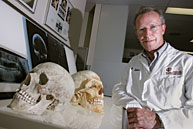 Robert Dorion, DDS'72, an assistant professor in the Faculty of Dentistry, has a very special
part-time job. In addition to his dental practice, he's also director of forensic dentistry for the Quebec Public Security Ministry's Laboratoire de sciences judiciaires et de médecine légale in Montreal. For over 30 years, Dorion has used his special talents to assist police investigations, some involving grisly murders.
There are only five accredited forensic odontologists in all of Canada and Dorion is pondering retirement. So he is doing what he can to train the next generation now.
Last fall, working through McGill, Dorion established the world's first online course in forensic dentistry. This year, he published the first-ever textbook on bitemark evidence, a particular specialty of his.
"There aren't many opportunities out there to study forensic dentistry," Dorion says. "Some younger people have to come in and take over sooner or later. I figured I might as well teach them myself and show them the ropes."
There are few better suited to the task. Dorion played a leading role in the creation of the American Board of Forensic Odontology, the organization that certifies the continent's forensic dentists. The FBI recognized his abilities in 2000, presenting him with an Exceptional Service in the Public Interest Award.
According to Dorion, bitemarks can be just as authoritative as DNA evidence or fingerprints. Teeth tend to be the most durable part of the human body, allowing for identification of murder victims or plane crash casualties when there is little else to go on. DNA can be compromised by decomposition or rain, while fingerprints are "static impressions" that don't yield the same detail as bitemarks. "There are over 90 factors that vary the characteristics of a bitemark - whether there was clothing on a bite site, for instance."
Dorion's students hail from as far away as British Columbia, Pennsylvania and the U.S. Virgin Islands. He "meets" with them online once a week to answer questions and hand out assignments and study materials. Students travel to Montreal for an intensive week of practical sessions taught at the Laboratoire.
One of Dorion's colleagues there, forensic anthropologist Kathy Reichs, has become famous as author of the best-selling Temperance Brennan murder mysteries. Dorion occasionally serves as a consultant for the series, but is quick to distance himself from the books' quirky forensic dentist, Marc Bergeron, described by Reichs as being like a "Tim Burton character."
"Kathy says her characters are never based on any one person."
Ping-pong and Politics
Irwin Cotler, BA'61, BCL'64, had a busy summer: scouting for Canada's next Supreme Court judge, wrestling with the gun registry, testifying before the Senate committee on same-sex marriage. Oh, and competing in a world table tennis tournament.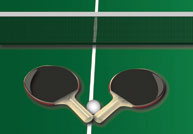 Canada's justice minister fulfilled a childhood dream when he participated in the 17th Maccabiah Games in Israel from July 11 to 21. Held every four years, the Games are billed as the third-largest international sporting event, behind the Olympics and the Commonwealth Games.
"I was speaking with the coach and said that if there was an opening, I would be delighted to play - with the caveat that I didn't want to embarrass Canada by my lack of talent, which I hoped to compensate for with my enthusiasm," said Cotler, who competed in the masters' division for athletes aged 35 and over.
Cotler had enjoyed the game as a child and says he was good at it, but admits he hadn't played for some time when he got the call to don a red and white jersey and represent Canada in what's often referred to as the "Jewish Olympics."
"My son, with his inimitable sense of humour, said, 'Dad, is it going to be a one-time elimination, in which case you'll be humiliated only once, or is it a round robin, in which case you'll be humiliated day after day?'"
As it turned out, it was a one-time elimination tournament and Cotler's opponent was to be three-time Israeli table-tennis champion Menachem Stein. Cotler had no illusions about his chances. "I saw him in practice and he was just outstanding, so when we met before the game I said, look, if you want the ball to go back once it hits my side, try to make sure it hits my paddle."
Cotler won the first game, but went down to swift defeat as Stein took the next three games and went on to win the gold medal without losing a match. "I'm the only one who won a game against him - I think he was being charitable."
Although unsuccessful on the sports front, Cotler did score points in the political arena. His presence in the Middle East gave him the chance to sit down with the justice ministers of Israel, Egypt, Jordan and the Palestinian Authority, who have agreed to come together for the first time, at Cotler's invitation, to attend a justice summit in Ottawa next year.
"The building of an international justice system is a priority for the Liberal government," he said, adding, "For the Middle East, this summit could also have a peace dividend. These four justice ministers have never met together before. Maybe I can get them to play some ping-pong."
Clean Sweep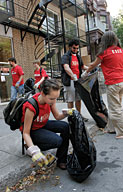 It was gloves, grins and sunshine as approximately 50 undergrads took to the streets to pluck litter from the Milton-Parc community (affectionately known to many as the "McGill Ghetto") in an event organized by the University Relations Office. Those taking part in the McGill in the Community initiative cleaned up the streets and alleys east of campus as part of an effort to reach out to residents, and to teach students about the historic neighbourhood in which many of them reside. Following the clean-up, students joined local citizens for lunch and a discussion about future opportunities for working together.
Producer Pow-Wows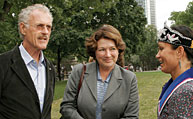 Hollywood filmmaker Jake Eberts, BEng'62, chats with Janyne M. Hodder, BA'70, MA'83, Acting Vice-Principal, Development and Alumni Relations, and Waneek Horn-Miller, coordinator of McGill's First Peoples' House, at a day-long pow-wow on the downtown campus. Eberts, producer of Oscar-winning films Dances With Wolves and Gandhi, recently teamed up with six family members - all McGill grads - to create the Eberts Endowment, a four-year renewable program worth more than $600,000 that is intended to attract and support McGill's indigenous students through recruitment outreach, bursaries, scholarships and cultural activities. The Eberts family, along with First Nations and Inuit alumni, were honoured at a special ceremony during the day's festivities.