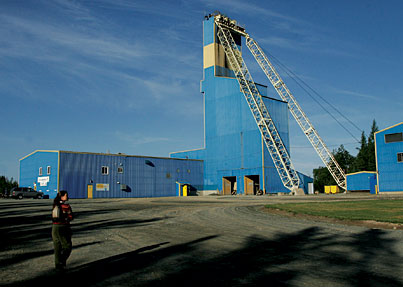 An outside view of the Mouska gold mine site.
Mehta and her classmates stay in touch, too. A class reunion is in the works, but with members of her graduating year living in Spain, Australia, Arizona and Quebec, the big question is: "Where in the world to hold it?" says Mehta. "Fiji seems to be the central point!"
John Mossop, BEng'55, a veteran mining engineer, has spent 15 years working with the McGill program as a lecturer and undergraduate advisor. According to him, "about a quarter of our graduates go into mining engineering, a quarter work in mining-related jobs and half of them go into the financial field where they can advise on investments in the mining and energy sectors." Mining economics and mine feasibility are required courses in the program, so all students develop an understanding of the financial factors underlying the industry.
Today, with the price of gold at a 20-year high and India and China creating an ever-increasing demand for mineral and energy resources, opportunities abound for mining engineers. Still, recruiting students remains a challenge. Hassani, who chairs the Canadian Mining Education Council, believes the industry can do more to attract new students to mining engineering, both with scholarships and with advertising. Thanks to the Canadian Mineral Industry Education Foundation, McGill can offer one-third of the students $3,000 entrance scholarships.
Hassani acknowledges that mining struggles with an image problem: "The only time you hear about mining is when someone's stuck underground," he laments. Furthermore, most high school and junior college students don't even know that the profession of mining engineer exists.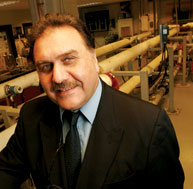 Challenging misconceptions is one of Michel Vachon's tasks when he's out visiting high schools and CEGEPs (Quebec's junior colleges). Vachon has been the co-op program's liaison officer for the past 14 years.
"We live in an age where we take for granted the basic industries, like mining. We forget, for instance, that the metals in computers come from mining," says Vachon, who began his career in mining exploration, where he built up connections that play a key role in helping McGill establish new work placements.
McGill now welcomes ten to 15 new students every September, not enough to meet the growing needs of the mining industry. "Mining schools in Canada turn out roughly 90 grads per year while industry needs 120. We're always behind," Vachon says.
A study by the Mining Industry Training and Adjustment Council predicts that Canada's mining industry could be short 81,000 workers within ten years due to an aging workforce and increasing demand for metals. Mining engineers are expected to be in particularly short supply.
Whatever the future, Hassani is certain that McGill will play a key role. "We rank consistently within the top three mining schools on the continent in terms of the quality of our students," says Hassani.
The program just hired a prominent researcher, Professor Roussos Dimitrakopolous, a Canada Research Chair in sustainable mineral resource development. Dimitrakopolous, who arrives from the University of Queensland in Australia armed with $3.5 million in research funding, uses advanced mathematical modelling techniques to help mining companies gauge the risks involved in taking on new projects or carrying on with old ones. By year's end, Hassani expects the arrival of another top talent, an expert in subsurface sensing, a technique that uses ground-probing radar and radio imaging to allow mine owners to "see" ore deposits below the surface.
"We're expanding so we can get more engineers to industry," says Hassani. "I get requests from mining executives asking me to save them a few students for next season." In the Alberta tar sands, where McGill sends about three mining engineering graduates each year, "it's [like] the gold rush of the old days. Companies are stealing mining engineers from each other. I hear the starting salary in that region is about $75,000," says Hassani.
As prospectors know, all that glitters may not be gold, but these seem to be golden days for McGill's mining engineers.