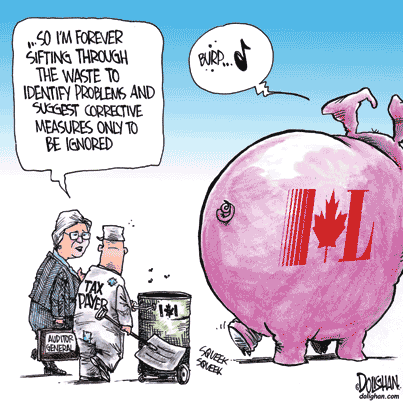 As a result of her examinations of government spending, Fraser has become a familiar figure in editorial cartoons across the country.
Accountancy agreed with Fraser: she was promoted to manager within four years, and in 1977 accepted a transfer to her firm's Quebec City office for what was supposed to be a two-year term. The work environment was much different in the provincial capital: in addition to being largely French, the office was much smaller, and the clients were less likely to be corporations. She was made a partner in the firm in 1981, nine years after being hired, and stayed in Quebec until 1999. The range of clients she worked for - which included consulting for the province's Auditor General - proved to be a good background for the scope of her current work.
"The largest client I had was an international pulp and paper company, but I had a real variety - everything from a department store to a city, a school board, even a turkey hatchery," she recalls.
"I really enjoyed auditing - I still do - and I enjoy the diversity of the clientele. You learn something with every situation that you're put into. Each industry has a different sort of personality. The people who work in pulp and paper aren't the same as the people who work in advertising."
It was in Quebec that Fraser began working with another McGill alumnus, Denis Desautels, BCom'64, also a partner with Ernst & Young. Desautels became the Auditor General of Canada in 1991, and it was he who hired Fraser as his deputy in 1999.
"My first impressions of her are the same as I've had all along," says Desautels.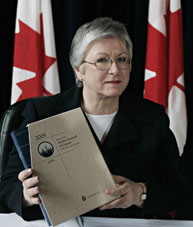 "She's a very cool, level-headed person. She didn't get excited easily, and was always very conscientious."
When Fraser transferred to Ottawa to be one of Desautels's deputies, she never expected to get the top job, even though Desautels's term was scheduled to end in two years. No one had been promoted from within the office before - outsiders were preferred.
"In my mind she was clearly the best candidate," says Desautels. Although he had no formal say in choosing his successor, he did have "discussions" about the requirements of the job with decision-makers. "A person who's only been in the job for two years is effectively an outsider," he points out.
For her part, Fraser had taken the deputy job for a change of pace, though not a complete change: "It wasn't like I was taking up painting or something.
"Some people say that I came with the plan that I would move up. But that definitely wasn't the case. In some ways - and I kind of chuckle about this today - I came in thinking I could get more of a balance between work and home life," she says.
It wasn't until members of her staff asked her to let her name go to the search committee looking for Desautels's replacement that she considered taking the higher position.
As Assistant Auditor General Jean Ste-Marie explains, Fraser is capable of commanding intense loyalty in her staff. He's been in public service for 22 years, most of it with the Department of Justice. Today he's responsible for corporate services, putting him in charge of the operational needs of the Office's 600 employees.
"Put it this way - I was supposed to retire a couple of years ago and I'm still here."
Part of that is due to her direct management style that "does not stand for nonsense," says Ste-Marie, but much of it stems from Fraser's human touch. "She commands a lot of respect, because she is very respectful of people. When someone's father passes away, she will send a note, and ask how they are when she sees them. People are very warm and loyal to her as a result of that."