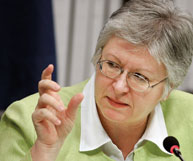 Ryan Remiorz/CP Photo
Soon after Fraser took the top job, the Office of the Auditor General began to release a series of reports that quickly made her public presentations the must-have ticket for the Ottawa press corps. They included investigation of expense account abuses in the Privacy Commissioner's office and the gun registry debacle, a poorly conceived program that may end up costing taxpayers more than $1 billion.
But the biggest can of worms opened by Fraser's office concerned the initiative to heighten the visibility of the federal government in Quebec following a 1995 separation referendum defeated by a whisker. A first review of the program led to so many questions that Fraser did a more in-depth audit. Her report, released in February 2004, showed that payments in excess of $100 million had been made to ad agencies "with little evidence of value received for the money spent." Newly elected Prime Minister Paul Martin (who held the federal finance portfolio at the time the program was introduced) was forced to set up an inquiry into the scandal and saw his government sink to minority status in the subsequent election.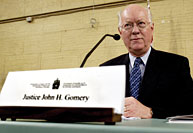 Chris Wattie/Reuters/Corbis
Ste-Marie says the ensuing attention has had an effect on the dynamics of the Office.
"The coverage makes us very mindful that we have a lot of credibility, but credibility is something you can lose quickly if you're not careful. The sponsorship and a number of other audits have taken us places where we never thought we would go," he says, and then adds with a laugh,"Or wanted to go!"
Says Fraser, "The sponsorship stuff made me mad. It upset me; I'm a taxpayer too. I know how much restraint there was on spending in those years, and how difficult it was to do programs because of cutbacks and program reviews. And then to see money being spent seemingly on transactions of no value - hundreds of thousands of dollars to transfer a cheque from a department to a Crown corporation - I don't take that stuff lightly," she says.
"Some say that the Auditor General should just deliver the facts and be totally devoid of any personal interpretation. I don't want to do my job that way." Fraser adds that she certainly isn't looking for headlines. Part of the attention being paid to her reports is due to the controversial nature of the programs she is reviewing. The reports are also presented in "plain language," where the findings are clear. When an audit reveals a failure to meet acceptable accounting practices, Fraser says so without equivocation. The results can be disconcerting.
"I remember waking up the morning after [her first report was released] and going out to pick up the news-paper on the front porch, with my picture on the full top half of the front page. And coming downtown, passing all the newspaper boxes, and seeing my face everywhere.
It was so unreal. And that's when you realize you're in a different kind of world," she says.
It's a world where she is not immune to criticism. No one likes to be audited: "We're auditors, and we don't like to be audited," she says. Fraser was accused of carrying on a witch hunt by former Privacy Commissioner George Radwanski, BA'68, BCL'71, whose expense accounts were the subject of an early report. Others in the media have noted that the language in her reports seems calculated for maximum exposure.
"There are criticisms, even in the press, of the tone of the language used in the reports, but you have to realize that even though you might want to, you can't make everybody happy. You have to do what you think is right. There are departments and program areas that we have audited where people will say that we want to have perfection, or that we don't understand the realities of what they deal with. And you know what? They're right. We're not experts in the areas they're managing, but we try to put in a process that involves them in an appropriate manner," she says.
Former McGill Principal Bernard Shapiro, BA'56, LLD'88, now an officer of Parliament himself as the federal Ethics Commissioner, has known Fraser for some time. The various officers of Parliament (others include the Privacy Commissioner, the Commissioner for Official Languages and the Chief Electoral Officer) meet every month or two to discuss areas of joint concern, and Shapiro has also sought out her advice on auditing matters in his own office.
"If you call her, she calls you right back - she's a very helpful source of information," says Shapiro, who also says he has great respect for Fraser's conduct in the glare of media scrutiny, something he is having to face in his new job.
"She's very calm, very cool and very determined," he says. "She has principles that she works with and she does not give in to the conveniences of the moment."
His admiration for her is shared by many outside government. In fact, she receives fan mail for her work.
"This past year has been an extraordinary one. There are letters that come in from Canadians - wonderful people who take the time to write and say you're doing a good job. We get flowers, people stop me on the street. I go anywhere in the country and people will recognize me. It's humbling in many ways to see the response of Canadians to our work."