GARCIA'S HEART
McClelland & Stewart, 2007,
$32.99, by Liam Durcan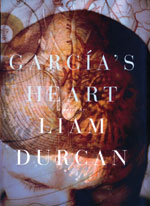 Liam Durcan might be making himself enemies in the world of writing. It's bad enough that the first-time novelist is scoring rave reviews with his recently published García's Heart. It's bad enough that the McGill neurology professor wrote the book in his spare time while pursuing his research and treating patients during the day. But that he crafted such an assured novel in only nine months, in spite of a demanding full-time gig at the Montreal Neurological Institute?
That's the kind of thing that could drive other novelists mad with envy.
Given Durcan's day job, it's unsurprising that neurology plays a prominent role in this novel. Its protagonist, Patrick Lazerenko, is a former professor (academics will nod knowingly at Durcan's sly take on the poisonous jealousies that can take root in university departments) who has earned big bucks by using his brain imaging know-how in a very marketable way.
Patrick advises companies on how well their ad campaigns work by analyzing brain scans and taking note of which marketing messages set the neurons of potential customers ablaze with the right sort of responsive activity.
His skills are duly noted by the defence team for a suspected war criminal — can Patrick's neurological research cast doubt on the accused's culpability? As it turns out, Patrick knows the suspect quite well.
Hernan García was once a widely respected Honduran doctor who arrived in Montreal under mysterious circumstances to open a small grocery shop. García played an instrumental role in Patrick's life as a mentor and father figure. Can this possibly be the same man who helped a military regime carry out torture? The book uses flashbacks to great effect, gradually teasing out the tale of Patrick's complicated connections to the García family.
García's Heart is a gripping pageturner, not so much a whodunit as a why-would-he-do-it. One of the book's key themes relates to how well we can truly know anyone else. As one character puts it, "Do you have any idea how difficult it is to figure out somebody's life?"
DANIEL MCCABE, BA'89
---
HILLARY RODHAM CLINTON: POLARIZING FIRST LADY
University Press of Kansas, 2006,
$28.50, by Gil Troy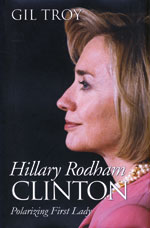 McGill historian Gil Troy's most recent book focuses on Hillary Rodham Clinton's rollercoaster experience as a U.S. first lady.
When Bill Clinton won his first presidential election, he promised voters that his brainy bride would play a significant role in his administration. What the Clintons hadn't reckoned with, writes Troy, an expert on presidential couples, was the American public's wariness of first ladies who take too active an interest in their husbands' policymaking. Nobody elected her, after all.
Americans viewed her attempts to revamp the health care system with considerable suspicion. That helped engineer its failure, but she was also the author of much of her own misfortune. She failed to rally sufficient support and the plan was too complicated — the Reagan-era antipathy towards big government still held much sway.
Troy suggests that the up-and-down nature of the Clintons' marriage also played a role in the failure. Bill's considerable political skills might have saved the day, but he was reluctant to impose them on a wife still seething from his skirt-chasing misadventures.
Strangely, Hillary's principal contributions to Bill's presidency were probably her dogged counter-attacks on his enemies in the wake of his adulterous scandals. In the midst of the Monica Lewinsky/impeachment drama, Troy argues that Hillary "all but single-handedly saved Clinton's presidency." She didn't quite mask her rage at her husband, but made it plain that she supported his work, while vilifying "the vast right wing conspiracy" that tried to derail Bill, not by attacking his policies, but through an unseemly focus on sex.
Americans, though disappointed in their president, thought she had a point.
Troy paints Clinton as a complex figure. Recounting her Methodist religious roots and family-oriented background, he takes note of her nuanced views on abortion and Hollywood's glamorization of violence, suggesting that she is far from the knee-jerk radical her enemies paint her to be. While she can be a thoughtful voice on ethics-related issues, Troy notes how Clinton's own conduct in the business world hasn't exactly been squeaky clean.
Troy tells his tale in a brisk and highly readable manner. At its end, Hillary has been bloodied, but she emerges triumphant with a political career all her own. With the race now on for the American presidency in 2008, her story is far from over.
DM
---
ONE CHILD AT A TIME: THE GLOBAL FIGHT TO RESCUE CHILDREN FROM ONLINE PREDATORS
Random House, 2007, $34.95, by Julian Sher, BA'75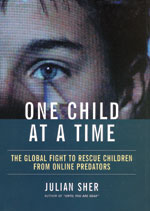 Journalist Julian Sher has reported on conflicts in Kosovo, Somalia and Baghdad. He's looked into dark places while researching books on biker gangs and the Ku Klux Klan. But nothing prepared him for what he found in the realm of online child predators.
"This was by far the most difficult subject I ever had to confront," he says at the end of One Child at a Time. The book is a harrowing account of actual cases and shows how the Internet has turned the exploitation of children into a booming global enterprise. At one time, pedophiles had trouble finding each other. Now, they can locate kindred souls in a matter of minutes, and the enthusiastic acceptance of their perversions breaks down whatever guilt or fear might have held their behaviour in check before. According to Sher, the Internet offers budding child molesters "a training ground where the new and the nervous can learn the tools of the trade from mentors and masters."
For police, tracking down pedophiles and rescuing their young victims — one study says that almost 40 per cent of them are age five or below — seemed at first an impossible task. Images of exploited children on the Web numbered in the millions and increased at the rate of 20,000 a day. Sher tells of Toronto police officer Paul Gillespie, who became so frustrated, that he fired off an email late one night to Bill Gates, basically saying, "You created this mess, now fix it!"
Gates took the message seriously, and Gillespie gave a presentation at Microsoft headquarters to show executives the magnitude — and the horror — of what he and other cops were dealing with. It worked. Gates made engineers and money available to develop a database to sort, compare and store information on exploited children. Over time, credit card companies and Internet providers cooperated with police, and law enforcement agencies around the world began sharing information and expertise.
One Child at a Time is compelling, but hard to read and hard to forget. Pity the Microsoft executive who saw a couple of images for barely seconds, and says the pictures are still "burned in my head. I want to get rid of them, and I don't know how."
DIANA GRIER AYTON
---
MANUFACTURED LANDSCAPES
Mongrel Media, 2007 (DVD), $34.95, directed by Jennifer Baichwal, BA'90, MA'96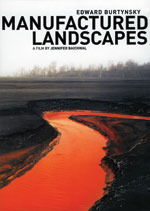 Discomfort undercuts beauty in the work of photographer Edward Burtynsky, where iridescent lava flows are actually rivers of mining waste in northern Ontario, and intricate nests of rainbow-coloured string are really discarded wires about to be set ablaze in Chinese scrapyards.
Burtynsky was a traditional photographer of "pristine" landscapes when, in 1981, a wrong turn in Pennsylvania coal-mining territory — his surroundings suddenly barren, alien — opened his eyes to the transformative power of industry. The detour inspired him to devote his career to seeking out "the largest industrial incursions that I could find… to show the dimensions of our extractions, in the landscape."
This Genie-winning film follows the Ontario photographer to Asia, offering a behind-the-scenes look into his artistic process as he clambers around a ship-breaking yard in Bangladesh, tours the Three Gorges Dam on the Yangtze River and directs a group photo of 6,000 Chinese factory workers. But this is no personality profile or environmentalist salvo; there are no talking heads, narration is limited to Burtynsky's barebones contextualizing comments, and neither his nor director Jennifer Baichwal's politics are on parade.
Baichwal's camera thoughtfully explores Burtynsky's still images, unearthing tiny moments of hidden humanity. In one scene, a dot in a photo of Utah's Bingham Canyon copper mine is slowly revealed to be a tiny truck speeding along the 500 miles of roads ringing the massive pit —then a reverse zoom returns the truck to insignificance.
Any non-cinema viewing does an unavoidable disservice to the epic size of both Burtynsky's subject matter and photos (his exhibition prints are huge). The DVD transfer, however, is sharp and clear, and the bonus features — particularly an extensive photo gallery narrated by the artist — further deepen this meditation on industry's lasting footprint.
JAMES MARTIN, MLIS'05
---
WANDERING EYES
Thrill Jockey, 2006, $22.99, by Angela Desveaux, BSc(Agr)'02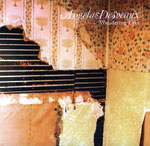 When Angela Desveaux released her CD last fall, she wandered into a crowded field. Turned out that 2006 was a banner year for women tackling country-type tunes with a decidedly indie sensibility.
Neko Case, Lucinda Williams, Jenny Lewis and Amy Millan all put out well-received records that could be roughly lumped together under that loose description. Easy enough for a newbie doing similar stuff to get lost in the shuffle.
To Angela Desveaux's credit, that didn't happen. Publications like Hour and Exclaimnamed Wandering Eyes to their best-of-the-year lists, as did the influential webzine PopMatters.
While doing her degree in environmental biology at Macdonald Campus, Desveaux perfected her musical skills performing at local bars on open mike nights. Her affection for bluegrass and western music stems from growing up in a Cape Breton household where Hank Williams and Lefty Frizzel dominated the family turntable.
Desveaux has a knack for crafting music tinged with wiser-than-I-wish-Iwas regret and her lovely, subdued singing offers just the right amount of ache to give the material punch. Many a seasoned Nashville veteran would be thrilled to come up with songs offering the same sort of gritty melancholy.
DM