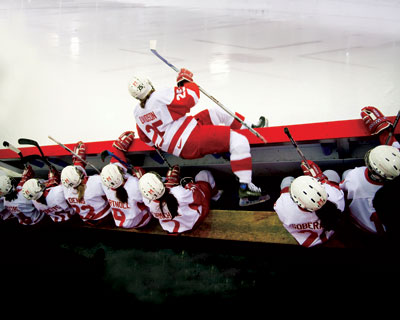 Martlets scoring star and MVP Vanessa Davidson
Claudio Calligaris
The McGill Martlets came oh-so-close to earning a national championship this year. They'll be even better next season.
BY JOHN MEAGHER
When women first began playing hockey at McGill in 1896, the skirt-clad athletes were grudgingly granted minimal ice time, so long as no men were allowed to watch — the only exceptions were the referee and the arena attendant, who guarded the front entrance.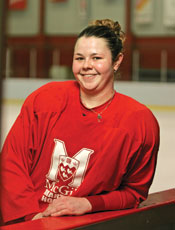 Allen Mcinnis
Fast forward 110 years.
The McGill Martlets hockey squad were ranked the No. 1 university team in the country for the entire 2006-07 season, a remarkable feat considering their 21-player roster included nine first-year players. Arguably McGill's most talented and exciting team and unquestionably one of the very best teams in their sport in Canada, the Martlets were eventually crowned Quebec champions and national silver medalists.
Despite a heartbreaking 4-0 loss to the University of Alberta Pandas in the 2007 Canadian Interuniversity Sport (CIS) championship game in March, the Martlets have their eye on the gold in 2007-08.
"We had a very talented group of young players and there are more who want to come to McGill next year," says Martlets head coach Peter Smith, BEd'79, MA'86, voted coach of the year in the Quebec conference for the third time in eight seasons.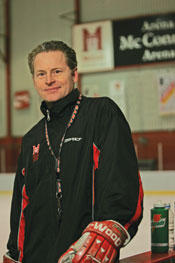 Allen mcinnis
The squad's recent track record has made recruiting much easier for Smith, who this year added the highly touted defender Catherine Ward and Olympic goaltender Charline Labonté to an already talent-laden lineup.
Ward, a silky-smooth skater blessed with tremendous speed, captained her hockey team at Montreal's Dawson College before coming to McGill. Ward's stellar play at Dawson drew plenty of attention from university recruiters. She was wooed by the likes of Harvard, Yale and Princeton before she settled on McGill.
"It was a great fit for me, because McGill offers me the best of both in terms of hockey and academics," says Ward, a first-year management student who earned CIS rookie-of-the-year honours.
"Catherine is the best all-round athlete I've ever coached," says Smith, who was also an assistant coach with the gold medal-winning Canadian Olympic team at the 2006 Winter Games in Turin. "She's genetically gifted. She'd be good at any sport."
For her part, Labonté backstopped the Martlets to 35 wins, eclipsing the McGill single-season record of 20 set by fellow Olympian Kim St. Pierre in 2002-03. The goaltender's stats this season ventured into Ripley's Believe it or Not territory: 0.80 goals against average and a .957 save percentage.
"Having Charline in nets helped our team to mature," Smith says. "Just knowing she is back there allows our players to take bigger risks with the puck."
Labonté, who has faced shots from the top female players in the world in international competitions, was pleasantly surprised by the calibre of play in the CIS.
"I was looking for a new challenge after the Olympics and this was an amazing experience for me," she says. Labonté and Smith, along with McGill alum and fellow Olympian Kim St. Pierre, BEd'05, recently captured gold as part of the Canadian national team at the 2007 women's world hockey championships.
While Labonté was making saves, sophomore centre Vanessa Davidson, McGill's Female Athlete of the Year in 2007 and team MVP, was busy at the other end of the rink. A gritty power forward, Davidson led the Quebec league in scoring, averaging close to a goal a game and setting several single-season Martlet offensive records.
Not so long ago, the outlook for the Martlets was considerably gloomier. In fact, after winning the Quebec championship in 1985, McGill managed to qualify for the playoffs only once in the next 13 years.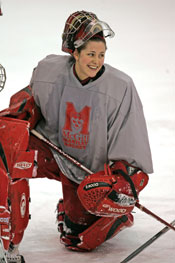 Allen Mcinnis
The turnaround began with the heralded arrival of Olympic netminder St. Pierre in 1998. Having an Olympic gold medalist on the team helped the Martlets become competitive once again, and McGill became a more alluring destination for talented young female hockey players.
The Martlets have since captured four conference championships. This season, the team posted its best-ever overall record (36 wins, 4 losses, 2 ties) and earned four out of 12 All-Canadian spots awarded nationally, a CIS honour recognizing all-star-calibre performances. Labonté, Ward and Davidson were all named to the first team, while centre Christine Hartnoll made the second team.
But in addition to their performance on the ice, Martlets players have to meet McGill's tough academic standards — and Smith is careful to stress to his players that school should always come before hockey.
Team captain Shauna Denis reckons that a typical week could include four practices, two games and a fair bit of travel. It's a lot to balance, she allows, but the benefits make it more than worthwhile.
"With hockey, you learn how to get along in groups, how to be competitive in a constructive way, how to resolve conflicts. Those are skills you can use all through your life."
Denis, a management student who arrived at McGill four years ago from a small town in Ontario, says the Martlets played a crucial role in her life when she first came to Montreal. "It's like gaining an instant family. Having that social support is huge."
Labonté says the Martlets are the closest group of players she's ever been a part of, including her heady experiences with the Canadian Olympic team.
"We were together all the time, it was like we couldn't get enough of each other," relates Labonté, a first-year physical education student. "There were no cliques on this team."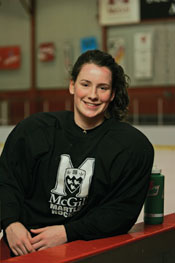 Allen Mcinnis
Part of that closeness relates to Smith. Davidson says her coach is "like a second father" to the players.
"He's willing to help us in everything," she says. "He's more than a hockey coach. He wants you to be a better player and a better person."
Smith's McGill players aren't the only ones taking note of his coaching skills. Smith just nabbed his biggest assignment yet — he is the new head coach for the Canadian national women's team. "It's a tremendous honour," he says.
Melody Davidson is the national squad's general manager. The two worked together in Turin when Davidson coached the Canadian team to its gold medal with Smith serving as one of her assistant coaches. She praises Smith as a gifted communicator, adding "Peter is very passionate and knowledgeable about the game."
While the gold medal loss at the nationals still stings, Denis, who graduates this spring and won't be back next season, is philosophical.
By any measure, the Martlets enjoyed a great season, she says, and talented young teams don't always capture championships right away. She remembers reading about Wayne Gretzky visiting the New York Islanders dressing room after the veteran club had just vanquished his youthful Oilers in the Stanley Cup finals.
Gretzky took stock of the Islanders, a battered and bruised bunch proud to display their battle scars, a team that understood that winning demands sacrifice. Gretzky and his teammates soon began applying those lessons, earning four Stanley Cups over the next five years. Keep your eyes on the Martlets, she advises.
Smith, too, believes the best is yet to come. "Next year, I believe, will be our year."
A Martlets love affair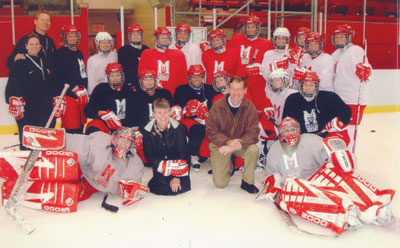 Sheryl and David Kerr, surrounded by members of the Martlets hockey team
Derek Drummond
In 1963, David Kerr, a member of the McGill Redmen hockey team, agreed to lend a hand to the women's team. As he helped coach the Martlets, Kerr took note of a player named Sheryl Drysdale. "She worked hard and was a really strong skater," he recalls. Soon, he began noticing that Sheryl had other attributes that he admired. And vice versa.
The couple have been together ever since. Recently, they made history with a landmark donation of $1-million to the McGill Martlets hockey program. The gift is the largest ever made to a Canadian women's university athletics program.
"Our time at McGill was very special," says Sheryl Kerr, BCom'67. "I was born in Montreal, but grew up in Belleville, so I didn't know anybody when I got to McGill. Initially, playing hockey for the University was my whole life. The camaraderie in athletics was wonderful for me."
David Kerr, BSc'65, the former chair and chief executive officer of Noranda, says the gift reflects the important role the Martlets played in both their lives.
"Obviously, McGill was an important part of our past and hockey was a really great part of that experience," he says. "It just seemed natural for us to support the women's hockey team."
The donation will allow current Martlet coach Peter Smith to assume a full-time role with the team in an endowed position known as the Kerr Women's Hockey Coach. Smith will relinquish some of his other duties in the Department of Athletics, and focus his efforts on coaching and recruiting for the Martlets.
"It is a great boost for women's hockey," says Smith