Bowling Buddies

Left to right: Sue Zwanenburg, BA'90, Graham Barr, MLIS'97, Yong Ling, MSc'99, Vanessa Lang, BSc'02, and Eddie Chow, BScArch'91, BArch'93
Young Ottawa alumni bowled them over at a fall get-together. Knocking down ten-pins is only one of the activities of Ottawa young alumni. Busy branch members hold monthly pub nights, dance the salsa and participate in local charitable events. They've even organized a choir.
Dialing Donors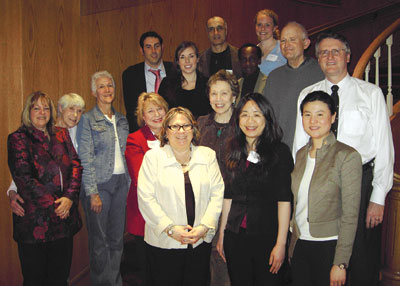 Alumni relations staffer Maria Keenan is shown front and centre with a crew of volunteers in Vancouver who called donors to say thanks for their gifts to McGill during the past year.
Queen of Kingston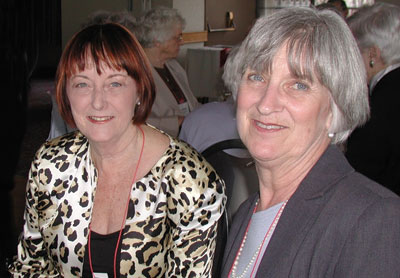 Margaret Somerville, DCL'78, with guest Mary Reid
Margaret Somerville recently gave a talk to alumni in Kingston, Ontario, but she wasn't the only star of the evening. Stephanie Deutsch, BCom'37, was also recognized because this spring marks the 70th anniversary of her graduation.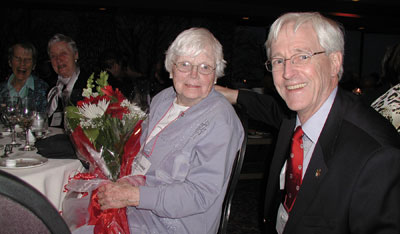 Stephanie Deutsch gets a floral tribute from Kingston Branch President George Wright, BEng'66
Say Cheese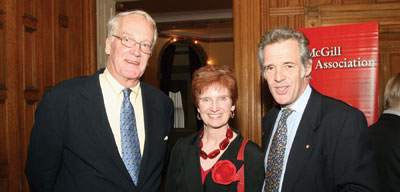 Executive Director Honora Shaughnessy gave a presentation on the history of the McGill Alumni Association at a meeting of the James McGill Society in April. Congratulating her on a job well done – and a great smile – are Dentistry grads Bob Faith, BA'53, DDS'58, and Bruce Dobby, BSc'76, DDS'81. To read about the MAA's fascinating history, see www.alumni.mcgill.ca/sites/alumni150.
Out California Way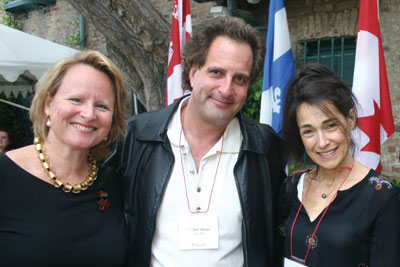 Left to right: Vice-Principal (Development, Alumni and University Relations) Ann Dowsett Johnston, Michel Shane, BA'80, and Ellen Shane, BCom'80
More than 140 alumni and friends of the University gathered together on April 25 in Los Angeles at an event co-hosted by the McGill Alumni Association, the Consul General of Canada in Los Angeles and the Quebec Government Representative in Los Angeles. Psychology professor Daniel Levitin, author of the best-seller This is Your Brain on Music, was the featured speaker.
Daniel Levitin (right) with Consul General Alain Dudoit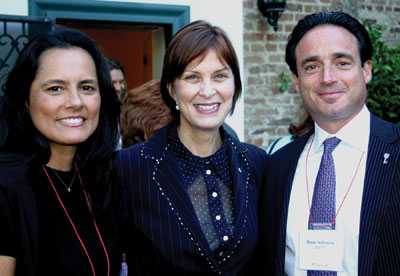 Left to right: Reyna Solomon, Principal Heather Munroe-Blum and Dane Soloman, BA'79