While Macdonald Campus hasn't abandoned its rural roots, its researchers are now active throughout the world, tackling some of the globe's biggest challenges.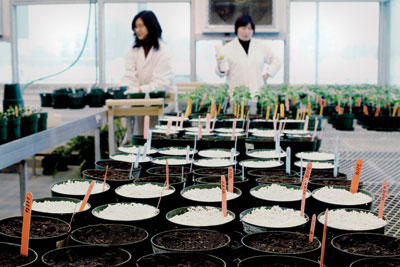 Macdonald Campus is home to nearly 1,500 square metres of high-tech, climate-controlled greenhouse space
Nicolas Morin
BY DANIEL MCCABE, BA'89
It's a phrase that anyone working at an agricultural faculty has to contend with from time to time, one that elicits resigned sighs from some and stern glowers from others.
"Cow college."
"It's interesting how that 'cow college' thing hangs in there," natural resource sciences professor Jim Fyles says wearily. Not long after Fyles began teaching at Macdonald Campus in the late eighties, he recalls traveling to the downtown campus in Montreal for a committee meeting and being introduced to a colleague there. "The guy looked me up and down and said he expected me to be wearing a red-checked flannel shirt."
Fyles isn't sure he was joking.
"Cow college" tends to be viewed as a putdown, a phrase closely linked to traits that no self-regarding scientist would ever want to be associated with — "second-rate," "unworldly," "hick."
If so, it's a term that has precious little to do with Macdonald Campus, which today enjoys widespread respect, both for its array of cutting-edge research programs and for the impact of its international activities.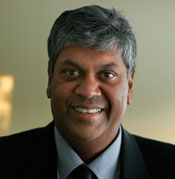 Owen Egan
A school that once focused its attention on improving the lives of farming communities in Quebec, Mac now tackles some of the most urgent challenges facing the world at large and its researchers are active everywhere from the Arctic to Africa.
Mac professors are working to protect precious water resources in several countries. They're combating environmental threats, tackling deadly diseases, and ensuring that our food is nutritious and free of contaminants.
They're also playing leadership roles on the national stage. Plant science professor Don Smith, for instance, heads up the Green Crop Network, coordinating the efforts of more than 95 researchers at 14 universities across the country, as Smith and his partners examine what sorts of crops could fare best in an atmosphere with elevated CO2 levels, which are least likely to cause environmental problems, and which might produce useful biofuel alternatives to gasoline.
For his part, Fyles is the scientific director of the Sustainable Forest Management (SFM) Network, a federally funded Network of Centres of Excellence, involving 160 researchers and over 200 graduate students from 35 universities, as well as the federal government, seven provincial/territorial governments, several companies, seven aboriginal groups and at least one major NGO — Ducks Unlimited Canada.
GLOBAL IMPACT
On the international front, the Brace Centre for Water Resources Management has been active in projects involving Egypt, Sri Lanka, Pakistan, Central Asia and the Caribbean in recent years and has collaborated with such organizations as the Asian Development Bank, the World Bank and the United Nations Food and Agriculture Organization.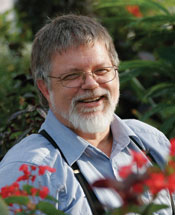 Owen Egan
"The work we do in these countries has quite a wide range," says Dean of Agricultural and Environmental Sciences Chandra Madramootoo, who, until recently, was the centre's longtime director. "We work on very specific technical things, like improving drainage and irrigation methods, but we also focus on broader policy concerns. For example, how do you make sure that water is available to all the different sectors of your population?" The centre works closely with decision makers in these countries, people at the ministerial level, "but our approach isn't just top-down. We're also working on the ground with people in small communities, implementing pilot projects on water use and conservation."
Both the World Health Organization and the Bill and Melinda Gates Foundation are supporting parasitology professor Roger Prichard's efforts in Africa. Working with colleagues in the U.S. and Uganda, Prichard is trying to perfect a vaccine that can neutralize African trypanosomiasis, also known as sleeping sickness, a parasitic disease that results in 50,000 fatalities in Africa each year. The WHO estimates that up to 500,000 Africans could be infected — the organization's real fear is that the disease, if unchecked, could reach epidemic status, afflicting millions.
"This is one of the few places in the world that's doing this kind of research at a time when parasites and parasitic diseases are becoming a greater cause for concern," says Professor Tim Geary, the director of the Institute for Parasitology.
Thanks, in large part, to improvements in water treatment, parasitic diseases haven't been much of a concern in North America for several decades. As a consequence, "research in this area dried up." Geary, a recent addition to Mac, is a Canada Research Chair in Parasite Biotechnology who examines why some parasites are so successful at eluding the human immune system's natural defences. He believes close to one-third of humans are infected with parasites, with malaria alone claiming more than two million lives a year in Cameroon and Panama. "Thank God McGill had the foresight to keep this place going."
While Macdonald's research programs have global reach, the people who work and study there cherish the decidedly "small town" feel that distinguishes the campus.
"Mac is a real community," says Johanne Philippe, BSc(Agr)'06, a recent graduate who just returned to her native New Brunswick to take up a position as an environmental animator. "The classes are all small, so you get to know the students you work with and you get to know the professors who teach you. They're available to you and that's a huge plus."
OPEN-DOOR POLICY
"We take pride in the fact that professors here don't run to their offices and close their doors," says Madramootoo. With 900 undergraduates on campus and roughly 90 professors to teach them, Macdonald enjoys a very favourable student-to-professor ratio. "Our students appreciate the one-to-one interactions they get to have with their professors."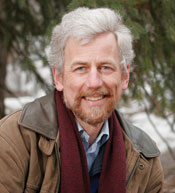 Owen Egan
During Philippe's time at Macdonald, she was part of the Mac Sustainable Project, a student advocacy group that lobbied the campus administration to adopt environmentally responsible practices. Philippe says she was impressed by the response the project received from faculty and staff.
"We weren't just being humoured. When we made presentations, professors would be brainstorming with us, throwing out ideas." She singles out Macdonald Campus librarian Erica Burnham, who welcomed the group's input and took special care to adopt an environmentally friendly approach to the recent renovation and expansion of the Macdonald library. A new café on campus also paid heed to the project's environmental recommendations.
Madramootoo makes it clear that such student activism is anything but a nuisance.
"Our students don't just come here to study environmental sciences, they want to put things into action." Smith concurs. "What we focus on here is science for solutions. That appeals to a lot of students."
INCREASINGLY POPULAR
The numbers bear Smith out. Undergraduate enrolment was up by 11 per cent this year. Madramootoo says more effort is being directed towards student recruitment and American students have been particularly responsive.
The McGill School of Environment continues to be a hit, with rising numbers of students flocking to Mac to take part in the MSE's unique multidisciplinary approach to environmental studies (The Faculties of Arts and Science are the other chief partners in the MSE, with most other McGill faculties taking part).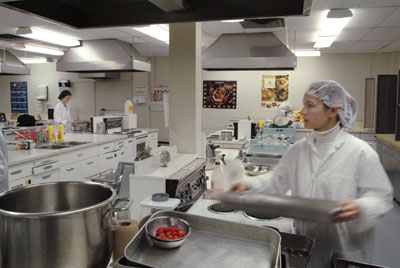 Nicolas Morin
It's good news to be sure, but Madramootoo has mixed feelings about Mac's growing popularity.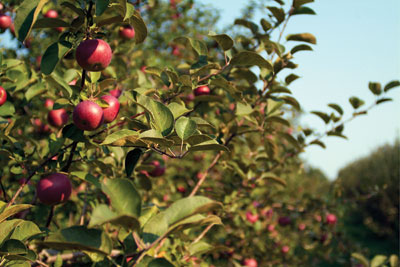 Nicolas Morin
"With dietetics in particular, we're turning away very good applicants because we just don't have the resources or the space to accommodate them." With obesity and cardiovascular disease rates on the rise, Madramootoo believes Mac ought to be training more nutritionists and dieticians, particularly those who play an educational role.
The many facets of food have been a central concern for Mac researchers since the institution first opened its doors a century ago.
"We look at the whole spectrum of food production here," says Madramootoo, "from what's planted in the ground, to how it is processed, to how healthy something is when it's on your plate."
And the science of food is growing ever more complex. Madramootoo notes that Mac researchers are becoming increasingly interested in nutraceuticals and probiotics — foods and food components with medicinal qualities or unique health benefits.
"The molecular sciences are embedded into our agricultural programs," Madramootoo explains. "It's the pillar on which our approach to agricultural sciences will be built in the future."
Mac's associate dean (research), plant science professor Suha Jabaji, points to the work of her departmental colleague Martina Stromvik as one example of this. The young plant scientist uses her expertise in both molecular biology and bioinformatics (using computers to assess and evaluate the reams of data being uncovered about genes and proteins) to decipher what drives the expression of certain genes in plants. Each plant has between 20,000 and 60,000 genes. What kicks the important ones into action? "We could change the genetics of a crop — make it more resistant to droughts or able to produce higher yields," says Jabaji.
Stromvik is part of a new generation of Mac researchers — close to one-third of Macdonald's professors have been hired within the last decade. "We're getting very good people. We're not having a hard time attracting them," Jabaji says. She quickly reels off the names of a dozen or so new hires who she believes are already gaining prominence in their respective fields.
Grace Marquis, a newcomer from Iowa State University, for instance, is McGill's Canada Research Chair in Social and Environmental Aspects of Nutrition, examining why at least one-third of the world's children are malnourished. She has research projects under way in both Ghana and Uganda.
Murray Humphries, PhD'01, an expert on how mammals contend with cold northern climates, is another recent addition to Mac's professorial corps. He was recently awarded a Northern Research Chair in Wildlife Biology and Traditional Food Security by the Natural Sciences and Engineering Research Council.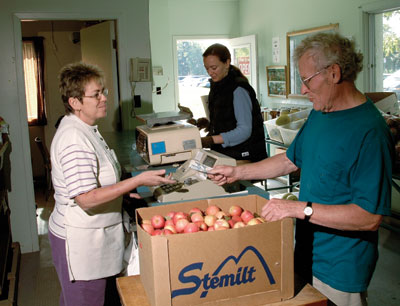 Nicolas Morin
CLOSE TO NATURE
"A lot of the younger professors like the collegiality of a smaller campus," Jabaji notes. "And the availability of fieldwork stations at your fingertips is a real selling point."
That last characteristic makes Macdonald unique in Canada, says Madramootoo, who describes his campus as a "living laboratory."
Macdonald is the only institution of its kind in the country that can offer scientists access to an on-campus research farm, orchards, experimental field plots and a 245-hectare arboretum — all within an easy stroll of classrooms and offices.
That doesn't just appeal to professors. "Many of our courses have lab and field components and students really like that hands-on aspect," says Madramootoo.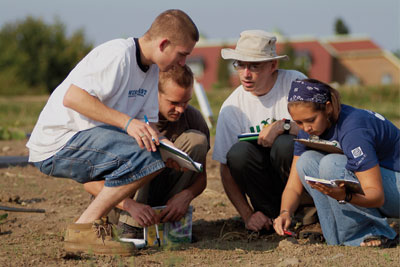 Nicolas Morin
"When I deal with friends who work in university biology departments, molecular geneticists busy putting new traits into plants, they often don't see the need for field stations," observes Smith. "What I tell them is that about 80 per cent of the stuff that looks great in a lab just doesn't measure up in the field. Nature is complex and it's unpredictable."
Thanks to recent successes in garnering funding from the Canada Foundation for Innovation and other sources, Mac can also offer its new professors access to high-tech indoor facilities, says Jabaji. A CT scanning laboratory, for instance, built in 2003, is used to provide detailed 3-D glimpses into plants, soil and animals. It's the first facility of its kind in Eastern Canada.
While agriculture is still intrinsic to Mac's research programs, growing concerns over climate change have resulted in environmentally themed research becoming much more prevalent in recent years.
"I laugh when I hear people say we have to go back to nature," says Smith. "Mother Nature isn't always such a nice lady. Look back at the last 200 years and you'll see that nature can be a real SOB sometimes. We have to respect nature and we have to understand it."
Throughout Mac's history, generations of professors have been sensitive to the needs of the people most keenly interested in their research. Historically, that's been the farming community, and Mac can point to a long list of pioneering initiatives and discoveries that have benefited the agricultural sector, particularly in Quebec.
In recent years, the beneficiaries of Mac's research efforts have expanded. The Mac-based Centre for Indigenous Peoples' Nutrition and Environment, for instance, has won acclaim for the way it carefully consults native communities about the research it pursues, while a multimillion-dollar project geared towards improving food processing practices in India, headed by Mac food engineer Vijaya Raghavan, has resulted in the opening of food processing plants and local bakeries throughout Southern India.
"As academics, you can't just swoop in and say, 'We know what all the problems are,' says Jim Fyles, who consults with native groups through his SFM work. "It's really easy for cultures not to connect. You have to take the time to understand another culture before you start working with that culture. I think there is a real sensitivity to that here."
Fyles points to Mac's long-standing motto, "Mastery for service," and its notion that a big part of Macdonald's mission is to put the expertise of its researchers at the use of helping different communities with their everyday concerns.
"At Mac, that rings true to a lot of people. It might sound corny, but we take pride in that."