Breaking Down Barriers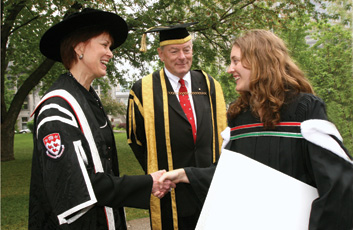 Principal Heather Munroe-Blum and Chancellor Richard Pound conratulate new law graduate Meaghan Enright.
Owen Egan
As much as our ambience adds to campus life, however, it is far from an adequate measure of our impact. The stunning diversity of our campuses, and the global distribution of our alumni, amplify our ability to be Montreal's window on the world. The strength of our students and faculty, who represent the best and the brightest from the four corners of the world, is a critical asset. But there are other ways to evaluate the impact of our people and programs.
We live in a world in which an epidemic can spread as quickly as a jet can fly. McGill's ability to build a strong future for Quebec and Canada, and prepare its students for a life of accomplishment, is related in many ways to our level of international engagement. In these times, this means focusing strongly on the problems affecting the developing world, and Africa in particular.
While there are examples of astonishing resilience and growth, the continent's troubles are myriad and the litany of sobering statistics is all too familiar. One-third of the population of sub-Saharan Africa, more than 250 million people, lives with insufficient food.* Thousands of children are conscripted for armed combat. sub-Saharan Africa alone is home to two-thirds of the 40 million people living with HIV in the world. Three hundred million Africans cannot access potable water. The list, sadly, goes on.
Complex issues require complex solutions. McGill professors have nurtured a distinctive, long-standing relationship with African institutions and governments — and with partners from other countries — to develop practical solutions. Together, we actively engage in community-building, in problem-solving, in the pursuit of research with an eye toward real-world application. The HIV/AIDS epidemic, for one, has galvanized McGill researchers. Education professor Claudia Mitchell studies gender-based violence in the context of HIV and AIDS. Mark Wainberg, Director of Research at the Lady Davis Institute of the Jewish General Hospital and of the McGill AIDS Centre, is both a renowned researcher and an effective advocate for universal drug access. Jody Heymann and her colleagues in the McGill Institute for Health and Social Policy are helping to break the bottlenecks that impede prevention and care.
Our researchers have been on the ground for many years, building Africa's capacity by training physicians, both at home and in Canada. Dr. Gary Pekeles, Director of the Northern and Native Child Health Program at the Montreal Children's Hospital of the McGill University Health Centre, has taught in the medical faculty at Uganda's Mbarara University and participated in a village-based community development project. McGill minds are tackling other issues as well. The McGill Centre for Human Rights & Legal Pluralism is investigating how legal reform can help postwar nations quell unrest after fighting officially stops. Researchers from the Macdonald Campus are applying their expertise to advancing good nutrition and sustainable agriculture through the development of high-protein, drought-hearty crops.
These issues are all complex and nuanced. It is only through the free and open interchange of ideas, and the building of strong and enduring networks, that major universities are able to develop creative and comprehensive solutions. This is as true for social and medical challenges as it is for environmental issues. How sad, then, that in a world in which dialogue needs to be encouraged, there are those elsewhere who wish to champion exclusion as a means of expression. I refer here to the proposed boycott of Israeli universities by the University College Union in the United Kingdom. I have strongly denounced their proposal, and urged our fellow professors in the U.K. to vote against its passage. Whenever, and wherever, the academy is threatened, it resonates at McGill. Our academic colleagues in Israel are as much a part of the McGill community as our own students and professors, or those in the Quebec university réseau, or at UBC, McMaster, UCLA or the Max Planck Institute — or the more than 190,000 McGill alumni around the world. Our faculty, staff, students and graduates constitute a powerful global resource, with a powerful track record of building national and international partnerships and effecting positive change. As our experience around the world shows, this is a time to be building new partnerships and breaking down barriers to collaboration, and McGill will continue to do just that.
Heather Munroe-Blum
*An earlier version of this column presented the following incorrect statement: "One-third of the population [of Africa], some 184 million people, suffers from malnutrition." The Millennium Development Goals Report 2005 of the UN Food and Agriculture Organization states that 33 per cent of people in sub-Saharan Africa, not the whole of Africa, live with insufficient food. One-third of the population of sub-Saharan Africa is estimated to be more than 250 million, not 184 million. The McGill News regrets the error.