And the Oscar goes to...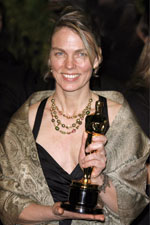 Now that Torill Kove is an Academy Award-winning filmmaker, she might need to work on her ability to correctly identify celebrities. Chances are she'll be bumping into them more regularly.
Case in point: At Vanity Fair's star-studded post-Oscars party, Kove was so thrilled to spot Jon Stewart sitting across the room that her friend — who had previously met the Daily Show host — offered to introduce them. As the pair approached Stewart's table, Kove's confused friend exclaimed, "That's not Jon Stewart, that's Bill Maher!" Kove had mistaken one politically-minded comedian for another. "After that," admits the animator, "I kept a low profile."
Kove, MUP'89, wrote, directed and animated The Danish Poet, which follows a word-blocked young poet's pilgrimage to meet a famous Norwegian novelist. Kove's husband, McGill music professor and jazz trumpeter Kevin Dean, scored the film; the couple previously collaborated on the Oscar-nominated short, My Grandmother Ironed the King's Shirts (1999).
The Oscar win doesn't mean the filmmaker is resting on her laurels. Kove is this year's mentoring director for the National Film Board's Animation Hothouse, a 12-week intensive workshop for emerging animators from Canada and Brazil. She's also busy transforming The Danish Poet into a picture book. And, no surprise, there's a new film in the works.
Kove is mum about her next project, saying only that it will be another short. "For many filmmakers, short film represents a stepping stone," she says, "but I don't really see my short films as the path to making an animated feature. I think short film is a legitimate art form on its own." She's uncertain how, or if, her Oscar will affect her next production. "If I propose a good idea for a new film, the Oscar might help — but if I don't have a good idea, the Oscar won't make a difference."
A design that's out of this world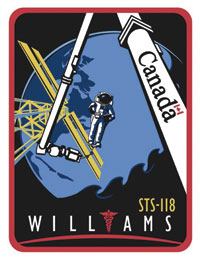 When Dr. Dafydd Williams, BSc'76, MSc'83, MDCM'83, blasts off into the cosmos aboard the space shuttle Endeavour this summer, he'll be carrying along some of McGill engineering student Mustapha Kerouch's handiwork.
Williams will be sporting a patch on his uniform designed by Kerouch for the astronaut's upcoming mission. Kerouch emerged as the victor of the Mission STS-118 Space Patch Design Contest, a competition jointly organized by McGill and the Canadian Space Agency. The idea for the contest originated with Williams himself, as a way of paying tribute to his connections to McGill.
Kerouch's patch won't be the only McGill memento accompanying Williams on the Endeavour. He'll also be taking the University's Coat of Arms and a postcard picture of the Osler Library of the History of Medicine, a place Williams enjoyed visiting during his McGill medical studies. Kerouch says that when he heard about the contest, the decision to enter was a no-brainer. "It was an opportunity I couldn't miss," he explains. As an engineering student, he can't help but be fascinated by the science and technology behind space missions, while the chance to flex his artistic muscles appealed to his creative side — he enjoys computer design and painting when not busy with his coursework.
In designing the patch, Kerouch says he was guided, in large part, by Williams's unique background. The caduceus, symbolizing medicine, appearing in Williams's name, represents the astronaut's pride in being a physician and his role as crew medical officer during the flight.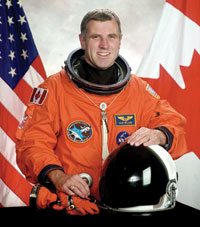 Waves on the patch mark the fact that Williams is the first Canadian to be both an astronaut and an aquanaut. Williams has been part of two joint NASA/National Oceanic and Atmospheric Administration missions to Aquarius, the world's only underwater research laboratory, examining how to, among other things, provide medical care in harsh environments.
The upcoming Endeavour flight marks Williams' second trip into space and he'll be taking part in three spacewalks during the mission — -a key theme on Kerouch's patch — to do some installation work on the International Space Station. "It's the first time a patch like this will be part of the spacesuit that an astronaut wears during a spacewalk," says Kerouch.
When Endeavour begins its voyage on August 7, Kerouch will be watching the launch from the CSA's mission control room. "I can't wait," he says. "This is something that I'll remember for the rest of my life."