The allure of jihad
What is behind the disquieting rise of Islamic fundamentalism throughout the world and why are so many Islamic youths drawn to militant organizations?
These are some of the questions that political science and Islamic studies professor Khalid Medani wrestles with, and he isn't the only one interested in finding out the answers.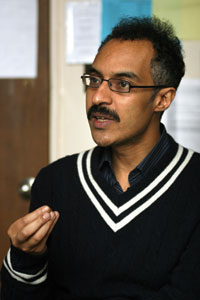 Medani was born in Sudan. "When fundamentalism came to Sudan, with prisons and tortures, my colleagues there said to me, 'Why don't you research and write about what's going on and tell the world?' Muslims are trying to understand what's happening to their religion and to their countries."
The subject isn't entirely academic for Medani. An acquaintance of his, accused of black marketeering, was killed by the Sudanese government in 1989.
"After that execution, I became obsessed with understanding the linkages between formal and informal institutions and the notion of identity in Islam."
His work recently received a big boost when Medani was selected as a recipient of a two-year Carnegie Scholarship worth $100,000 U.S. He was the only Canadian-based researcher chosen for a scholarship by the New York-based philanthropic foundation, the Carnegie Corporation.
Medani will be looking at the different factors that result in young Muslims joining fundamentalist groups. His approach is multifaceted, interviewing and surveying ordinary Muslims for their street-level perspectives, while also conducting historical and archival research. He wants to get a sense of the various factors — sociopolitical issues, employment histories of local populations, levels of poverty — that might facilitate recruitment by fundamentalist groups.
Medani will also be travelling to Africa to study the expansion of hawwalat (unregulated Islamic welfare organizations) and the role of Alahi, or private mosques, in providing an environment conducive to recruiting young militants.
From what he has seen so far in Egypt, Sudan and Somalia, Medani suspects that poverty plays a more important role than ideology.
Like inner-city street gangs in North America, the fundamentalist movement gives young people a sense of belonging to something.
Even when the allure is more ideological, the motivations can be complex, he says, noting some youths join particular groups out of Islamic, ethnic or tribal loyalties.
Steering clear of danger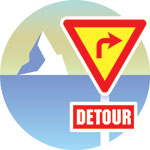 When the Titanic sank in 1912, dooming 1,500 of its passengers, it was far from the first vessel to fall prey to the icebergs that stalk the North Atlantic. And even with all the improvements to navigational safety that have been made since, ships plying the northern seas are still at risk of unexpected encounters with a silent frozen menace.
Working with scientists from the National Research Council's Canadian Hydraulics Centre and the Canadian Ice Service, Stuart Savage, an emeritus professor of civil engineering and applied mecanics, has helped develop a computational model that should better predict where an iceberg is headed after being "calved" from the massive glaciers of Greenland.
Fed information on ocean currents, wind patterns and characteristics of the iceberg itself, the model should help ship captains plot courses that will avoid unwelcome surprises. Testing in the Grand Banks has shown the Canadian computational model to be at least 30 per cent more accurate than the existing forecasting model already in use.
While advances in ship design and navigational systems make another outright catastrophe like the Titanic highly unlikely, the work is no less important for that. "Even a chunk of ice that's just five or six metres in diameter can do a lot of damage to a ship," says Savage, BEng'60, PhD'67. "What we want to do is to prevent the probability of a collision or an oil spill before it's even a danger."