The Practical Guide to Finding the Right Finance Job in Canada, Redlader Publishing, 2005, $19.95, by David Price, BA'95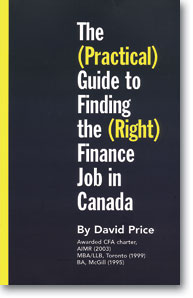 Confused, recent BCom and MBA grads need look no further; David Price, who not so long ago found himself in the same position, has written a primer that makes sense of the myriad options open to the young and energetic business professionals of the future. The bulk of the book is composed of Price's interviews with experienced financial leaders; each provides advice on their area of expertise and points out the pros and cons in their chosen field.
Price has seen a little of everything in his time on the job market. He has worked in a wide range of fields, from bond trading to merchant banking, before joining his father's publishing company in 2004. The author's down-to-earth tone allows readers to get a unique perspective on the prizes and pitfalls that may await them on any given path.
PAUL BERRY, BA'03
---
Fallingwater Rising: Frank Lloyd Wright, E.J. Kaufmann, and America's Most Extraordinary House, Knopf, 2003, $53, by Franklin Toker, BA'64.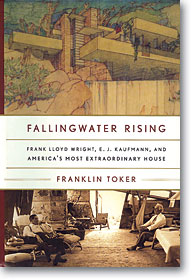 Over the years, so many books have been written on legendary American architect Frank Lloyd Wright that one could presumably construct a replica of one of his buildings out of the tomes themselves. Still, as demonstrated in this recent work by Montreal-born Franklin Toker, a history of art and architecture professor at the University of Pittsburgh, there are aspects of Wright's career that have never been adequately examined.
Fallingwater Rising has been described as the biography "of the most famous home of the 20th century."
The edifice, commissioned by Pittsburgh retail mogul Edward J. Kaufman, is a strikingly beautiful example of modernism at its most imaginative. Perched over a waterfall in rural Pennsylvania, the home re-confirmed Wright's status as the greatest architect of the 20th century. Toker's book has been acclaimed by a wide spectrum of readers for not only detailing the architectural story of Fallingwater but also the personal and social dynamics at play in its creation.
PAUL BERRY
---
The Canadian Retirement Guide: A Handbook on Aging, Retirement, Caregiving and Health - How to Plan and Pay for it, Insomniac Press, 2004, $21.95, by Jill O'Donnell, John A. Page and Graham McWaters, BCom'80.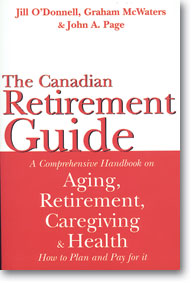 Surveys show that most people approaching retirement have done little planning for their "golden" years. The Canadian Retirement Guide is the perfect primer for the head-in-the-sand crowd - and their families. It's a gentle but thorough review of factors to consider as we age. Each author lends expertise so that social and health issues are explored, as well as financial options. For example, is moving to be near family really feasible? How traumatic is moving to a new city?
How can children cope with disabled parents?
There are simple suggestions for making life easier to manage, such as using the Internet to shop from home or join an online club, hiring a cleaner or a driving service, and installing better lighting. There's even a section on funeral planning (Final Exit) and tips to prevent family battles over what you leave behind.
For all the grasshoppers who need to catch up to the ants, this is a great start. American readers should look for The Retirement Guide.
DIANA GRIER AYTON