No Space for Mistakes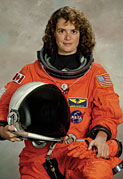 Canada's chief astronaut laments the public fuss over problems aboard the space shuttle Discovery that drew comparisons to the fatal flight of Columbia in 2003.
"It was played out in the media as a much bigger thing than it was to any of us at Mission Control," says Julie Payette, BEng'86, DSc'03, who was the Capsule Communicator - CAPCOM in space-speak - on the recent Discovery mission. Hers was the voice of Houston for the seven astronauts aboard the space shuttle. Seated at a microphone at NASA's Johnson Space Centre, it was she who welcomed her colleagues home when Discovery successfully landed on August 9.
The two-week mission drew heavy media coverage.
A piece of foam insulation broke off from the outer heat shield of the shuttle during lift-off and repairs were performed in space.
A similar mishap had damaged the heat shield of the space shuttle Columbia, which burned up upon re-entering the earth's atmosphere, killing all seven astronauts on board.
An investigation determined what Payette readily admits: "We had let our guard down."
Because of what happened in 2003, Payette and the Discovery astronauts trained more intensely than any past shuttle crew. Preparing for the mission involved a gruelling 18 months of simulations designed to mimic exactly what would happen once the shuttle was in orbit. By launch time, the astronauts had jelled into a strong, cohesive team and were well prepared for any eventuality, says Payette.
"During the simulation sessions, the trainers - the Machiavellis of Mission Control - would introduce unexpected problems that we would have to solve," she says. "Compared to the simulations we had done, this mission went extremely well."
Payette flew on Discovery from May 27 to June 6, 1999, during which the crew performed the first manual docking of the shuttle with the International Space Station. She was the second Canadian woman in space and the first to board the Space Station.
Now she's training for her role as CAPCOM on the next shuttle mission, scheduled some time after March 2006. She considers hers to be the best job an astronaut can have on the ground, but looks forward to an eventual return to space. "It'll come," she says, adding, "We all wish we could be the ones on the space shuttle, every last one of us."
Getting off to a Fresh Start
Many students arrive at McGill knowing exactly what they want to study. For some who don't, there's Arts Legacy. The new curriculum, officially inaugurated September 9, is designed to help first-year Arts students get their post-secondary studies off to a solid start before selecting a major.
"We're aiming to establish a foundation of knowledge and skills that will help them throughout their university career," says John Galaty, Acting Dean of Arts, who was one of the developers of the program. Arts Legacy is also intended to give students the ingredients for world citizenship: to understand their place in society and to ponder the important universal issues.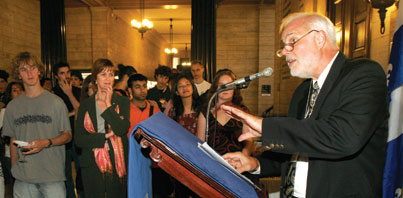 "This program is global in its scope," says Galaty (shown).
The classic freshman option requires students to select their own courses from three of four categories: Social Sciences, Humanities, Languages, and Mathematics and Sciences. Another option provides the opportunity to study in French. For BA students, the Arts Legacy program takes more of a multidisciplinary approach, with professors and teaching assistants from across the spectrum of Arts disciplines pitching in.
What makes Arts Legacy more distinct is its nod to the trend in higher education toward community-based learning, getting students and teachers working together in a group environment.
"The idea is to get them into groups with close interaction with teachers and other students," Galaty explains. "Learning should be interactive. When students receive knowledge in a passive way, it's not as readily integrated as when they're more active."
By studying pivotal times, places and people in history, the program will introduce students to the wide variety of cultural and historical experiences that gave rise to our modern, global societies. An emphasis on early acquisition of rhetorical skills is an important feature of the program, with a sharp focus on speaking, writing and critical thinking.
Arts Legacy is organized into four consecutive courses comprising lectures, mid-sized seminars and small tutorials. Students will examine five periods of innovation: the ancient Greek and Chinese worlds, the medieval European and Islamic worlds, the early modern transatlantic worlds, the emerging modern worlds of Europe and North America, and the developing worlds, including the Middle East and Africa.
Topics range from warfare to cultural diversity, and there's even an artistic component, incorporating music, drama, art and architecture, that will include performances on and off campus.
Big Job in Baghdad
Imagine that you've just been made Canada's ambassador to a country that hasn't had an ambassador from Canada in 15 years. Imagine that the country in question is wracked by violence and might well be the most dangerous place on the planet. And imagine that, in the midst of that chaos, you have to figure out how to set up a new embassy and renew diplomatic ties.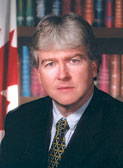 John Holmes, BA'78, LLB'82, Canada's new ambassador to Iraq, describes the job ahead of him as "challenging."
For the moment, Holmes (pictured right) will continue to be based in Amman, where he has served as Canada's ambassador to Jordan since 2003. Holmes will now represent Canada to both countries. "We are essentially building an embassy in Iraq from scratch," says Holmes, adding, "We hope to be up and running by early next year."
Someone he can call on for advice is Christopher Alexander, BA'89, who has been Canada's ambassador in Afghanistan for the past two years and who also had to build up a diplomatic presence under difficult conditions. "I know Chris very well and admire the work he has done in Kabul. I have been in touch with him and will continue to do so as we move ahead with our embassy in Baghdad."
While the situation in Iraq is precarious and the Bush administration's approach to the country continues to be hotly debated, Holmes thinks Canada has to involve itself in Iraq's post-Saddam struggles.
"We really have no choice but to help, as a stable and democratic Iraq is critical to the region's stability," he says. Canada has committed itself to $300 million in aid and recently assumed responsibility for improved coordination among donors, to ensure that international assistance fits the priorities of the Iraqis and is well invested. In addition, Canadians have been playing an important role in training Iraqi police officers, helping with elections and advising the Iraqi government on federalism.
Holmes says Canada takes "every step possible" to ensure that he and his staffers are protected on their forays into Iraq, but adds, "I would be lying if I said [my family] was not nervous." Despite the risks, Holmes is a man who loves his work. He was drawn to the profession because of the chance to represent his country, to travel and live among different cultures, and to make a difference in the world by working within the system. "What is remarkable is that these feelings remain as valid today as they were 25 years ago."
Playing with Pop Culture
It was during his second year of architecture studies at McGill that Rick Miller, BSc(Arch)'93, BArch'94, decided he wouldn't be designing buildings after all. One of his instructors invited Robert Lepage, the world-renowned Quebec playwright and theatrical director, to talk to architecture students about the creative process. Miller was bowled over. "I started taking as many theatre classes as I possibly could," he recalls.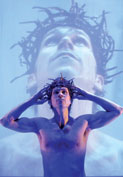 He didn't abandon architecture altogether, though, and completed his degrees. The training comes in handy. "It adds a certain visual sophistication to the way you do your work," says Miller, a budding star on the Canadian theatrical scene. "I'm more interested in aspects of scale, light, shape, colour and texture, and I think that finds its way into my work in subtle and not-so-subtle ways."
Those preoccupations are apparent in Miller's latest work, Bigger Than Jesus (pictured), which uses everything from sophisticated multimedia techniques to Star Wars action figures to examine how Bethlehem's most famous native son has been mythologized over the millennia.
The play, which Miller performs and co-wrote, recently nabbed three Dora Awards, Canada's leading theatre prizes, including "outstanding production of a play" and "outstanding performance by a male."
A lapsed Catholic, Miller found himself playing the title role in Jesus Christ Superstar a few years ago while turning 31 - the age of Jesus when he began his public ministry.
It got Miller thinking. Why does Jesus still resonate? Though the resulting play asks some hard questions about the way Christianity has developed, it isn't mean-spirited. "This isn't a Catholic-bashing instrument. I think we treat it respectfully."
Critics have been full of praise. Variety called the play "a fast-paced, thought-provoking ride,"while the Calgary Herald praised it as "delightfully clever and very funny." The play will soon be translated for productions in German and French.
Miller's chief claim to fame is probably as the man behind MacHomer, his unique one-man production of Macbeth, performed in the voices of dozens of characters from The Simpsons. The play is ten years old and Miller has his own notions about its enduring appeal.
"When I perform it in schools, I ask kids, 'Who hates Shakespeare?' and about half the hands go up. It's because they don't understand it. With MacHomer, they get it, even though it's the same words. The voices delivering those words are voices they know."