Bares Care
In 1937, to protect it from harsh Montreal winters, a wooden hutch was built to encase the fountain, and today it has become a sure sign of spring to see the hutch being removed and the statue revealed once again. General maintenance is ongoing, says Eric Champagne, a horticultural supervisor with McGill Facilities Management and Development whose responsibilities include the upkeep of the Bares.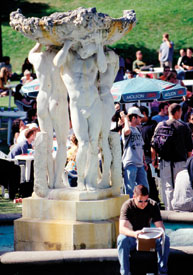 Nicolas Morin
"The bottom of the pool was repainted this year," says Champagne. "The old paint had peeled and it was impossible to clean, because algae and dirt get encrusted in the cement. We also have a problem with the surrounding black walnut trees: the nuts fall into the pool and stain the bottom."
Maintenance on the actual statue is left to specialists. "We don't touch the Three Bares themselves. There's a company that uses high-pressure water to clean them off. In the past, parts have been cracked and glued back - it's an old statue and we don't want to damage it."
Over the years, the fountain has hosted town and gown receptions, student protests, visiting scholarly groups and tykes from nearby daycare centres. "It was the scene of outdoor concerts in the '60s where the blue smoke of the counterculture was so thick you could get high just walking by the area!" recounts Emeritus Professor of Architecture Derek Drummond, BArch'62. These days, come September, the Bares watch over the hubbub of the return to classes and are at the centre of the student-run Open Air Pub that features bands, food and plenty of beer to welcome students during Frosh Week. It's an inviting space for everyone.
"More important than the sculpture is the shape of the space," says Drummond, "giving it a sense of enclosure and the feeling of an outdoor room. One could argue that the most important role of the sculpture has been to make the space difficult for sports events. The two lower quads host all sorts of games, but the Three Bares quad is used almost exclusively for social events."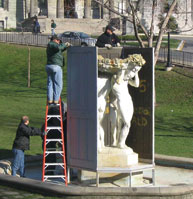 Photo courtesy Facilities Management and Development
The fountain has seen the campus change bit by bit; the great elm trees that once lined its main avenue have died, generations of students have moved on with their lives. It has been joined farther down the avenue by another high-profile statue: of the University's founder, James McGill. And despite its early controversies, this gift from McGill's American friends has created a place on campus that is imprinted fondly on the memory of many a graduate.
"I think the story of the Three Bares is a wonderfully typical McGill joke," says Faith Wallis, "and as such, I have deep and abiding affection for them."
Many more would agree: it's hard to imagine McGill without them.