Good show!
What a delightful experience having read your Summer 2004 issue from cover to cover, each and every item of great interest. Really bang-on! (RAF slang.)
To say thank you, I am pleased to enclose my cheque in the amount of $100 with every good wish for continued success and kind regards.
Paul W. Adams
Montreal, Que.
Urban miss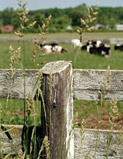 Nicolas Morin
I hope I'm not the first to note that the picture depicting "country hominess" on page 32 of the Summer 2004 issue ("A Visit to Mac") is not a picture of a split rail fence. Sounds as though an urbanite wrote the copy for that shot!
A. R. McKim, BEng'57
via email
Ed. note: After a little remedial reading, this city slicker can now distinguish between palisade, lapped panel and close board fencing, and even venture to suggest that the style of fence we showed enclosing Macdonald Campus cows is known as post and rail.
Sacred memories
It behooves me to never overlook one line of content from the McGill News, which I gratefully receive.
The family home and my upbringing were identified with the Roddick Gates and the campus, Molson Stadium and the erection of the Sir Arthur Currie Gymnasium. From the mid-1920s to the late '40s, we lived on Jeanne Mance below Pine. Every name in the publication, living or dead, every appointment, feature articles - all evoke memories or interest.
The Summer issue indicated that John Bird, BArch'49, had donated his works for the creation of the John Bird Archives 1942-92 (Alumnotes, page 39). It was recognized as having "outstanding significance and national importance." Mr. Bird was the architect for our Catholic Church in LaSalle in 1957. It was a unique and imaginative design, giving the appearance of the "Church in the round." As our Pastor, M.D. Dubée, explained to a Montreal Star reporter at the time, this concept indicated the "infinity of God." This writer served as a warden in those initial years.
S.A. (Steve) Walker
LaSalle, Que.
Claim in question
It was encouraging to read about the changes McGill's School of Nursing has undertaken to increase the number of graduates ("Critical Care," Spring 2004).
I was a staff nurse, then an assistant head nurse at the Royal Victoria Hospital from 1982-96 before relocating to Arizona to be with my fiancé. Before my departure, I was accepted into the School of Nursing to start a master's degree - but I question your statement that "[t]his 30-year-old program…allows students with a non-nursing bachelor's degree to earn their Master of Science in nursing in three intensive years."
In fact, I had to appeal an initial rejection by the School to allow me to enter the program with my Bachelor of Science (Physiology) degree. The reason given was that my undergraduate degree was not in nursing. I still recall the words of the School's acting director, Sister B.A. Gooding, when I appealed the decision: "You are persistent, aren't you?"
My rejection was overturned and I was accepted into the program. Had personal issues been different, I would have probably set a precedent as a non-nursing bachelor's RN candidate entering the School's master's program - only eight years ago, not 30. Glad to read of the more open-minded approach these days.
Maria Sitaras-Dennis, RN, BSc'93
Phoenix, Ariz.
Amazing alumnus
I am retired from the Geography Department of York University, researching a biography of a famous grad, Robert Bell, BApSc1861, MDCM1878. Reading Bell correspondence at the National Archives recently, I happened upon the following, written to his wife vacationing in Scotland, while in Montreal, he readies himself for a field season with the Geological Survey of Canada: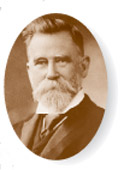 "This year the Graduates of McGill University founded an 'Annual Dinner' on the evening of Convocation (1st inst) & they asked me to patronize it, which I had to do rather unwillingly. It was rather slow. Still it was as well to be at the original dinner. It may grow to be quite an institution." [4 May 1877].
Perhaps this might be an appropriate header for an issue of the alumni magazine.
Ian Brookes, MSc'64, PhD'70
Kingston, Ont.
Ed. note: Thanks to Ian Brookes for the suggestion. The well educated Bell (no relation to Robert Bell, McGill principal from 1970-79), may have been reluctant to attend the inaugural Annual Dinner because he was more comfortable in the field than at a formal table. Bell first participated in the Geological Survey of Canada in 1857 when he explored the Saguenay region of Quebec at age 15. According to an article in the RBC Letter, over the next 50 years this photographer, taxidermist, map-maker and amateur astronomer "tramped over more of Canada than any other man of his time and reported knowledgeably not only on mineralogy and geology but also on soil, seeds, crops, forests, water power, wildlife, vegetation, climate and ethnology." Covering territory including Hudson Bay and Baffin Island, Bell, like all early Survey explorers, "performed feats of outdoor endurance that are scarcely believable." Bell became director of the Survey in 1901, succeeding George Dawson,LLD1891, son of noted geologist John William Dawson, principal of McGill from 1855-93.
Valiant efforts
I enjoyed your Summer 2004 item about Canada's women's water polo team ("Olympians Head to Greece") which included many McGill students, past and present. I bumped into the team a year ago at the airport in Paris on my way home from holidays. The team was returning from competition in Barcelona, disappointed with a fourth-place finish. Their goal was the Athens Olympics. They finally qualified in February to represent Canada at the Games.
I was lucky enough to attend six events in Athens and one of them was the first water polo game - Canada vs Russia. The women gave their all but lost 8 - 6. I tried to get tickets for their game against Hungary (after the spectacular win against the U.S.) but there were no tickets to be had.
All of Canada's athletes struggled valiantly against stiff opposition. Just qualifying and getting to the Olympics was a great accomplishment. We should be very proud of our athletes who give big chunks of their lives to train and compete, all the while holding down jobs or continuing their educations.
Marika Asimakopulos, BA'60, MLS'83, CertProfItalian'91
Montreal, Que.