A Visit from the Prime Minister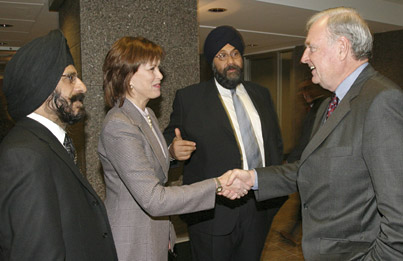 McGill Principal Heather Munroe-Blum welcomed Canadian Prime Minister Paul Martin when he visited McGill in September as part of the Inter-Faith Conference celebrating the 400th anniversary of the Guru Granth Sahib, the Sikh holy scripture. The conference was organized by McGill's Faculty of Religious Studies and the Canadian Sikh Council and brought together scholars from Canada, the U.S. and India to discuss constructive ways for people of various religions to foster a deeper understanding of one another. Pictured from left are conference chair and Director of the Sikh Council Harinder Ahluhia, Principal Munroe-Blum, McGill Sikh chaplain Manjit Singh, and Prime Minister Martin.
Will & Grace & Alex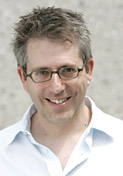 When Alex Herschlag, BA'79, studied at McGill in the late '70s, he must have been viewing a lot of bad Canadian TV. In conversation, he easily recalls The Beachcombers, The Irish Rovers and Peter Gzowski's disastrous latenight talk show, chuckling at the memories. These days he does his best to produce TV of a higher order.
Herschlag, who begins his first season as the new executive producer of NBC's hit sitcom, Will & Grace, has plenty of good memories of both Montreal and McGill. As an undergraduate, Herschlag took a comedy course with now retired English professor Irwin Gopnik, did a stand-up routine at local comedy clubs and gained some early broadcasting experience at Radio McGill.
"I love Montreal," Herschlag says. He visits the city from time to time and even proposed to his wife during one Montreal sojourn.
With both Friends and Frasier calling it quits last season, Will & Grace is now indisputably NBC's top sitcom and is expected to anchor the network's traditionally potent Thursday night lineup, which might be vulnerable now that Rachel, Monica, Chandler and company have left the premises.
"Do I feel that pressure? Yes. But, I'm trying to tell myself I'm only responsible for putting together a good show," says Herschlag.
Sitcoms themselves are under siege these days with the growing popularity of reality shows like The Apprentice squeezing more and more comedies off the air. "Before Cosby came along, people were talking about the death of the sitcom back in the '80s," says Herschlag. "Something always comes along and captures people's imaginations again."
Still, Herschlag gives the devil its due. "Why do people watch TV? To see compelling characters. Reality TV has been very successful in introducing characters that are multi-dimensional, especially in terms of exploring the darker side of people's personalities." Maybe fiction writers could learn a thing or two, he muses.
Herschlag has been part of the Will & Grace team since its first season and has earned an Emmy Award for his contributions to the show. He was also part of the team behind a groundbreaking sitcom that many believe opened the door for current gay-themed shows like The L Word and Will & Grace. Herschlag was co-producer for Ellen DeGeneres's Ellen when the title character declared herself a lesbian. Thanks, in part, to the show's highly publicized and Peabody Awardwinning coming out episode, homosexuality was no longer such a taboo topic.
"That was one of the most exciting years I ever had working in television. I was proud to be part of it. This was television that changed people's lives."