Champagne corks have been popping for many members of the McGill community as some special anniversaries come up in 2004. The Faculty of Dentistry and the Graduate School of Library and Information Studies mark their centenaries, and it has also been 100 years since music became part of McGill life. With additional 100-year milestones for the Montreal Children's Hospital, the Yellow Door, and McGill basketball, it adds up to a lot of celebration, on and off campus.
100 Years of Dentistry
Open wide!" As McGill's Faculty of Dentistry celebrates its centennial, the dentist's customary greeting has taken on a new, broader meaning. To be sure, the words are still heard in the teaching facility, in the award-winning Maimonides Dental Clinic where geriatric patients are treated, and by street kids getting care from students and practising dentists who volunteer their services at mobile outreach clinics. All this follows long tradition. Dentistry was founded, and its reputation established, as a facility for teaching and for its work in the community.
But "open wide" is also a descriptive term for new attitudes and directions as the Faculty's doors have been flung open to innovative collaborations that foster a multidisciplinary approach to the diseases and disorders associated with oral health and to research in dental or bone-related problems associated, for example, with Down syndrome, cancer or HIV/AIDS.
In 1904, McGill absorbed Bishop's University's small Faculty of Medicine - including a dentistry department - with two stipulations. McGill would not accept women students and could offer no French instruction. At the beginning of 1920, the adopted department became a faculty - an elevation in status credited to Dr. A.W. Thornton, who became dean. The energetic and charismatic Thornton was respected as much for his persuasive eloquence as his professional talents. Under his enlightened leadership, the first woman graduated from the Faculty - Florence Johnston, DDS'26.
In a 1922 edition of the McGill News, Dean Thornton wrote, "The teaching of clinical dentistry by McGill University had a very humble origin. It began in a small room, none too clean, and none too well lighted, with a single chair, where a few simple operations were performed by Dr. J.S. Ibbotson on a purely scriptural basis (without money and without price)." In fact, the 1904 agreement made dental teaching staff responsible for the financial affairs of the department, including any debts.
In 1913, the single chair expanded to eight, with space provided in the disused morgue at the Montreal General Hospital on La Gauchetière Street. Within the year, ten more chairs were installed as registration increased. World War I brought a brief dip in student numbers, but by 1922 the hunt was on again for larger accommodation, finally secured in a new wing in the hospital.
Hiring practising professionals as part-time staff, the Faculty carried on through the Depression and WW II, turning out some of the best clinically trained dentists on the continent. The early 1950s brought an influx of veterans, whose numbers, maturity and enthusiasm bolstered the spirits of the exhausted professors who had stayed behind to keep the Faculty going. With post-war optimism came new technology that improved patient care and was a godsend to students, who no longer had to perform feats of coordination with treadle-powered drills. New drills driven by electricity rotated at approximately 20,000 revolutions per minute. (Today's air-powered drills perform at approximately 200,000 revolutions per minute).
The late 1980s began a turning point in the Faculty's history. An accreditation team judged the training facilities inadequate for the 45 students and recommended that registration be cut to 25. There was also a new emphasis on the training of graduate students and on the importance of McGill as a world-class research institution. Every faculty was expected to bring in research funds and to cultivate vibrant graduate programs to complement teaching efforts. In July 1991, the University determined that Dentistry's teaching and research failed to meet standards set out by a task force earlier that year. The Faculty was threatened with closure.
Students and the public protested and alumni rallied. Major donors who believed in the importance of the Faculty to the English-speaking community helped launch the extraordinarily successful Renewal Campaign, which raised $1.9 million in six months. Philosophy professor Storrs McCall, BA'52, contributed $350,000 for the McCall Dental Clinic in honour of his parents. Arthur Lau, BArch'62, a long-time friend of the Faculty and former member of the Board of Governors, also contributed significant time, money and influence to the cause. In the end, all conditions established by the University were met and closure averted.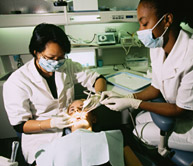 Nicolas Morin
Today, Dean of Dentistry James Lund has much to boast about. "Our alumni number among the highest in per capita giving of any faculty in the University. This gives us some flexibility and allows us to build and renovate." He notes that Dentistry now brings as much research funding to McGill per professor as the Faculty of Medicine. Five new scholarships were established in the past four years alone, ensuring a place for promising students. Facilities such as the Jamson T.N. Wong Laboratories for Bone and Periodontal Research and the McGill Pain Research Centre are attracting world-class scholars. The Pain Research Centre, says Lund, "is one of the top three such centres in the world."
The 100th anniversary of Dentistry at McGill is an occasion for genuine celebration, with the Faculty stronger and more focused than ever and a future that is truly wide open.
For more information about the Dentistry centennial, see www.mcgill.ca/dentistry/centennial.