From Telegrapher to Titan: The Life of William C.Van Horne, Dundurn Group, 2004, $55, by Valerie Knowles, MA'57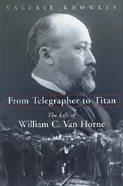 Valerie Knowles points out in her preface to From Telegrapher to Titan that there has been no full-length biography of legendary railway man William Van Horne since 1920, five years after his death, so this fascinating work about an even more fascinating man has been a long time coming. Van Horne famously pushed through construction of the Canadian Pacific Railway's transcontinental line, and became one of Canada's foremost financiers and art collectors, capping his career by opening Cuba's interior with a railway.
Having started his career as an errand boy and telegrapher, Van Horne was general superintendent for the Chicago, Milwaukee and St. Paul railroad in 1881 when an offer came from the president of the newly incorporated Canadian Pacific Railway to make him general manager of CPR. The project would be "the most daunting railway construction ever undertaken," intended to link British Columbia to Eastern Canada "by a ribbon of steel, thereby fulfilling an essential condition of the agreement by which that province had entered Confederation in 1871." It would involve building well over 3,000 kilometres of railway and its completion would become a defining moment in Canadian history.
Van Horne was an iconoclastic railway man with no patience for those who feared change. There was initially no fondness from his Canadian staff for the "blunt domineering Yankee who did not refrain from telling people exactly what he thought of them, especially if they were Britons or Canadians." But within his first year as general manager, he was proving himself up to the seemingly impossible task, writes Knowles, and "the speed with which Van Horne's army laid down the rails across the desolate Prairies was so breathtaking that both Parliament and the general public could only gape in amazement." By 1885, the entire line was miraculously complete.
Indeed, many of the tales in Van Horne's life have a legendary air to them. He lived through the Great Chicago Fire of 1871, rescuing freight from the Chicago and Alton railway by loading it on to flat cars himself and paying any man who would help five dollars an hour. He walked home through the blazing city to his wife, Addie, who had just delivered the couple's second child a day earlier, and then took from his house bedding and clothes for those displaced and made homeless by the great conflagration. The next year, while working as an inspector on a train, he came to the aid of a young black invalid child being harassed by a gang of thugs, grabbing the leader by the scruff of the neck and commanding him to stop or be thrown off the train. The conductor would later inform him the ruffians were none other than Jesse and Frank James and their criminal cohorts, the Younger brothers.
By the time he was president of CPR, Van Horne was one of Canada's leading financiers, but the swaggering railway man also had a lifelong interest in art. He was himself a rather accomplished painter (several of his works are found in the National Gallery) and his wealth allowed him to indulge in collecting. He was an honorary member of the Royal Canadian Academy and would become one of the progenitors of the Montreal Museum of Fine Arts.
The later chapters of Knowles's book deal with Van Horne moving on from the CPR to the new challenges of building a railway in Cuba, doing in one year "greater work for Cuba than the Spanish government had accomplished in 450 years." But he was soon in diminishing health and in September 1915 Van Horne died in Montreal. The grieving response came in front page headlines, with sympathy expressed around the world, and his body was carried, fittingly, by funeral train to his hometown of Joliet, Illinois, met by groups of admirers at each station along the way.
From Telegrapher to Titan is also the story of driven, self-made men, including Van Horne's early mentor and future rival James J. Hill, another empire-building rail baron, George Stephen, the president of CPR, and Donald Alexander Smith, later Lord Strathcona, who would drive the last spike in the CPR.
Knowles has constructed an admirable biography of the railway titan (despite some minor editorial glitches), providing a different perspective of the much-told story of the CPR, and also a portrait of Canada at the turn of the last century and the larger-than-life pioneers of Canadian transportation. Even from the book's back cover portrait of a cigar-wielding, barrel-chested Van Horne astride a chair and glaring into the camera lens, one can tell they don't make them like they used to.
ANDREW MULLINS
Some Great Thing, Raincoast Books, 2004, $34.95, by Colin McAdam, BA'93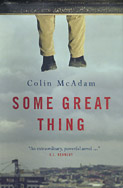 First-time author Colin McAdam has described his remarkable debut novel, Some Great Thing, as a book about yearning. Indeed, his two protagonists, homebuilder Jerry McGuinty and city planner Simon Struthers, both yearn mightily to make their respective marks on '70s-era Ottawa. Their ambitions drive them to accomplish much, but also blind them to how their personal lives are crumbling as a consequence.
The book's two lead characters could not be more different. McGuinty is a self-made success story emerging from humble origins. Struthers is the smoothtalking, impeccably dressed son of a former cabinet minister, destined, it seems (at least to him), for a grand future.
Interestingly, although Struthers is far more educated and worldly, it is the plain-spoken McGuinty who has a much clearer sense of who he is and where he is going. McAdam cannily underlines this through his narrative choices. Jerry tells us his own story, in an earnest and earthy fashion. Simon's story is told to us. He hasn't the self-knowledge to describe himself.
Simon is a master seducer who doesn't quite know what to do once the seduction has been successful - a point hilari- ously highlighted in a scene during which Simon absent-mindedly confesses his desire for another woman while still servicing his latest conquest. Though slick and attractive, Simon seems only half-formed and brings to mind Gertrude Stein's memorable phrase: "There is no there there."
While McAdam writes Simon's portion of the story well - as a diplomat's son, he likely knows something of the world of government employees who labour over carefully worded memos intended to woo or wound - the novel really springs to life with a sort of roughhewn poetry whenever Jerry reappears.
A master plasterer, Jerry describes his approach to his work: "To plaster the simplest wall takes ...a solid sense of how the world stands up. Some say it stands up straight. Some say it curves like hips. I say it stands as I tell it to. My walls will change your life." One wonders how McAdam, the diplomat's boy, manages to imbue his cuss-filled construction site scenes with such a ring of authenticity.
McAdam toys with his readers skillfully, partially unveiling scenes in one part of the book and leading you in a certain direction, before surprising you with the full revelation of what really occurred. Some Great Thing features some great writing. Here's hoping we don't have to wait too long before McAdam produces a second novel.
DANIEL MCCABE, BA'89
The Mad Trapper: The Incredible Tale of a Famous Canadian Manhunt, Altitude Publishing, 2004, $9.95, by Hélèna Katz, BA'87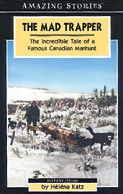 Know any great Canadian stories? Not really? Altitude Publishing's Amazing Stories series is designed to provide tales of Canadian populist history in a number of short, zippy volumes about famous - and infamous - Canadians. Hélèna Katz has joined in on the fun with The Mad Trapper. In it, she describes one of the largest manhunts in Canada, when in 1932 the Royal Canadian Mounted Police tracked the elusive Albert Johnson, The Mad Trapper of Rat River, across the Northwest Territories and into the Yukon above the Arctic Circle.
It started out as a routine police visit to the surly trapper's cabin to inquire about some Native traps that had been tampered with, and ended with much more than anyone had bargained for after Johnson shot and nearly killed an RCMP officer. In the subsequent chase, Johnson's stamina and wilderness skills helped him evade his pursuers for nearly seven weeks, in a hunt that gripped the imagination of the continent and had Northern residents living in fear. The manhunt marked the first time that the RCMP used an airplane and two-way radios to help them get their man.
The Mad Trapper is, as promised, a quick, fun read and a ripping Canadian yarn. Author Katz takes delight in the melodrama set in the harsh Arctic climate of sub-zero temperatures, blizzards, whiteouts and frostbite conditions faced by the RCMP as they hunt the trapper and are joined by civilians in the dramatic chase. To this day, Johnson's true identity remains somewhat of a mystery.
SARAH PRINGLE, BA'05
Reclaiming Your Sexual Self: How You Can Bring Desire Back Into Your Life, John Wiley & Sons, 2004, $22.99, by Kathryn Hall, PhD'86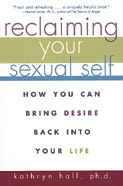 In Reclaiming Your Sexual Self, Kathryn Hall dispels the myth that a lack of sexual desire in women necessarily indicates a hormonal problem, and asserts that more often it means something is out of balance in their lives. Hall has had over 20 years of experience in sexuality research and direct clinical practice, and she draws on successful methods she has used in her private practice in Princeton, New Jersey, to help women identify the imbalances that are affecting their overall well-being and get in touch with lost or neglected sexual feelings.
The book is peppered with case studies illustrating problems that some women have and the methods used to overcome them. Hall emphasizes that hormone replacement therapy doesn't have to be the answer, and that it's okay to consult a sex therapist rather than a general therapist when it comes to sexual dysfunction. Covering ways to improve communication with one's partner, establishing the right conditions to spark sexual interest, and how to maintain that spark over the long term, Reclaiming Your Sexual Self offers wise and warm advice.
The book also includes appendices that explain sex hormones and medications that can decrease sex drive, as well as a section of general resources. Hall cautions that self-help books such as this one are just the beginning and that they are not infallible. For many problems, she stresses, a therapist should be consulted.
Tools of the Trade for Canadian Genealogy: A Guide for Family Historians in Canada, Ontario Genealogical Society, 2004, $21.95, by Althea Douglas, BSc'47, MA'58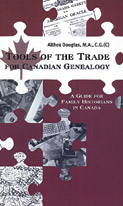 With Tools of the Trade for Canadian Genealogy, Althea Douglas provides a useful manual for researching your family tree: where to start, how to find the records using libraries, archives and church registers, pretty much everything down to deciphering old handwriting (watch out for the long 'F's that look like 'S's). Written specifically for the family genealogist - we all seem to have at least one - it is intended to provide effective ways to approach family history research in Canada. It has appendices of useful addresses: archives, genealogical societies, as well as a framework of useful dates in Canadian history. The book also includes a number of databases and websites of use to the online genealogist.