Sharing Past and Present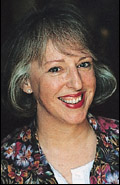 McGill has some weekend guests arriving soon – more than 3,000 of them, in fact. From October 14 to 17, graduates will be arriving from around the world to attend Homecoming. As usual, there's a full slate of activities planned, ranging from a lecture by a Nobel Prize winner to small dinners at classmates' homes where alumni can catch up with each other and share news about the kids and grandkids.
Some new events this year will focus on McGill students. The talented members of the McGill Jazz Orchestra will blow away any remnants of jet lag at a Thursday night concert and send spirits into high gear with their bright and brassy swing. The occasion will be extra festive because the Faculty of Music is celebrating its centennial this year and looking forward to moving into impressive new quarters now under construction next to the Strathcona Building. (See our cover story.)
Students will also meet and greet alumni at a Saturday afternoon reception on their own turf – the renovated and expanded student services complex. The generations can share stories of the undergraduate experience then and now.
What is campus life like nowadays? Doubtless students are under greater pressure today, juggling job responsibilities in addition to managing school work and a social life. As the University grows, students have to cope with large classes and take more initiative for determining their academic programs. Not easy, especially for those new to the city, independent living and a lower legal drinking age.
Dean of Students Bruce Shore says he has "the 18-year-old from a small town in the Prairies" in mind when he talks to students during orientation in August. The advice he dispenses is mostly common sense, but, he notes, some students have simply never had to give much thought to big city living before.
Both past and present students might do a little eye rolling on the subject of bureaucratic red tape. The University is working hard to change the notion that its administrative processes are slow and cumbersome. Line-ups for ID cards were almost non-existent this year and a new improved electronic registration system is in place. Principal Heather Munroe-Blum, who has been spearheading a University-wide strategic planning exercise, has made service to students a priority. As a next step, she plans to launch a task force to review the current state of student services, find problem areas and identify solutions.
With ambitious plans for McGill's future, the excitement of Homecoming and the proud marking of a number of 100th anniversaries, there is much to celebrate this fall. Sadly, there is also cause to grieve as everyone in the McGill community remembers three promising young people who died in September.
On Labour Day weekend, a student was found dead in her residence by McGill security staff. They entered her room following calls from her family in Vermont who had expected her home that afternoon. The coroner's office has advised that death was likely caused by a severe form of hepatitis, an extremely rare complication of mononucleosis. Just over two weeks later, two management students were killed in a car crash as they returned from a conference in Quebec City. Their deaths at such a young age seem especially poignant at a time when we rejoice in long histories and lifetime friendships.
Other backdrops to campus events include politics, in particular the fragile state of our recently elected Liberal government, already under siege from opposition parties. And, of course, the last weeks of the U.S. presidential election fill the news. We've even had both candidates'siblings on campus recently. As you'll read in Newsbites, Florida governor Jeb Bush was here as part of a group promoting trade with Canada, and to witness the signing of an agreement between McGill and the University of Miami.
At the beginning of October, Diana Kerry was at McGill stumping up support for her older brother. Both Democrats and Republicans have sent representatives abroad to urge expatriate Americans to vote this year. Of the 680,000 Americans living in Canada, about 10% reside in the Montreal area. Kerry said she wasn't worried about any gap between her brother and George Bush. "You need to peak on election day, and that's what he's working on now."
Watch for images of Homecoming 2004 in our next issue.