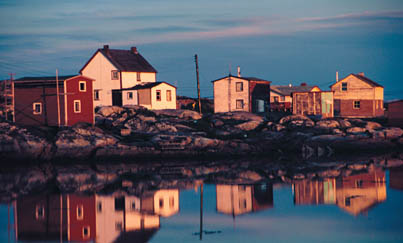 A view of the historic fishing village.
Mellin views his summertime activities on Fogo Island as an essential part of his professional life. "The teaching, research and practice involving architecture in one location relates in an interesting way to lots of issues that we cover with our students. We are a professional school and a deeper understanding of the cultural aspects of particular communities is important to highlight. It's almost the equivalent of a medical student working in a clinical setting - bringing the atmosphere of an architectural practice into the studio, where students can sample the kind of rigour and dedication that's required for this kind of work."
Mellin notes that some students, particularly those from urban areas, arrive at the School of Architecture discounting rural architecture as inconsequential or irrelevant. Students from developing countries, however, are eager to learn about conservation methods, and to see how entire communities can be revived if the necessary skills and understanding of the value of the community's architecture can also be revived.
This past summer, Mellin published a book on his research and conservation work in the community. Tilting: House Launching, Slide Hauling, Potato Trenching, and Other Tales from a Newfoundland Fishing Village is a lively, literary and lavishly illustrated depiction of all aspects of life in Tilting and includes conversations with some of the community's residents. The book, exhibitions in Montreal and Toronto of Mellin's photographs and drawings, and that good old standby, word of mouth, have helped draw tourists from all over North America as well as from Ireland.
Although some local residents may be concerned that they will have to start dressing in period costumes, the isolated location and rugged environment will likely ensure that Tilting never becomes a tourist trap. But Robert Mellin has no doubt that visitors will always be able to experience the atmosphere of "another time and another place, where it is impossible to pass someone on the road without saying hello, and where you are always welcome in a warm kitchen for a cup of tea."