Managing to Create Social Innovation
Given that Warren Nilsson is a doctoral student in the McGill Faculty of Management, his choice of research subject - a Montreal meals-on-wheels organization called Santropol Roulant - may at first sound a bit odd. But as a means to identify universal principles of social innovation, Nilsson says he couldn't ask for a better archetype.
Santropol's mission is simple: provide food, fellowship and security to home-bound Montrealers. But in this simple work, the award-winning voluntary organization has somehow become an intergenerational life-force in its community, introducing hundreds of teens and young adults (including many McGill students) to volunteering, and catalyzing numerous complementary initiatives in close partnership with business and government. "Santropol is a small organization with big themes," Nilsson says. "And they've managed to develop a meaningful voice without becoming very big or even powerful."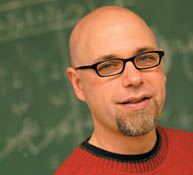 He wants to know how Santropol does it, and he is finding the organization's amplified impact has everything to do with the way it relates to people, time and boundaries. "I am looking at really broad themes," he says, "but in a hands-on, down-to-earth way. In the coming years I will expand my research of these themes to dozens of organizations. And if I'm successful in expressing the insights in meaningful ways and with rich examples, these insights may be useful to other organizations that are working together to solve societal problems."
In his exploration of the secrets behind successful social innovation, Nilsson is not alone in McGill's Faculty of Management. He's not even unusual.
For the Washington-based Aspen Institute's semi-annual Beyond Grey Pinstripes study of MBA programs across North America, McGill Management recently performed an extensive audit to measure its level of commitment to researching and teaching the principles of corporate social responsibility and environmental sustainability. What the survey revealed, like the portrait of a scattered family, was a remarkable resemblance that runs across the Faculty's departments, degree programs and personnel.
Numerous courses around innovation and the social impact of business have been created or refined in recent years. The McGill branch of Net Impact, an international organization of socially and environmentally minded MBA students, provides management and financial consulting for Montreal not-for-profit organizations and brings in provocative speakers on topics such as corporate accountability, international development, shared prosperity, fair trade and the Kyoto Protocol.
Its undergraduate counterpart, McGill Business Watch, screens iconoclast films like Roger and Me and Affluenza, champions the Rethink environmental campaign for a sustainable McGill campus, and unapologetically promotes Adbusters' annual "Buy Nothing Day." The Dobson Centre for Entrepreneurial Studies leans toward the creation of enterprises that aspire to social good alongside profit. The Centre for International Management Studies has organized governments, schools and social organizations to promote sustainable growth in developing economies around the globe, including Pakistan, Eastern Europe, Indonesia and Africa. Through the McGill Health Initiative, the Faculties of Management and Medicine are partnering to develop greater efficiencies in health management. And during its three-year run, the breakthrough McGill-McConnell Program educated senior and emerging leaders from influential voluntary sector organizations in the arts, education, family, human rights, literacy, hunger, health and the environment.
In the button-down world of management education, this is not exactly business as usual. But neither is the markedly eclectic Faculty of Management's professoriate. Since internationally acclaimed strategy guru Henry Mintzberg, BEng'61, began addressing the social context of business at McGill in the 1960s, the Faculty has attracted academics from a variety of non-traditional business backgrounds - engineering, political science, sociology and the arts.
"Over the years it began to become a part of the accepted idiom of the Faculty that we had people working in areas that you wouldn't have thought of as conventional, Harvard Business School territory," says Frances Westley, MA'75, PhD'78, the James McGill Professor of Strategy and former director of the McGill-McConnell Program. "The research was not looking at straight business, but rather the interface of business and society."
The Beyond Grey Pinstripes exercise helped identify this trend; a recent top-three ranking among Canadian management faculties by Corporate Knights, a magazine promoting socially responsible business practices, seconded the notion. Today, as many as half of full-time professors in the faculty are invested in research around social innovation, corporate responsibility or environmental sustainability: Mintzberg on cross-sector collaboration, Nancy Adler on leadership in developing countries, Laurette Dubé on social marketing, Steve Maguire on collaborative response to AIDS, Paola Perez-Aleman on the social impacts of innovation in developing countries, Vedat Verter on ethical management models of waste material transportation, Susan Christoffersen on ethical investing by mutual and pension funds, to name just a few.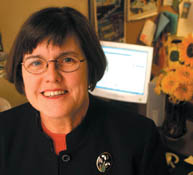 "I could go right down the hall and find any number of people whose work impinges in one way or another on the social side," says Margaret Graham, faculty director of the McGill Innovation Consortium. Now this increasing cohort of professors from a cross-section of management disciplines collaborates at monthly social innovation roundtables. This is a positive trend, Graham suggests, because the lack of knowledge about social innovation has so far doomed society to face its most fearsome problems without rigorously proven strategies.
"The proclivities of people in the faculty could meet a real need," adds Graham, an expert in the history of innovation. "Whether you are talking about a research and development lab, a government project, a charitable foundation, a service organization or a large corporation, the thing that makes or breaks an innovation is the social aspect: how you coordinate, persuade, negotiate - all the things that have to be done to get a large, diverse group of people to work together. And yet the standard literature on innovation is mostly economic or technical in focus. The social aspect is widely ignored."
The faculty's latest effort to fill this knowledge gap is a collaborative venture with DuPont Canada that has taken shape as series of think-tanks to make sense of the disparate research that exists on social innovation. The McGill DuPont Initiative's core team includes innovation experts from DuPont, academics who study innovation in a variety of fields, two McGill management graduate students and Westley, who served as project facilitator. Each session elaborated on a topic introduced by a list of keynote speakers that included McGill's Mintzberg and Graham. What resulted was not idle chat.
"We're trying to integrate the existing theoretical concepts of social innovation," explains Westley, "and turn those into practical concepts and tools that will be useful to practitioners in government, business or the voluntary sector who are actively working to transform their own organizations and address some of the intractable problems of society with new strategies."
The conclusions and concepts from these discussions will soon be published in a book that should be useful to the administrators of any public or non-profit organization - be it Oxfam, the Muscular Dystrophy Association, Centraide, The Canadian Nature Federation, or a spin-off of Santropol Roulant - that wishes to innovate its mission. The ultimate goal of McGill DuPont is to help community projects achieve breakthrough results: a decline in poverty, substantive health awareness, fewer homeless people, the mainstreaming of the environmental sustainability movement.
While social innovation can mean the creative adaptation of managerial techniques to address social problems, the McGill DuPont Initiative is not a case of simply instructing a non-profit organization to run like a business. "Efficiency is important, but it's only one part of how you organize to improve effectiveness," says Colleen Brydon, manager of DuPont Canada's Social Innovation Enterprise. "In this partnership, we are focusing on the greater effects of innovation."
According to Graham, these greater effects will come only through genuine collaboration, with all parties having equal input. "All kinds of knowledge are needed for any form of innovation," she added.
That means knowledge created by students, too. Westley will soon publish several volumes of masters' theses by McGill-McConnell Program grads. Graham engages MBA students to investigate topics around the Canadian Innovation Strategy and seeks ways to put insightful student research to work. This year, for instance, she plans to use a case study written Dipa Mehta, BCom'95, MBA'03, that examines the social implications of a Canadian pharmaceutical firm's decision to distribute a controversial new drug at the risk of negative publicity but with the promise of advancing women's health.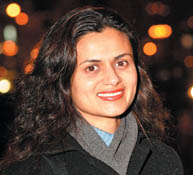 "The experience of this independent research has been a great learning experience for me and the company," Mehta says. "If it is going to be used and discussed by future management students - never mind whether it is published or acclaimed - it's a great honour."
If the agents for social innovation at the Faculty of Management are fostering a culture of research in action, growing ranks of students are cutting straight to the action. Take, for instance, the Community Experience Initiative (CEI), a classic case of social entrepreneurship launched in 2000 by Eric Steedman, MBA'00, and Kariann Aarup, BCom'91, MBA'93. A kind of matchmaking service for socially minded management students, CEI finds and funds internships in the social sector. And it hosts non-profit career fairs across Canada. This year's Montreal event drew 120 BCom and MBA students who want to make a social impact with their management education.
"Research is vital," says Aarup, a doctoral student at HEC who teaches the eye-opening Social Context of Business course required of McGill BCom undergrads. "But students get excited when they are introduced to the ideas of social innovation and sustainability and justice, and they want to do something about it."
Today, they are well served by this aspiration, whether they gravitate toward careers in the government, voluntary or even corporate sector, which is feeling the pressure to evolve from serving the shareholder to the stakeholder, a far more diverse collection of societal and environmental players including employees, customers, suppliers, communities and denizens of its ecosystem. "I believe this era is much like the 1930s was, where companies realized that if they wanted to maintain any kind of stability in society that allowed them to do business, they had to look at things in a more socially responsible way. Otherwise the whole system would collapse," suggests Graham. "I think we're in that again."
Collaboration and motivation are the keys. "Innovation doesn't happen on its own," offers Graham. "It's time we make ideas matter in the world." She pauses, then adds: "Notice, I didn't say pay off."