The architect must be a jack of many trades -- yet perhaps master of none. Knowledge of engineering, materials science, economics, history, philosophy, the environment and human behaviour are but a few of the skills required. Too much imagination and buildings are impractical, too little vision and they are static and dull. Meet a trio of internationally acclaimed practitioners of this demanding profession who are at ease with all its complex elements.
Raymond Moriyama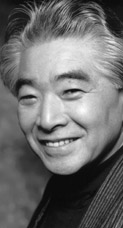 Born: Vancouver, 1929
Resides: Toronto
Awards include:
Honorary Fellow, American Institute of Architects (2000)
Maclean's magazine Honour Roll for Achieving Excellence (1999)
Royal Architectural Institute of Canada Gold Medal (1997)
Ontario Association of Architects Award of Excellence (1995)
Japan Architects Top Honour Award (1992)
Governor General's Award for Architecture (1991)
Order of Canada (1985)
Works include:
Bata Shoe Museum, Toronto
Saudi Arabian National Museum, Riyadh
Canadian Embassy, Tokyo
Ontario Science Centre, Toronto
Science North, Sudbury, Ont.
Toronto Reference Library
Raymond Moriyama, MArch'57, DSc'93, can be a difficult fellow to figure out.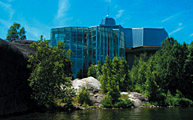 Science North
Celebrated for his subtle and graceful designs, Moriyama himself is a big fan of Frank Gehry's splashy, provocative approach to architecture, even planning vacations with his wife around visits to Gehry's works. He admires Canadians' levelheaded and open-minded attitude towards life, but is scornful of his countrymen's lack of ambition. "Canadians are far too willing to accept mediocrity," he once complained to the Toronto Star. Although he's a fiercely proud Canadian, Moriyama has bitter memories of the way he and his family were treated by the government during World War II.
There is no ambiguity about Moriyama's achievements, however. He is one of this country's most accomplished architects, the winner of dozens of awards and the mastermind behind such renowned buildings as the Bata Shoe Museum in Toronto, Science North in Sudbury, the Saudi Arabian National Museum in Riyadh and the Canadian Embassy in Tokyo.

Bank of Montreal
The seeds for Moriyama's architectural career were planted following a terrible accident he suffered as a four-year-old. One day he was playing with model airplanes inside his home. His balsa wood glider landed near the kitchen stove, and in reaching for it, Moriyama tipped over a pot of boiling hot stew. His back was badly burned and he was bedridden for several months. Moriyama's father rigged his son's bed on an incline, so that Raymond could watch life unfold outside their front window during his recovery.
The youngster became engrossed by a construction project across the street. "Once in a while, this dashing figure would visit the site, smoking a pipe and carrying a bundle of drawings under his arm," Moriyama recalls. "Whenever he dropped by, there was excitement and everyone would stop to gather around and look at his drawings. I was quite impressed. I found out he was an architect. It seemed like a pretty good job."
A few years later, another devastating episode in his life would further influence Moriyama's architectural aspirations. Canada and Japan were at war and Moriyama's family and friends were stunned to discover which side their country suspected they were on. "I knew young (Japanese Canadian) men who tried to join the army and were turned away, to their disbelief. We were called enemy aliens. We were told we could be shot if we were caught outside after dark."
Moriyama's father, a soft-spoken teacher, was vocal in his criticism of the way Japanese Canadians were being treated. Fearful that some might act as saboteurs, the federal government invoked the War Measures Act. "One day, they came for my father and carted him away," Moriyama recalls. "There never was any sabotage," he adds, the disdain clear in his tone.
His father was incarcerated in an Ontario POW camp, while Raymond's pregnant mother and her three children were shipped to an internment camp in the B.C. interior. Once there, Moriyama discovered his own community could also be cruel. Whenever he used the public bath, he would be teased about his burn-scarred back. The 12-year-old decided he would bathe alone in a nearby river and built a lookout in a tall tree.
"If nobody was around, I would jump in the river for a quick wash," remembers Moriyama. He spent much of his time playing in the wooded area next to the river, developing a sharp sense for nature's rhythms that would serve him well in the years to come. Today, Moriyama is feted for his ability to seamlessly link his works to their natural environments.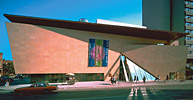 "He is a gracious and gentle man," says architecture professor Derek Drummond, BArch'62, "which is rather unusual for an architect of his stature. With that kind of career, there tends to be a huge ego involved. His buildings reflect his personality," adds Drummond. "They are at peace with their surroundings. They tend to be very carefully considered and beautifully detailed. They aren't outlandish statements, by any means."
Architecture professor Radoslav Zuk, BArch'56, admires Moriyama's ability to make each of his projects distinctive. "Very often with prominent architects, you see the same sort of work, over and over again, no matter what country they're building in, no matter what type of community they're working in. For the library system in Toronto, Moriyama designed several outstanding buildings. Each has a distinct character. They are all very intimate, very attractive to look at. But they were all built to fit into their particular environments." Moriyama did his undergraduate degree in architecture at the University of Toronto, earning a scholarship to pursue a master's. He chose McGill. "McGill gave me the opportunity to develop my own thoughts about how I was going to approach architecture," he says.
And while he was doing this thinking, Moriyama spent many hours attending classes that, at first glance, seemed to have little to do with his chosen profession. "Some of my most valuable time at McGill wasn't spent in the School of Architecture at all. I used to take all sorts of non-prescribed courses -- sociology, psychology, anthropology -- and I learned a lot. In fact, the only exam I ever failed at McGill was in architecture!"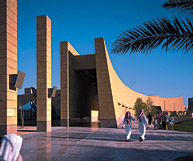 Moriyama & Teshima Architects
Moriyama took the extra courses because he believed it essential that architects understand what makes people tick. After all, it would be people who would be living and working in the buildings he would one day create.
"Architecture in those days seemed quite divorced from the human experience," explains Moriyama. "There are certainly technical skills that one must master -- the building has to stand up once you're done, after all. But that's not the reason for the building's existence. The building exists for people."
After graduating, Moriyama decided to create his own business instead of joining an established firm. "I wanted to go and make my own mistakes. I didn't want to perpetuate the mistakes of others. I was very pompous at the time," he laughs.
He quickly made a name for himself, most notably for his work on Toronto's Japanese Canadian Cultural Centre. His early successes led to an assignment from the Ontario government in 1964 that caught even the cocky young architect by surprise. Moriyama was asked to design the Ontario Science Centre and was handed the biggest commission ever given to an architect under the age of 40 in the province. Moriyama opted for an unconventional approach. Influenced by Confucian principles -- that one learns better by doing than by simply watching -- Moriyama and his collaborators developed a hands-on museum that would feature plenty of interactive elements.
The strategy was not universally hailed. In his acceptance speech for the Royal Architectural Institute of Canada's Gold Medal in 1997, Moriyama recalled the reaction. "At every museum conference and seminar, we were attacked viciously by traditionalists, museologists and especially curators," Moriyama said. "Now [our approach] is the norm."
One of his latest projects drew its share of barbs as well. In a rather odd quirk of fate, perhaps, Moriyama was invited to prepare three separate plans for the Canadian War Museum. The building, to be located on a meadow between the Ottawa River and the western bluffs of Parliament Hill, is to be constructed by 2005. The project had been mired in controversy for two decades before Moriyama and his firm became involved, as various constituencies wrestled for control over the museum's design.
That Moriyama was unable to satisfy everyone with his initial proposals was not a surprise. That his follow-up ideas won over the museum's board of directors, the Royal Canadian Legion, the National Capital Commission and architecture buffs across the country was. Moriyama says he was guided by the notion of "regeneration" in his final designs for the museum. He was struck by images of scarred battlefields in Europe, slowly being healed by nature. The museum's roof will feature a similar sort of bruised landscape -- the structure will exist beneath a park.
"There is an ambiguity about where the building begins and where its surroundings end," relates Moriyama. "The natural world has a wonderful ability to survive disaster. That is always a source of hope."
While he is earning plaudits now, Moriyama's first plans for the museum attracted very public fire from a number of critics. He says such reactions rarely disturb him. "People will have praise. People will have criticisms. If you're afraid of what people are going to say about you in this business, you should stick to designing warehouses."