Nancy Wells Is New V.P.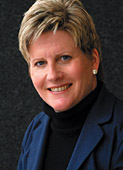 Owen Egan
McGill's Development and Alumni Relations division (DAR) is under new management. After serving as Vice-Principal for seven years, Derek Drummond, BArch'62, returned to teaching at the School of Architecture in May. His successor is Nancy Wells, who hails from Stanford University in California where she was associate vice-president and director of university development.
Responsibilities in the V.P. DAR portfolio include providing special services for graduates, maintaining and promoting alumni and donor relations, supporting the activities of current students and raising funds for McGill's development priorities. Wells comes with plenty of experience in all these areas.
Her new boss, recently installed Principal Heather Munroe-Blum, is delighted by the appointment. "This represents a tremendous opportunity for us to raise the bar for private giving to McGill and strengthen our ties of support among alumni and friends," says Munroe-Blum. "The Stanford fundraising team is one of the best in North American higher education. It is truly a 'dream team' and I know we can expect great things for our University under Nancy's leadership as Vice-Principal."
Before joining Stanford ten years ago, Wells held various positions at the American University in Washington, D.C. , and was managing director of a non-profit fundraising consulting firm. She has a master's degree in education from Indiana University and a BA in sociology from Massachusetts College of Liberal Arts.
Naturally outgoing and possessed of enormous energy and enthusiasm (Drummond describes her as "one of the fastest talkers I've ever met -- and I've met some!"), Wells has spent her first couple of months at McGill doing a lot more listening than talking. "It's been great meeting people all over campus who are helping me to understand McGill. One thing I've been struck by is the commitment and loyalty of the people who work here. There's a strong sense of collegiality -- a lot of places talk about it, but here it's not just lip service. We have faculty and staff who really care."
Wells sees the integration of the development and alumni relations functions at McGill as a further boon. "This situation is rare at most universities. It saves a lot of duplication and makes tremendous sense since alumni are your best ambassadors and most loyal supporters."
The job of a fundraiser is a rewarding one, says Wells, and not just when a big gift comes in. "Asking for a gift of any size is a means to an end. Of course it helps your institution, but you also meet the needs of donors who want to stay connected to your university, support work they think is important and leave a legacy."
Wells has now begun to travel across the country to meet graduates and hear what they have to say. Look for her at an alumni event near you.
Harry Potter Mania Comes to McGill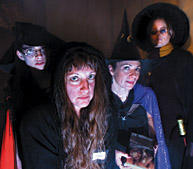 Owen Egan
The wizards were donning their pointed hats and dragon-hide gloves as the McGill Bookstore was transformed into Hogwarts School of Witchcraft and Wizardry on the evening of June 20, and all were anxiously awaiting the stroke of midnight. Not a Muggle -- that's non-believer for you non-believers -- was in sight as fans joined in a party to celebrate the release of Harry Potter and the Order of the Phoenix. At 12:01 am, the cash registers started ringing up sales of the fourth volume of the most popular children's book in history. Bookstore staff served up Cockroach Clusters, Acid Pops, Cauldron Cakes and Butter Beer, and for those who couldn't wait to start reading the book, there was a special quiet reading place set aside.
Hype and anticipation for the book was unprecedented, with extraordinary security to prevent printers, publishers and booksellers from letting details about the book get out early (the New York Daily News was one publication to spoil the surprise by printing details before the book's release). One million copies went on sale in Canada alone for the initial print run.
McGill Bookstore staff members claiming to go by the names Cyrena, Liza Crumplesnipp, Mandragora and Julie Fry donned wizard gear for the release of the new Harry Potter book.
Football Field Facelift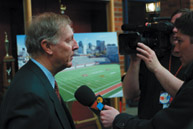 Andrew Dobrowolskyj
McGill's Percival Molson stadium is getting a multimillion-dollar facelift, thanks in part to Irish rockers U2.
No, they're not sports fans, but a few years ago when a Montreal Alouettes playoff game and a U2 concert were scheduled for the same day at Olympic Stadium, Alouettes' boss Larry Smith, BCL'76, decided to move the football game to McGill. Thousands of fans -- who had been staying away from the cavernous Big O in droves -- turned up to cheer on the Als.
The team never went home and the fans kept coming in such big numbers that there has been a sell-out crowd at every game since.
The 80-year-old facility got a tidying up when the Als first moved in, and the McGill sports teams who share Molson Stadium with them enjoyed the benefits. Now Grey Cup winners, the Montreal football club wants to make some serious improvements and expand the seating. In March, representatives of McGill, and the federal, provincial and municipal governments who jointly are kicking in almost $13 million, met the press to announce the plans.
The synthetic turf will be replaced, lighting will be improved and the areas under the north and south stands will be refurbished, which means new washrooms, dressing rooms, showers, concession stands and officials' rooms. A new press gallery will also be built. Phase I of the project will be completed by mid-July when the Als' season opens, and old-time Redmen fans can check out the changes at Homecoming in October.