Fortress America: On the Front Lines of Homeland Security -- An Inside Look at the Coming Surveillance State, Bantam Books, 2004, $35, by Matthew Brzezinski, BA'91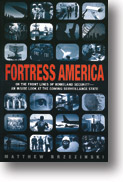 In his new book, Fortress America, Matthew Brzezinski manages to scare readers from two completely opposite directions.
On the one hand, he reveals some disquieting vulnerabilities that could leave the United States open to further terrorist attacks from al Qaeda and its ilk. On the other hand, Brzezinski demonstrates how new technologies and recent anti-terrorist laws pose serious threats to the privacy and civil liberties of Americans.
Brzezinski, a contributing writer for the New York Times Magazine and nephew of former White House national security advisor Zbigniew Brzezinski, BA'49, MA'50, takes a broad view of U.S. security concerns in a post-9/11 world. The author visits Israel, a country that has had to defend itself against terrorist attacks for decades, to see how the U.S. might emulate the security tactics of its ally. One American law enforcement official, alarmed at the grudging manner in which U.S. agencies continue to share -- or don't share -- information with one another about security matters, notes of Israel, "Even the lowest beat cop over there knows things that would be considered top secret in the States."
Brzezinski also introduces us to some anti-terrorism technologies currently being developed, many of which sound like James Bond plot devices. Thermal imaging cameras that detect stress by measuring the blood flow around the eyes, for instance, or underwater lasers that scan water supply systems for traces of anthrax.
Says one scientist, "The impetus for homeland security is going to act a little like NASA during the space race and unleash all sorts of technological breakthroughs."
But scientific advances can't paper over fundamental problems in the way the U.S. protects itself. Chemical factories are attractive targets for terrorists, Brzezinski notes, because of the dangerous materials stored there and the lax security measures adopted by many companies to guard them. He chronicles how the chemical industry successfully lobbied against proposed legislation that would have forced them to take tougher security measures.
One of the book's most compelling chapters relates the case of Hady Hassan Omar, an Egyptian national with an American wife who had the misfortune to purchase an airline ticket from the very same place that September 11 hijacker Mohammed Atta had only 24 hours earlier. The coincidence resulted in a humiliating strip search, frequent interrogations and 73 days in captivity. Identified as a terrorist suspect in newscasts, Omar lost his job and many of his friends as a consequence of his ordeal.
Of the 762 people picked up as "special interest cases" and treated to similarly rough handling, not a single one was discovered to have had any links to terrorism, yet the Justice Department continues to fight court orders demanding that details of the arrests be made public.
"Would secrecy and national security henceforth become a counterargument to accountability?" wonders Brzezinski, who raises a number of important questions in this probing and thoughtful book. The future of the U.S. as both a fair and safe society may rest on the answers.
Look For Me, Random House, 2004, $29.95, by Edeet Ravel, MA'86, PhD'92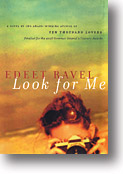 Eleven years ago my husband caught fire while on reserve duty."
So begins the story of Dana Hillman, a young Israeli woman whose husband, Daniel, disappeared from the hospital after the Israeli army accident that left him horribly burned. All of Dana's attempts to find him have proved fruitless, though she refuses to give up hope: every year she publishes a full-page ad addressed to Daniel that says, "I will never ever ever ever85stop waiting for you," with that "ever" repeated to fill the whole page.
In the meantime, Dana writes romance novels and joins other activists from the Israeli left in peace rallies and protests, and, as a gifted photographer, documents the human face of the seemingly endless struggle.
Edeet Ravel, MA'86, PhD'92, writes a touching love story framed by the vivid realities of the Israeli-Palestinian conflict with a deft hand, describing the different sides and viewpoints of the situation without slipping into political rhetoric. Look for Me is a follow-up to Ravel's first novel, Ten Thousand Lovers, and both works were nominated for the Governor General's Literary Award for Fiction. Another of her books, Wait for Me, won the 2004 Hugh MacLennan Award for best fiction.
The descriptive passages in her latest book are strong, as is the insight offered into everyday life in one of the world's most troubling conflict zones. The dialogue may not always ring true, but the story remains fascinating and well written.
Ravel was born on a Marxist kibbutz near the Israeli-Lebanese border and lived there until she was seven, when her parents returned to their hometown of Montreal. She currently divides her time between Canada and Israel, where she does intensive political peace work. Look for Me is the second book of Ravel's Tel Aviv trilogy, and the third is to be looked for with anticipation.
Has Been, Shout! Factory, 2004, by William Shatner, BCom'52

So bad it's good. Once in a while, pop culture coughs up a film, book or CD that merits such a description -- something so magnificently cheesy and wrong-headed, you can't help but dig it though it has no artistic merit whatsoever. William Shatner's legendary 1968 debut album, The Transformed Man, is one such classic.
Generations of Trekkies, hipsters and college kids have giggled themselves silly over the former Star Trek titan's peculiar renditions of "Mr. Tambourine Man" and "Lucy in the Sky With Diamonds."
Shatner and his idiosyncrasies -- the odd halts and pauses in his acting style, for instance -- have been lampooned by everyone from John Belushi to Jim Carrey. In recent years, Shatner has responded in an ingenious way. He has become the funniest Shatner mimic of them all, becoming a master at poking fun at his own image and sparking a career resurgence in the process.
When word came out that Shatner was back in the recording studio, fans wondered if another The Transformed Man might be in the offing. Or was Shatner too self-aware at this point to create something so wonderfully awry?
Has Been will disappoint many Transformed Man admirers. It's too good. The producer for Has Been, and co-writer of most of the tracks, is Ben Folds, a pop musician with a keen gift for marrying lyrics of understated desperation with delicate melodies that offer hooks aplenty. Folds recruited a talented corps of musicians to help out. Punk muscleman Henry Rollins, celebrated guitarist Adrian Belew and country music star Brad Paisley all make contributions.
For the most part, Shatner supplies the words, while Folds conjures up the music. Their combined efforts result in tracks like "It Hasn't Happened Yet," a melancholy meditation on self-doubt, and "Ideal Woman," a funnier, more relaxed update on Billy Joel's "Just the Way You Are."
For the most part, though, Shatner is surprisingly vulnerable and wry. "What Have You Done?" a hushed recounting of his second wife's death, is moving. And Shatner might deliver one of his best acting performances ever in "That's Me Trying," a song co-written by Folds and novelist Nick Hornby, about a father's awkward attempts to reconnect with a daughter he hasn't seen in years.
Tell Me Why Nights are Lonesome, Shoreline Press, 2004, $22.95, by Muriel Gold, MA'72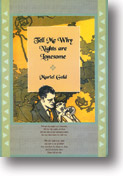 There's a story like this in every family but few take the time to tell it. After Muriel Gold's father's death, her mother decided to sell her house and move to an apartment. Gold went over to help organize the move, and during the cleaning and sorting that ensued, she discovered in the basement a dusty old shoebox. The shoebox contained letters addressed to Miss Dora Ratner in her father's handwriting and letters addressed to Mr. S. Bernard Haltrecht in her mother's. The letters were a record of her parents' courtship, an affair lasting from when the two met in Montreal in 1912 to when Bernard and Dora were married in 1921. These letters are the inspiration for Tell Me Why Nights are Lonesome, a tale spanning three generations and providing a fascinating chronicle of another, increasingly forgotten, way of life. Gold tells her parents' story with loving care, and creates a vivid picture of the early 20th century, a time when lovers would respectfully wait -- in the case of Muriel's parents, six years -- to address each other by their first names.
The book is filled with interesting social history -- popular songs of the time, fashions, personal opinions on world events and anecdotal stories, including some of interest to McGill grads. Dora's sisters attended Macdonald College and brought home a story concerning the college's benefactor. It was said that Sir William, while generous to a fault with others, was incredibly frugal concerning himself: he would put butter or jam on his bread, but not both, as he considered it too extravagant.
The book includes a number of archival and personal photos, and for history buffs and old-fashioned romantics, Tell Me Why Nights are Lonesome should prove an engaging journey.