Worldwide issue and world events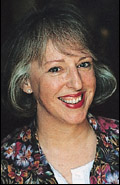 A big welcome to all our readers. I'm delighted to let you know that a new publication policy -- and a budget infusion -- means that from now on we'll be mailing every issue of the News to all McGill graduates, something we could previously do only once a year. So what you and more than 150,000 others are receiving is the inaugural edition of the worldwide McGill News.
All we ask in exchange is that you keep us up to date on address changes, and if you know of any grads who haven't received the magazine, encourage them to get in touch. An email to records.alumni@mcgill.ca will refresh contact information for all alumni mailings. Those without access to email can let us know the old-fashioned way by sending a note to the address shown on the masthead.
Over the course of the next year, we'll be working on a redesign of the News, so if you have thoughts on what you'd like to see more -- or less -- of in the magazine, don't be shy about letting us know. We can't guarantee we'll be able to respond to everyone, but rest assured that your input will be carefully considered. Let us know a bit about yourself (e.g., degree, year of graduation, where you're living) but if you'd prefer to remain anonymous, that's fine, too. We look forward to hearing from you at news.alumni@mcgill.ca.
In this issue, we are "introducing" McGill's Principal, Heather Munroe-Blum. Although she has been at McGill for two years and some of you will have seen images on our pages of her 2003 installation, finding time in her hectic schedule for a sit-down interview wasn't easy. As we've reported in the past, this isn't exactly a time of quiet reflection at McGill. We're seeing the benefit of renewed government investment in research which has resulted in exciting partnerships and programs being established in virtually every faculty and department; on-campus construction is at a 40-year high; and we are midway though a decade-long program of academic renewal which is bringing some of the brightest scholars to our doors (see "Passing the Torch").
It's obvious that Munroe-Blum thrives on a level of activity that might fell the rest of us, and she credits high energy, determination and a supportive family in her husband, screenwriter Len Blum, and daughter, Sydney, currently studying at the University of Chicago. See what the Principal has to say here.
One distinguishing characteristic of McGill is the very international makeup of our student body, faculty and alumni. McGill graduates can be found in more than 200 countries, a fact in which we all take pride. But such a broadly-based community is also inevitably affected by world events, no matter where they occur, and such is the case with the Asian tsunami.
McGill has had academic ties with Indonesia for 50 years, ever since the establishment of the McGill Institute for Islamic Studies (MIIS). Those links developed over time into the McGill Indonesia Project, whose mission was to help upgrade the post-secondary Islamic education network in that country. (Roughly 175,000,000 people, or 87% of Indonesia's population, are Muslim.) McGill offered graduate training to their teachers and sent professors to teach at their State Institutes of Islamic Studies, the primary source of teachers for the country's Islamic education system.
About a dozen Indonesia Project graduates were centred in the hardest hit area of Banda Aceh. Information is still sketchy, but it is known that Nazly Hanum Lubis, MA'96, perished along with her her two young children and 12 other family members. Her husband, Amirul Hadi, MA'92, PhD'00, who married Nazly in Montreal when the two were McGill students, was on his way to Aceh at the time of the tsunami and was spared. The Indonesian director of the project, Amin Yoesef, who planned to join family members in Banda Aceh at the end of January to celebrate a Muslim holiday, is instead mourning the loss of more than 60 relatives.
The staggering death toll and the suffering of survivors have shocked the world into an unprecedented response. We can only hope that the images we've seen don't fade entirely and that vestiges of the generous and compassionate impulses triggered by the disaster remain to keep us mindful of the fact that each one of us is a member of the worldwide community.