The Arcade Fire is red hot
Once upon a time, a tall Texan traveled to a foreign land, where most people spoke a different language, and decided to study religious scripture and form a band. Dazzled by a young Haitian's unique singing style at an art opening, he promptly invited her to join his group. She agreed. They fell in love and got married.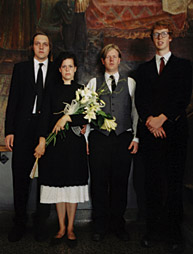 The band's very first CD, recorded shortly thereafter, melted the hearts of cynical music critics everywhere. "A lovely, uplifting, and often pleasingly grandiose whirl through a panoply of sounds," declared Entertainment Weekly. "Strangely joyous," trumpeted Rolling Stone. "A scruffy epic," enthused the New York Times.
Oh, and some bloke named David Bowie called it "the album of the year."
That's the fairy-tale story of Win Butler, BA'04. Butler and his band, the Arcade Fire, are busy touring these days in support of their new CD, Funeral, so named because several of the group's relatives passed away as it was being recorded.
Despite its title, the CD is not a depressing dirge. Death factors into the material covered to be sure, but the songs focus on getting on with life, offering a sweeping and poetic brand of music that's unlikely to leave anyone reaching for their Prozac.
Butler pursued religious studies at McGill, but confesses that making music was his chief aim during his university years. "I was just lucky to end up in a program I liked, and that I ended up graduating was just icing on the cake."
His wife and bandmate, Régine Chassagne, briefly studied jazz at McGill. Arcade Fire members Richard Parry and Tim Kingsbury honed their musical skills, in part, by sneaking into the Strathcona Music Building's practice rooms.
Butler, the group's lead singer and, along with Chassagne, chief songwriter, acquired his first guitar as a birthday gift from his grand-father, pedal-steel guitar pioneer and big band leader Alvino Rey (one of the recently deceased).
Butler's reaction to his band's sudden fame is mixed. "People misquote you, they don't like your hair.A0It is strange to have people relating about you based on what they have read." Still, he's delighted that so many people are listening to Funeral. "I know it's special to have people be aware of the art we do and I am grateful."
No mere puffery
Teens who think they can merrily puff away on cigarettes without getting hooked might be in for a rude surprise. McGill epidemiologist Jennifer O'Loughlin's research has nicotine experts rethinking the nature of addiction when it comes to youngsters and smoking.
istockphoto.com
For years, it was believed that nicotine dependency developed over a two- or three-year period. Last year, in a study involving more than 1,200 Montreal high school students, O'Loughlin and her research team offered up a startling new finding. They discovered that some teens who only smoked once or twice reported symptoms of nicotine dependence.
Why did some teens develop this dependence so swiftly? "Kids tend to smoke in a sporadic and erratic way and we wondered how that could result in symptoms of nicotine dependence," says O'Loughlin. She and her team supply part of the answer in a new study published recently in the journal Tobacco Control.
The scientists noticed a link between nicotine dependence and a variation in a single gene -- called CYP2A6 -- that controls how quickly we metabolize nicotine. A variant form of CYP2A6 results in prolonged brain exposure to nicotine and this seems to lead to a quick-forming dependence on the drug. O'Loughlin discovered that teens with the genetic variation were three times more likely to develop a nicotine dependency than their peers with the normal form.
As McGill's Canada Research Chair in Childhood Determinants of Adult Chronic Disease, O'Loughlin wants to understand how we can alter what some kids do -- smoking and bad dietary and exercise habits, for instance -- with an eye towards preventing the onset of diseases like diabetes later on. She would welcome help on the tobacco front.
"It's difficult to attract young researchers to this field. They think all the answers have been discovered when really that's not the case at all."