Homecoming a Hit
I attended most of the Homecoming 2004 events and I found them very interesting. I was fascinated by the richness of knowledge in evidence at many of the events and new avenues that are being explored by McGill academics and students. I suggest that a summary of the presentations by the professors and researchers be published in McGill News. This will offer all graduates an opportunity to keep abreast of news from McGill.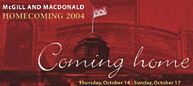 Presentations we saw at Homecoming included information on genetically modified organisms, ideas for world democracy, and new teaching in environment studies. The new programs like the combined BA/BSc degree and interdisciplinary environment studies deserve congratulations. McGill is offering comprehensive education and this is what the world needs from future graduates.
I would like to extend my congratulations to the Alumni Association and all those who worked behind the scenes for making Homecoming a success. I was happy to have met fellow graduates, exchanged information, and compared the Montreal of yesterday to the one of today.
I wish you all the best of luck and look forward to seeing you next year.
Kamel Helmy, MA'79
Montreal, Que.
Ed. note: Space and time constraints prevent us from publishing the presentations made by McGill professors at Homecoming but we're glad to hear their efforts have been so well received by returning graduates. McGill has some of the best researchers and teachers in the world and Homecoming offers an opportunity to share their expertise with a new audience. There will be more of these kinds of events at future editions of Homecoming. McGill and the Alumni Association recently launched several educational initiatives for graduates to be held throughout the year. See more in this issue's Newsbites section.
DNA's Dark Lady
Just a few more words on Rosalind Franklin (Letters, Summer 2004). I am writing from Rosalind Franklin University of Medicine and Science in North Chicago, Illinois. On January 27, 2004, we formally changed the name of our university to champion the scientific contributions of Rosalind Franklin, the woman whose meticulous research led to the discovery of the structure of DNA, which set the stage for the future of modern biology and medicine. Dr. Franklin's Photo 51, which unmistakably depicted DNA as having a double helix structure, is our new university seal.
Rosalind Franklin died at the age of 37 of ovarian cancer, quite possibly a consequence of radiation exposure from her X-ray crystallography work, without knowing the true magnitude of her contribution to science. Until very recently, her contribution has been unrecognized. Rosalind Franklin serves as a role model for our students, researchers, faculty and aspiring scientists throughout the world. For more information, we recommend award-winning biographer Brenda Maddox's book, Rosalind Franklin: The Dark Lady of DNA (2002), and our websites www.rosalindfranklin.edu and www.lifeindiscovery.com.
Roberta Henderson, BPT'71, BSc(PT)'72
Chicago, Ill.
Musical Legacy
I was interested to read the article "100 Years of Music" in the Fall issue of the McGill News. My late father, Edward R. Douglas, had a long association with the McGill Conservatorium from its founding in 1904. Under a contract with McGill University, he was responsible for keeping the pianos well tuned and in good repair. He went to the Conservatorium early in the mornings, before the arrival of the students. He also looked after the pianos at Royal Victoria College and Macdonald College. In 1946, illness terminated his long service, and he died in 1947.
I well remember the attractive mansion house on the north-west corner of Sherbrooke and University Streets, which was made available by the kindness of Lord Strathcona for the Conservatorium.
My father had had an apprenticeship in piano manufacturing, was previously the superintendent of the Mason and Risch Company's Tuning and Repair Department before coming to the Conservatorium, and was then working on his own. He had an extensive clientele in and outside Montreal. He was an accomplished amateur musician, and although he was proficient on the piano and had studied the organ under George Brewer, his favourite instrument was the cello, in the study of which Miss Clara Lichtenstein had given him much encouragement. From its inception, my father played in the McGill Conservatorium Orchestra, until illness necessitated his retirement from it in the early 1940s.
D.E. Douglas, BSc'42, MSc'43, PhD'45
Westmount, Que.
Editorial Airball
I was excited to see so much of the last edition of the McGill News dedicated to McGill basketball.
I have developed and maintained a website devoted entirely to McGill basketball. I have worked with McGill Archives, the Athletics department, Friends of McGill Basketball, coaches, managers, players and fans to make the site as complete as possible. Every photo of the Redmen basketball team from the yearbooks (1904 to the present) has been scanned and can be viewed on the site.
I have funded everything concerning the site personally. The site, which averages 72 visitors per day, has been developed help promote the basketball programs at McGill. On any search engine type in "McGill basketball" and the number one result is www.mcgillbasketball.com.
I was disappointed that the site was not mentioned in the "100 Years of Hoop Dreams" piece.
Maybe you did not know the site existed?
Bruce Bird, BCom'92
via email
Ed. note: We were aware of this informative website but not of Bruce Bird's exceptional commitment to producing it. Anyone who has an interest in McGill basketball should join the stream of website visitors, and those who missed the articles on basketball in our last issue can find them here.
Photo Finish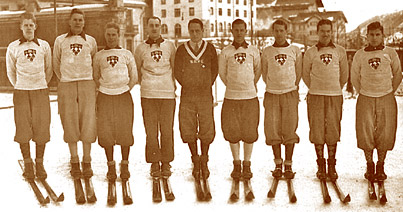 I was sorry that you did not identify members of the McGill ski team in the Fall 2004 Newsbites photo for the Sports Hall of Fame. A distant relative, Dr. William Ball, is second from the right, and I believe, the last skier to participate in all four events -- downhill, slalom, cross country and jumping -- in the Winter Olympics.
Hugh R. Brodie, MEd'51
via email
Ed. note: According to Robert Stewart's The Trail Breakers, a history of the Red Birds ski club and McGill skiing enthusiasts, the photo was taken in 1933 in St. Moritz, Switzerland, at the international university ski championships known as the Akademische. Representing McGill were (from left) Jack Houghton, Frank Campbell, George Jost, Fred Taylor, the team's British sponsor, Alex Keiller, Stirling Maxwell, Harry Pangman, Bill Ball and Walter Dorken.
Lessons from Macdonald
As a McGill grad who spent his first years of schooling at Macdonald High School, I was delighted to find the article "A Visit to Mac" in the Summer 2004 issue of the McGill News. The pictures brought back many memories of the campus, the farm and the Arboretum where we rode with our horses on a daily basis.
Over the years I learned much from the exceptionally dedicated staff, and we always considered ourselves fortunate to be so close to the incredible resource that Macdonald College (as we knew it) is for its students and for agriculture in the broadest sense.
It worries me, however, to read about pens specifically designed to allow "pigs to socialize in a family atmosphere" when the accompanying picture shows a half dozen piglets that have been separated from their mother. Then
I read about the combine with the corn header which is described as a tractor, and a post and plank fence which we are told is a split rail fence. Even if the authors do not know the difference, the article could have been proofread by someone from Macdonald.
One of the greatest assets of the Morgan Arboretum has to be Dr. Brittain's collection of birch trees from across Canada. I believe he identified more than 300 species of birch alone, and to characterize the total of different tree species as merely "over 150" belittles the biodiversity found throughout the Arboretum. Macdonald College has taught much to many people, but clearly there is more to do.
Ian W.M. Angus, BEng'62
Fenelon Falls, Ont.
Ed note: We are sorry if we undersold the Arboretum, which was established by Dr. William Brittain on land donated to McGill in 1945 while he was Dean of Agriculture. He did much of the early work himself and could often be found in the midst of muddy fields laying out planting spots. In Helen Neilson's 1988 history of Macdonald, she writes that although Brittain studied entomology (he graduated in Mac's first class in 1911), his first love was trees and "the birch tree had a special significance for him. He considered the birch to be the only tree which is truly representative of Canada, since it grows everywhere, even up to the edge of the tree line in the far north. He admitted, however, that the maple tree was better for heraldic purposes."
Surprise for Dr. Sosa
As a friend and associate of Julio A. Sosa, BSc'52, MDCM'56, I was very pleased to see that his alma mater, of which he speaks so highly, recognized and published the announcement of the formation of the Sosa Academy of Medicine (Alumnotes, Fall 2004). I was concerned, however, that the facts seemed to be misrepresented. Dr. Sosa was not involved in the formation of the Academy; this was done without his knowledge as a way to honour a great physician, educator and humanitarian and ensure that his legacy of patient care passes to future generations of physicians.
Those of us who know and care about Dr. Sosa would appreciate the issuance of a correction. The purpose behind the creation of the Academy is twofold: to recognize his lifetime dedication to medicine and education and to express the esteem in which Dr. Sosa is held by all who have had the pleasure of meeting him. McGill University should be honoured and proud to have such a man as an alumnus.
Lynn Thibeault
Albany, N.Y.
Ed. note: And so we are. Dr. Sosa is a pioneering cardiologist who helped develop equipment and procedures used in the diagnosis of heart ailments in hospitals around the world. He has spent his career at the Albany Medical Center, where the Sosa Academy will be established. He made history at AMC in 1979 when he performed the first balloon angioplasty, a non-surgical technique to open obstructed coronary arteries.
Dr. Sosa, whom a colleague describes as "curious and passionate about medicine and filled with compassion and sensitivity for his patients," is helping develop the curriculum and will be the Academy's first director.
Erratum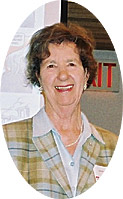 In our last issue, we mixed up sisters, identifying the person in this photo as Victoria alumna Alexandra Cowie, BSc'50. The photo is actually of her sister, E. Doreen (Irwin) Loosmore, BSc'49. We apologize for the error.