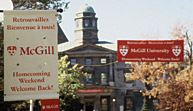 They came, they saw, they reunited. More than 4,000 graduates returned to the downtown and Macdonald campuses, from as far back as the Class of 1933 and from as far away as Lithuania and Singapore. Alumni visitors enjoyed a record number of events -- more than 40 on the downtown campus alone. Another record was set when 1,000 people showed up at the Leacock Luncheon in search of hilarity, with this year's lecturer, Will Ferguson, not disappointing them. An overflow crowd of 1,200 people also attended the Beatty Lecture, given by Nobel Prize winner and Iranian human rights advocate Shirin Ebadi. And 75 classes organized their own Homecoming get-togethers in private homes. As always, McGill News was there to capture the fun on film (or digital memory cards, as it were).
Check those degrees -- grads from years ending in 5 or 0 should start planning now for Homecoming 2005, taking place September 29 to October 2.
BBQ Reunion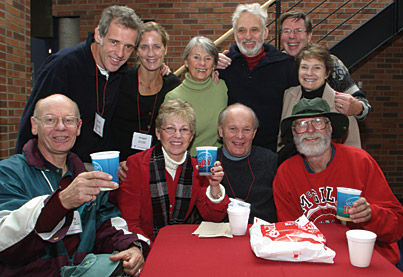 Back row, from left: Bruce Dobby, BSc'76, DDS'81, Delight Cornell Dobby, BA'75, MLS'81, Joanne Goldspiel, Alfred Goldspiel, BEng'64, Walter Nymark, BEng'64, and Dianne Nymark. Front row, form left: Doug Moon, BEng'64, DipMan'73, Hilda Micholuk, Rober Micholuk, BEng'64, Tony Hinds, BEng'64.
Last year's Homecoming co-chair Bruce Dobby and his wife, Delight, hooked up with members of the Class of '64 to enjoy a little cheer at the barbeque held before the Homecoming football game.
Football Fever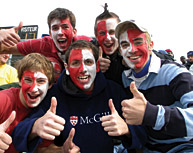 Fans had fun rooting for the Redmen but Laval's Rouge et Or crushed the hometown boys. Better luck next year.
Shatner: The Final Frontier
Management alumnus Peter Eager joined the Students' Society of McGill University welcoming committee in the University Centre -- known by students as the Shatner Building -- during the New Faces reception, where Homecoming guests were invited to share stories of their own student days.

Left to right: Tiffany Choy, Andrew Bryan, BCL/LLB'04 (VP University Affairs/Acting President), Anthony Dursi, Austin Metra, Peter Eager, BCom'79, and Vivian Choy (former VP University Affairs).
Hall of Fame

Former Alumni Association president Sally McDougall, BSc'68, DipEd'69, congratulates Anne Turnbull, BSc(PE)'55, on her induction into the McGill Sports Hall of Fame. The versatile Turnbull captained the McGill women's basketball, soccer, archery and sailing teams between 1952 and 1955.
Learning Experience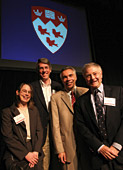 McGill professors Tamara Western, William Watson, BA'74, Joe Schwarcz, BSc'69, PhD'74, and Howard Bussey discussed genetically modified organisms at an Arts and Science Homecoming symposium.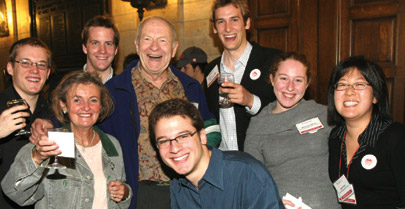 Grads and students mingle at the Arts and Science symposium.
Yeah, Baby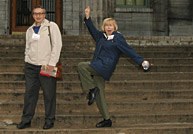 A couple of unidentified grads get into the spirit of things on the Arts Building steps.
All Roads Lead to Homecoming
Signs direct guests to Homecoming events at Macdonald Campus.

Walking Down Memory Lane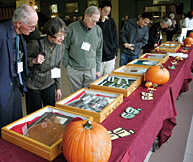 At the Dean's Breakfast, Macdonald alumni were treated to mementos from the campus archives along with their coffee and toast.
Back to School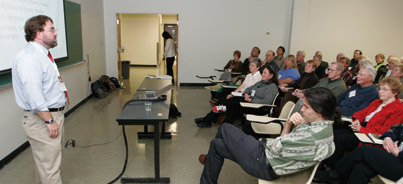 Macdonald grads went back to class to hear from McGill experts like School of Environment director Nigel Roulet about the role of universities, researchers and educators in managing the growing environmental problems of climate change, loss of species and health disorders.
Class Collectibles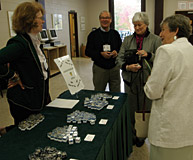 Macdonald alumni pick up some anniversary pins in the Centennial Centre.
Plumbers' Party

A great number of classes held their own parties during Homecoming, including the Mechanical Engineering Class of 1984 pictured here.
Ties that Bind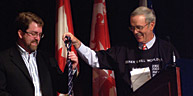 2004 Leacock Lecturer Will Ferguson is given a souvenir McGill tie by Master of Ceremonies Derek Drummond, BArch'62.
Savoy Society Serenade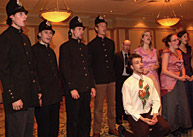 Members of the McGill Savoy Society entertained guests at the 40th Anniversary Dinner with their Gilbert and Sullivan stylings from The Pirates of Penzance.
All in Good Fun

Montreal journalist L. Ian McDonald enjoyed the highly irreverent introductions of head table guests at the Leacock Luncheon by Derek Drummond.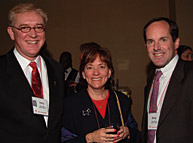 Vintage Clothing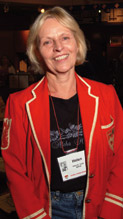 Helen Kydd, BA'59, proudly sported her 45-year-old McGill Red Wing Honour Society jacket at the Lunch et Livres event. Kydd, now living in Massachusetts, is a former Dailyite and Students' Society Gold Award winner.
Nobel Lecturer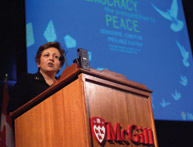 The winner of the 2003 Nobel Peace Prize, Shirin Ebadi, was the special guest for the Beatty Lecture. Ebadi spoke to an overflow crowd on "Democracy: The Precondition to Peace."
Jazzin' the Homecoming Crowd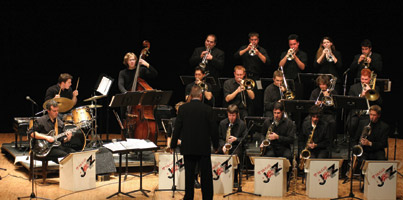 For the first time, McGill hosted a Homecoming concert, featuring the McGill Jazz Orchestra under the direction of Gordon Foote.