Kickass Chemist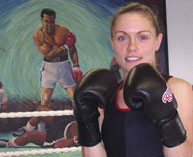 Courtesy of Tatiana Vassilieff
Tatiana Vassilieff ended 2007 with a bang. Not only did she manage to wrap up her McGill master's degree in chemistry (she'll graduate this spring), Vassilieff also found the time to add the words "World Champion" to her resumé.
On December 8, the 25-year-old Parisian won the savate world championship in the under 48 kilogram "combat" category, out-pointing her Tunisian opponent. Savate is a French martial art that resembles kickboxing, but has its roots in street fighting.
Winning the championship belt certainly packs an impressive punch, but the fact that Vassilieff balanced a backbreaking physical training regimen while finishing her graduate degree only adds to the lustre of her accomplishment.
"For the last few months [before the competition], my schedule was really busy. I was in the lab from 9 to 5 and after that I had to train five or six times a week at night," she says.
Her gruelling workout schedule involved cardio, weight training, technical training to rehearse the kicks and punches, and plenty of sparring. She credits her advisor, associate professor of chemistry Ashok Kakkar, for being good-humoured about her unusual extra-curricular pursuits. "I'd sometimes go to the lab exhausted after training. Two or three times I had black eyes, but he was very understanding."
Remarkably, Vassilieff discovered savate a mere three years ago at McGill. A friend suggested she give it a try and Vassilieff was soon hooked. She explains her meteoric rise to the top in a matter-of-fact way: "I really love it, so when you love something you're really motivated to do well."
A Game of Numbers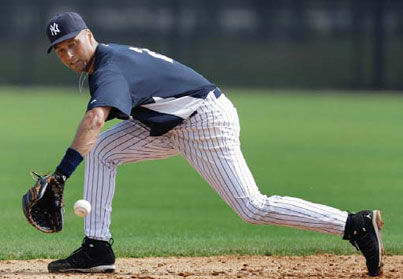 New York Yankees shortstop Derek Jeter in action
Julie Jacobson/AP
It is a rare statistician whose work attracts hate mail. Shane Jensen, BSc'97, MSc'99, earned this dubious distinction after making a presentation at the annual meeting of the American Association for the Advancement of Science, held this year in Boston.
The subject? Baseball.
Jensen is part of a research group at the Wharton School of Business in Philadelphia that devises statistical models to evaluate baseball fielders. It's a sideline for Jensen, whose main work deals with constructing statistical tools to analyze DNA.
At the AAAS meeting, Jensen outlined how his fielding evaluation system calculates the runs a player either saves or costs his team through his fielding prowess (or lack thereof). Things got interesting when Jensen declared that New York Yankees captain Derek Jeter was the worst fielding shortstop in the Major Leagues.
The Yankees, of course, are the hated archrivals of the Boston Red Sox, and the Beantown press gleefully reported Jensen's findings. The New York Post was quick to label Jensen's work "junk science," while Jeter himself ventured that his poor ranking must have been the result of a "computer glitch."
Jeter isn't the only Yankees icon that Jensen has set his sights on. When former Yankee pitching ace Roger Clemens was called before the U.S. Congress earlier this year to testify about his alleged steroid use, the pitcher's agent released a report that claimed to exonerate the athlete, on the basis of his pitching statistics. This caught the attention of Jensen and his colleagues.
Their analysis of the document found that Clemens had been compared only to other pitchers with similarly long careers. Compared to a larger group of pitchers, Clemens looks anomalous, improving at a point when most of his peers showed declining performance.
"It's all about choosing your sample—we don't say they did it deliberately, but by choosing these pitchers [for comparison], he looks normal," says Jensen. He and his colleagues published their analysis in the New York Times.
Yankee boosters have flooded Internet message boards, attacking the credibility of Jensen and his colleagues. "The modal comment was 'Don't these guys have anything better to do with their time?'" says Jensen, laughing.