The Primacy of Pleasure
BY MEGAN WILLIAMS, BA'88
The other day, my 13-year-old daughter was lurching about the house like a bull in the ring, emitting heavy sighs and trapped glances. "I've got a science test tomorrow," she finally moaned, "and I'll fail if I don't skip hip hop to study."
I'm not a particularly strict parent. I don't care what shape my kids' rooms are in; if they want to wear mini-skirts the width of hair bands, go for it while you can; and if unprintable words pepper our family dialogue heavily at times, I'm doing my best to clean up my act.
Still, there are a few basic principles I insist upon and one of them is the pursuit of pleasure.
My daughter likes school well enough. She goes most every day, passes from one year to the next, and so far no one's phoned home to complain. However, she's riveted by hip hop. She dances like a sleepwalker on speed, both crazily entranced and perfectly at ease.
Will she make a career of it? I don't know and don't care. What matters to me is that she's experiencing the intense pleasure of something that captivates her imagination and—lucky her!—her body, too.
I had a taste of this kind of pleasure studying French at McGill. A whiz kid in French I was not: After years of sitting in high school classrooms parroting dialogues that made French teenagers seem as with it as Richie and Potsie from Happy Days, two phrases had stuck: "Zut, alors!" because it sounded so deliciously dumb, and "C'est fromage," which a friend and I would say instead of "C'est dommage," to our juvenile amusement. Oh, and the French word for seal.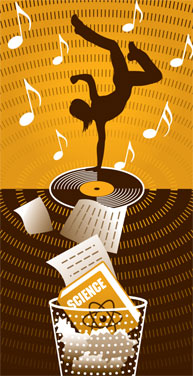 Tzigane
Then in Grade 12 I lucked into an exchange program with France that changed my life. What it did in specific was turn me on: to a new culture, a different way of being, French guys (recovered from that) and, against all odds, French itself. When I started McGill a few years later, I wanted to keep the feeling alive. Along with political science, which seemed a sensible counterpoint, I chose French literature as my major.
And I loved it. We were a small, mainly female class with a professor who was a Gallic, past-her-prime version of Miss Jean Brodie. She paced the class with a bad limp, sputtered in hilarity through Gargantua and Pantagruel and in her high-pitched trill passed on her passion for writers from Molière to Colette. Like the fictional Brodie, she was also politically dubious. She didn't have portraits of Mussolini or Generalissimo Franco up on the wall, but she did launch into the occasional rant against progressive student causes.
Still, she was a great teacher. I suspected it then and I know it now. While my own phone number can be as cerebrally elusive to me these days as the names of past prime ministers, I can remember lines from her lectures. More tellingly, I still savour the books she taught.
But in second year at McGill, uncertainty got the better of me. I thought I should know more about the world. Not the fictional world of Manon Lescaut that kept me up late reading, but the concrete world of political manifestos and electoral systems. These subjects were taught by men with international reputations. Their classes were crowded and charged with hard-edged competitiveness. They clearly appealed to a lot of students. I just didn't happen to be one of them. Still, they had a real-world smack... so, au revoir French.
I graduated and floundered. I volunteered as a teacher abroad, worked on environmental campaigns and wrote my first tentative articles and stories. Only looking back do I see the meandering was taking me somewhere. Toward my goals? No, not really; I didn't have any clear ones. Simply back toward what I'd wandered away from at McGill: doing what gave me pleasure. And toward understanding that if I were to lead a fulfilling life, it was essential that I stay loyal to and work hard for whatever brought on that pleasure.
So that's why, when my daughter contemplates skipping hip hop for homework, I insist she go to hip hop. Even if it means flunking a test. It's why, parent-of-few-rules that I am, I'm unwavering on this one: If something turns you on, you have an obligation to pursue it.
And if it doesn't?
Well, pardon my French, but phoque it. Do what does.
---
Megan Williams is a foreign correspondent based in Rome, Italy. Her documentaries and essays are heard regularly on CBC Radio and NPR and her articles have appeared in publications around the world, including The Walrus and Salon.com. Her latest book is the short story collection Saving Rome.