Rhodes worthy
Two globally active McGill students are the latest recipients of the world's oldest and most prestigious academic award, the Rhodes Scholarship. Recipients are selected for their academic and athletic excellence, as well as strength of character – a combination winningly embodied by both David Matthews and Katherine Trajan.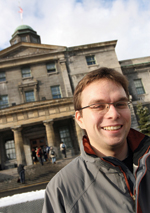 David Matthews, 22, is completing concurrent degrees in music and biology. The Halifax native's extracurricular activities include playing intramural hockey, sitting on the editorial board of McGill's Science Undergraduate Research Journal and playing the violin with the McGill Symphony Orchestra.
An award-winning member of McGill's swim team, Katherine Trajan, 23, is working on an undergraduate degree in civil engineering with minors in environmental engineering and world religions. The Nanaimo, B.C., native shares Matthews's passion for music – she's classically trained in piano and voice, and has performed everywhere from rock clubs to geriatric centres. Trajan spent the Fall '06 semester on a field study at McGill's Bellairs Research Institute in Barbados. There, she juggled courses in water treatment, urban planning and globalization with a project to design and build a rainwater harvesting system for a sustainable-living centre.
As part of their scholarships, Trajan and Matthews will begin graduate studies at Oxford University in October 2007. Inspired by her work in Barbados, Trajan will pursue an MSc in water science policy and management.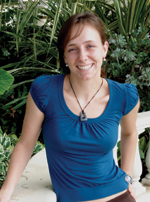 "My civil engineering degree sets me up well to approach the technical aspect of water development and management," she says. "Now I want to know more about other factors affecting these processes. Visiting South Africa with the swim team, for example, convinced me of the critical role of water in human development. I want to apply my degree in a way that would benefit those in the global south."
Matthews, who will focus his Oxford studies on global health and social policy, also draws inspiration from his globetrotting. Through the provincial government's Québec Sans Frontières program, he spent the past summer as an intern at Radio Oxy-Jeunes, a Senegalese community radio station. As a news reporter, Matthews pounded the streets of Dakar, getting an up-close look at a range of pressing social concerns, from providing vitamin supplements for infants to sanitation problems on urban farms.
"The experience opened my mind to a much broader range of global issues than I had previously considered," he says. "I returned to Canada with a renewed appreciation for the importance of leadership both at home and abroad, and a strengthened resolve to pursue a career in global health."
The Rhodes is awarded annually to fewer than 100 students worldwide – and only 11 in Canada. David Matthews and Katherine Trajan are the 127th and 128th McGill students to earn the honour.
Mac keeps memory alive
Along the sidelines of the old Macdonald College football field, a ring of oak trees has stood for 75 years in memory of those who made the supreme sacrifice in World War I. Until recently, though, no marker existed to tell the story of the trees: that they were planted by students to honour the 34 young men from Macdonald College and Macdonald High School who perished in the war.
The story was passed down through generations of Mac students. In the early 1970s when John Abbott College first took up residence on portions of Macdonald Campus, students like Mike Schofield, BSc(Agr)'74, filled the newcomers in on the significance of the trees when they played football together.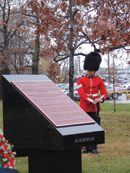 Peter Knox
Schofield, now president of the Macdonald branch of the Alumni Association, was among those who attended a ceremony in November to unveil a permanent memorial at the athletic field. "Those of us who went to Mac were more inclined to be aware of the college and campus history," says Schofield, adding the memorial – a bronze plaque on a granite base – "is a wonderful thing that hopefully will keep the story alive."
Helping that cause is Lou Chapman, a member of the John Abbott football contingent at the time who today is head coach of the John Abbott College Islanders men's football team.
"These kids are no older than the ones who died in the war," Chapman says of his players, whom he encourages to gather around one of the oak trees before each home game to draw inspiration. "I thought it was important to let them know that when they go out onto that field, it's not just another field. There's a message there about sacrifice."
Wise world of sports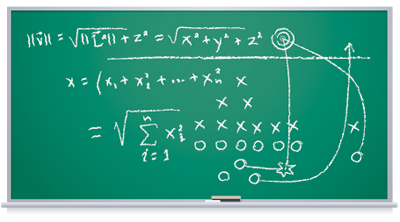 Anyone who believes that athletic ability and academic prowess are mutually exclusive will find a record number of Martlets and Redmen who disagree. In fact, McGill recently established a new national best, producing 147 student-athletes who earned Academic All-Canadian status.
To qualify for the honour, students must be full-time and maintain a minimum average of 80% in their studies while competing in varsity sports, a feat accomplished by almost 40% of student-athletes at McGill this past year.
The women's field hockey and track teams, and the men's football, hockey and soccer squads, each produced 12 or more athletes worthy of distinction and set single-season club highs. Top honours, however, were reserved for the Martlets rugby team, which boasted 17 All-Canadians. McGill's smartest team is also one of the most successful, with eight consecutive Quebec women's rugby titles to their credit.
The student-athletes say success boils down to that ever-important notion of balance. Students are aware early of the heavy demands placed on varsity athletes and they quickly become experts at time management. It is not uncommon, for example, to see stacks of books along for the ride on athletic road trips. "Everybody works hard," says rugby player and third-year physical education student Cindy Pressé. "The key is getting your schoolwork done first."
This is the seventh straight year that McGill has had more than 100 honorees receive the Canadian Interuniversity Sport designation. The CIS, the body which governs sport at the university level, launched the program in 1990 and since then, a whopping 1,404 Academic All-Canadians have worn McGill's red and white, also a national record.