Homecoming Highlights '06
It was quite the affair. Close to 4,500 weekend guests flocked to McGill's downtown and Macdonald campuses between October 19 and 22, 2006, and there was no shortage of events for them to choose from – over 60 in all. Macdonald Campus kicked off celebrations for its 100th anniversary, attracting 500 graduates and friends for its Homecoming festivities, a new record. Homecoming visitors had plenty to think about – the popular Classes Without Quizzes program featured 17 professors expounding on their areas of expertise, ranging from the economics of the world oil market to how stress affects memory. Graduates came from points as diverse as Bermuda, Brazil, France, Germany, Greece, Hong Kong, New Zealand and the Slovak Republic to reunite with former classmates. But hold on to your hats! With the McGill Alumni Association celebrating its 150th anniversary next time around, Homecoming 2007 promises to be bigger and better than ever.
Standing by her principals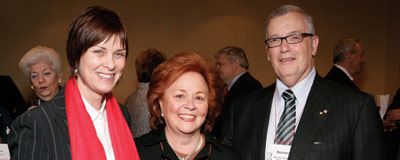 At a reception before the Leacock Luncheon, Lois Roth Shapiro found herself flanked by McGill principals past and present. Pictured with her are Heather Munroe-Blum and Roth Shapiro's husband, Principal Emeritus Bernard Shapiro, BA'56, LLD'88.
See you again at the 75th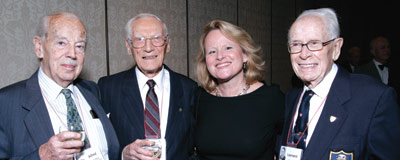 At the James McGill Dinner, Vice-Principal (Development, Alumni and University Relations) Ann Dowsett Johnston chatted with some graduates who remember what life was like at McGill in a bygone era. Pictured: (left to right) Alfred Pick, BA'36, MA'37, BCL'40, Keith Richan, BSc'36, Vice-Principal Dowsett Johnston and Leonard Picard, BA'36.
Back in class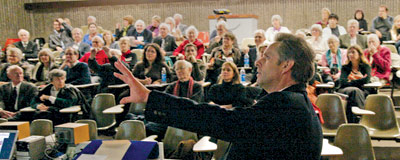 Once again, Classes Without Quizzes were a Homecoming hit, as grads flocked to McGill classrooms to learn about everything from uniquely Canadian dialects to the effects of stress on memory. Professor Brian Alters (pictured), director of the McGill-Harvard Evolution Education Research Centre, talked about why so many North Americans are skeptical about evolution in spite of overwhelming scientific evidence.
Homecoming hug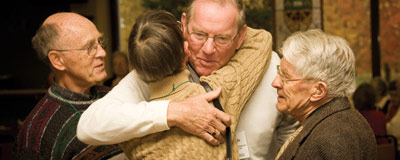 While there were events aplenty to entertain and educate during Homecoming, the best reason to attend is still to reunite with old friends. Leith Thompson, BSc(Agr)'56, and Yvonne Stevenson share a warm embrace, while Lloyd Seaman, BSc(Agr)'56 (left), and Al Stevenson, BSc(Agr)'51, look on.
An impressive audience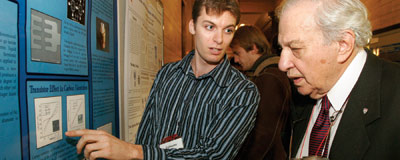 The Faculty of Science's annual Undergraduate Research Conference was highlighted by a presentation from an illustrious graduate – Nobel laureate Rudolph Marcus, BSc'43, PhD'46, DSc'88. Here, physics student Guillaume Lambert discusses his project on quantum nanofluidics with Dr. Marcus.
Long way to travel
Susan E. Parrish-Connell, BSc(HEc)'66, didn't let a little thing like 22 hours in the air get in the way of a good time. The New Zealander (centre) was toasted by fellow Macdonald College alumni as the grad who journeyed furthest to celebrate Mac's 100th anniversary. Applauding her efforts are Vice-Principal Ann Dowsett Johnston and Dean of Agricultural and Environmental Sciences Chandra Madramootoo, BSc(Agr)'77, MSc'81, PhD'85.
Breakfast with the dean
Engineering Dean Christophe Pierre hosted a Homecoming breakfast and members of the Class of '51 turned out bright and early for coffee, bagels and fresh news about McGill engineering. Shown left to right are Constance Lewes, Michael Lewes, BEng'51, Monty Squire, BEng'51, Principal Munroe-Blum, Colin Treadway-Hoare, BEng'51, John Mackay, BEng'51, Dean Pierre and Henrique Cavalcanti, BEng'51.
Writers and company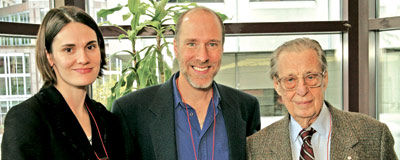 A trio of former McGill students who've made names for themselves in the literary world, Katrina Onstad, BA'94, Tom Allen and William Weintraub, BA'47, treated Homecoming attendees to excerpts from their most recent books at the perennially popular Lunch et Livres event.
Laughs at the Leacock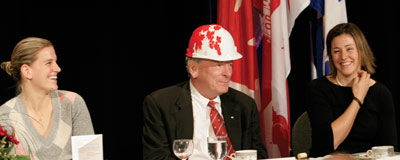 Chancellor Richard Pound, BCom'62, BCL'67, attempted to protect himself from Drummond's barbs by donning a hard hat. Pound was surrounded at the head table by women highly skilled at redirecting enemy fire – Olympic gold medalists and Team Canada goalies Kim St-Pierre, BEd'05 (left), and Charline Labonté, a first-year phys ed student. Labonté succeeded St-Pierre as the McGill Martlets' netminder.
The Leacock Luncheon attracted a record crowd of 1,200 who giggled and guffawed with moderator Derek Drummond, BArch'62, and guest speaker Edward Greenspan, one of Canada's best-known defence lawyers (inset picture). Greenspan turned the tables on master teaser Drummond by producing a book he co-authored on the history of a Montreal badminton club – a tome, Greenspan dryly noted, that the McGill library system was in no hurry to get back.
Spruced-up library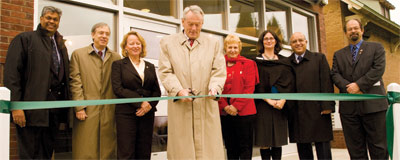 Attending the ceremony were: (from left) Dean Madramootoo, Francis Scarpaleggia, BA'79, Member of Parliament for Lac St-Louis, Vice-Principal Dowsett Johnston, Chancellor Pound, Trenholme Director of Libraries Janine Schmidt, Macdonald Library head librarian Erica Burnham, BA'94, MLIS'98, Provost Anthony Masi and Geoffrey Kelly, BA'81, MA'85, Member of the Quebec National Assembly for Jacques-Cartier.
About 250 Homecoming attendees were on hand for the official reopening of the newly renovated Macdonald Library and Learning Centre, which, thanks to over $4.2 million in gifts from graduates and other donors, boasts enhanced computer technology, rooms for group projects, environmentally friendly lighting and carpeting, and a walkway linking the library to the Macdonald-Stewart Building.
Speaking of science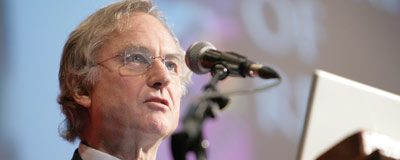 Over 800 people turned out for the Beatty Memorial Lecture by renowned evolutionary theorist Richard Dawkins. Dawkins, Oxford University's Charles Simonyi Professor of the Public Understanding of Science, and author of such acclaimed books as The Selfish Gene, discussed how our "greater scientists deploy a wildness of imagination, which, in the case of an Einstein or Heisenberg, outclasses the best science fiction."
Golden voices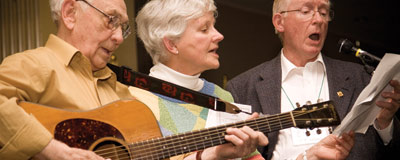 The Green and Gold Revue – a song and skit troupe composed of Macdonald graduates who first showcased their skills as students at Macdonald variety shows in the late '40s – treated Homecoming attendees to a concert featuring the "Songs of the Century." Pictured performing are Harold Blenkhorn, BSc(Agr)'50, Orchid Reid, BSc(Agr)'52, and Bill Ritchie, BSc(Agr)'51.
Braintalk in Beantown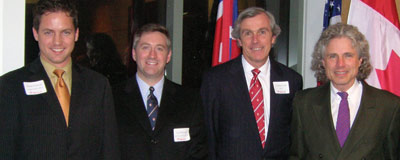 Boston area alumni were treated to a lecture in October from famed Harvard University psychologist Steven Pinker, BA'76, the author of several best-sellers about language and the human brain. Pictured are: (left to right) McGill Annual Fund officer Jason Finucan, Boston Alumni president Ian Pilarczyk, BA'92, LLM'97, DCL'03, Lindsay Cook, BA'75, and Pinker.
To the pub, hub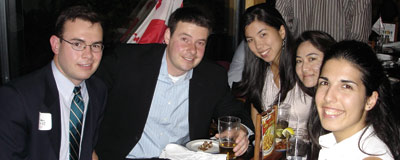 Left to right: Anders Sorensen, BA'05, Denis Barrington, BCom'01, Marianne Sung, BCom'01, Patricia HoCoy, BA'05, and Sebla Meric, BEng'03.
Members of the Toronto Young Alumni celebrated the beginning of the school year in September in much the same manner many of them did during their time at McGill – with a pub night.
Spreading the word about science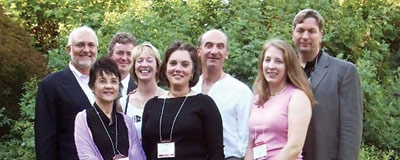 Left to right: (front row) Marianne Shey, Christine Young, Jenora Jolly; (back) Assen Nicolov, Dean of Science Martin Grant, Lori Whittaker, PhD'86, MDCM'98, Adel Youakim, BSc'82, PhD'88, and Tom Bussing, BEng'80.
Assen Nicolov, BSc'75, and his wife Christine Young hosted Dean of Science Martin Grant and some McGill alumni and friends at their home near Seattle. Grant updated the gathering on what his faculty is up to, including the new Office for Undergraduate Research in Science and the BA & Sc degree for students keen on studying both arts and science.
Cutting the cake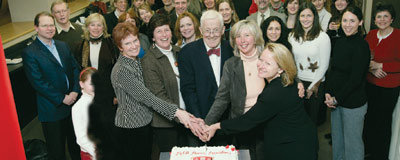 Parcelling out pieces of the MAA's birthday cake are (left to right) MAA senior executive director Honora Shaughnessy, MLS'73, former MAA president Morna Flood Consedine, MEd'77, DEd'85, former MAA president Keith Ham, BA'54, BCL'59, current MAA president Ann Vroom, BA'67, and Vice-Principal Ann Dowsett-Johnston.
The McGill Alumni Association kicked off its 150th anniversary in January with a soiree for MAA presidents and volunteers, past and present, held at the McConnell Winter Arena. Party-goers toasted the MAA's next 150 years and watched the McGill women's hockey team in action.
Alumns in Antarctica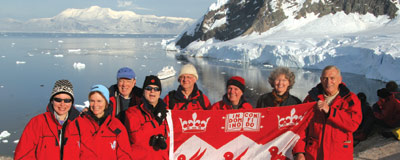 The McGill Alumni and Friends educational travel program will take you anywhere – even to the bottom of the world. Proudly unfurling the McGill flag in Antarctica are (left to right) Cynthia Struthers, Rochelle Magoon, Robert L. Consedine, Keith Powell, MBA'73, Doug Magoon, BEng'70, Jack Nield, Janet Nield and Peter Auld, MDCM'52.