From the desk of the Principal
Time to Rethink Tuition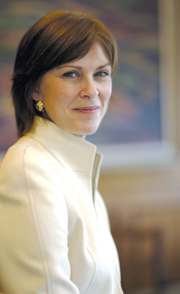 Whenever I meet McGill alumni who are living or working abroad, I am struck by their affection for both their alma mater and for the city and province which so contribute to McGill's character. Of course, it is the strength of our teaching and research, and the opportunity to interact with gifted students and faculty, which serve as the primary draw to choose McGill. But the pull of Montreal and Quebec is also critical.
There is no contradiction between McGill's global mandate for teaching and research, and the role we play in the social and economic development of Montreal, Quebec and Canada.
But we have to be good at walking a tightrope.
Many of you are aware of the debate going on in provinces and states throughout North America, as well as in countries around the world, regarding the link between tuition rates and accessibility. Quebec has been firmly on the side of strong tuition regulation, with in-province undergraduate tuition frozen at $1,668 per year since 1994, the lowest rate of any jurisdiction in Canada or the United States. Quebec has attempted to compensate for the impact of reduced tuition on university financing by becoming Canada's most generous provider of university operating support.
Unfortunately, as we are increasingly discovering in Quebec, no government can afford to go it alone when it comes to funding universities. The tuition freeze is affecting the ability of Quebec universities to provide Quebecers with an education that is truly competitive with that provided by North America's leading public universities.
Even worse, Quebec's decision to charge reduced tuition to all in-province students, including the children of its most affluent families, instead of charging higher tuition and subsidizing less affluent students with financial aid, has led to an unintended consequence: only 41% of Quebecers in the relevant age groups attend university. This rate pales in comparison not just to the U.S. rate of 63% and the OECD rate of 53%, but to Quebec's recent past.
We have asked Quebec to allow its universities to raise their in-province tuition rates to the Canadian average within three years, and to require all Quebec universities that do so to commit 30% of the increase in tuition fees to bursaries, with the remaining 70% being used primarily for long-postponed improvements to the quality of education. Universities should be required to report regularly on the impact that increased tuition rates and available financial aid have on both accessibility and degree completion.
We believe strongly that students, taxpayers, alumni and friends all have a role to play in the support of education and research. And we are joining a rising chorus of opinion leaders in making our voices heard.
In October, McGill hosted a conference featuring former premier Lucien Bouchard and a who's who of Quebec business, political and media leaders, commemorating the first anniversary of the publication of Pour un Québec lucide. Signed by 12 leading intellectuals from the federalist and independentiste camps, the manifesto challenged the sustainability of Quebec's large public sector, high tax rates and the underinvestment in higher education. It demanded immediate changes to avoid a drop in Quebec's living standards as its tax base decreases due to an aging population. The manifesto hit Quebec politics like a bolt of lightning.
The view of the Québec lucide authors on Quebec's low tuition policy was particularly welcomed not just by many Quebec universities, but also by a wide spectrum of commentators. As I noted in speeches to the Montreal Board of Trade in November, and to the National Assembly last month, Quebec's future depends on its ability to educate its people. It must be a global magnet for talent. Only by being more creative and more innovative will Quebec be able to compete with the best and the brightest in North America, Europe and the emerging economic giants of Asia.
Your university is helping to lead the way in a debate that will shape Quebec's future ability to adapt and compete. Action is needed, and it is needed now. For the people of Quebec, the time has come to do what is right. McGill is committed to social justice – and to a vibrant future for Quebec and Canada.
heather munroe-blum

Related links
A copy of the Québec lucide manifesto can be downloaded in French or English at www.pourunquebeclucide.com
A copy of "For a New Quiet Revolution" can be downloaded here.
A copy of the Principal's speech to the National Assembly can be downloaded at here.