Summer days not so lazy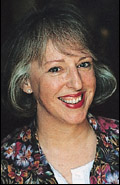 This issue's cover is a light and fanciful view of the downtown campus - a bird's eye look at relaxed summertime activities. But don't be fooled. There may not be rivers of students flowing up and down paths and sidewalks on their way to classes, but McGill is nonetheless a very busy place.
There are day camps for children in music performance, sports and science. An annual program for Japanese students wanting to learn English includes stays with families of McGill staff so that the visitors get a taste of Canadian home life. And, as you will read in our feature on green chemistry - an approach to doing science which promises to reduce toxic by-products - McGill is also hosting an international summer school on the subject to introduce the philosophy and techniques to scientists beginning their careers.
But what is least obvious and most important is the quiet hum of academic renewal that continues to revitalize McGill. The Canada Research Chairs program has helped the University attract professors from top schools around the globe, part of a ten-year initiative begun in 2000 to meet a wave of retirements as the baby boom's impact is felt. The chief architect of the drive to bring some of the world's best to McGill is Provost Luc Vinet, who has just been chosen to head the Université de Montréal. To paraphrase the old saw about not losing a daughter but gaining a son, McGill will certainly feel the loss of its Provost, but will enjoy the advantage of having a valuable friend and ally at our sister institution. Meanwhile, the good work he began in recruiting top scholars to McGill continues.
Among the changes in the academic ranks are the appointments of new deans in several faculties. Engineering welcomes Christophe Pierre from the University of Michigan, where he collected awards for outstanding teaching, excellence in research and exceptional service to the Faculty. His particular field of interest is vibrations and the dynamics of structures - important in the prevention of metal fatigue in aircraft, for example - but he's looking forward to partnerships with colleagues in other disciplines both here and outside McGill to further discoveries in fields like biomedical engineering and nanotechnology.
A McGill alumnus is returning to lead the Faculty of Management. Peter A. Todd, BCom'83, an expert in the use and organization of information technology, was Senior Associate Dean at the University of Virginia's McIntire School of Commerce.
The Chair of McGill's Department of Physics, Martin Grant, was the unanimous choice of the search committee to take over as Dean of Science from Allan Shaver. Luc Vinet says Grant "has a great vision of where the faculty should go," a result of his being part of a team which worked with Shaver on a planning document for Science. He will introduce new programs, including earth systems science and space science, and Grant is keen to have undergraduates more involved in research.
Out at Macdonald Campus, the deanship of the Faculty of Agricultural and Environmental Sciences will be assumed by Chandra Madramootoo, BSc(AgrEng)'77, MSc'81, PhD'85. This home-grown talent has extensive international experience as a project leader on water-related projects in Central Asia, Pakistan, Egypt, the Caribbean and India, and he helped found the Brace Centre for Water Resources Management at Mac.
There's also change afoot at the McGill News. Associate Editor Andrew Mullins is moving on after eight years in the position. Fortunately for me, Andrew was in place when I started as Editor in 1998 expecting to fill in for less than a year while a colleague was on maternity leave. He was extremely patient as he weaned me away from a Mac to a PC world and introduced me to the joys of magazine production. I quickly came to rely on him as a bright, literate writer and editor, as a technical expert who has dredged up more than one document I thought lost forever, and as a master of the razor-sharp witticism which has broken up many a staff meeting and kept the world in perspective.
The good news is that he'll be available to write for us on a freelance basis, so although we'll sorely miss him, his considerable talents will still serve the readers of the News.