PR for Pageants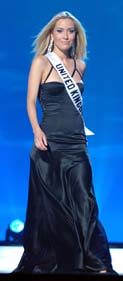 Brooke Johnston, BA'01, wants to put the kibosh on one enduring stereotype of beauty pageant contestants. "The notion that we're all really catty and vain is totally false. We aren't hoping that all the other girls will trip on stage. You find one or two bad seeds in any environment, but most of us really root for each other."
Johnston ought to know. She recently represented the United Kingdom at the Miss Universe pageant in Bangkok. Last year, she competed in the Miss Canada pageant. In 2003, she represented Canada at the Miss Earth pageant in the Philippines. When Miss India's luggage went missing at that competition, Johnston invited her South Asian competitor to raid her own wardrobe.
"The days of beauty queens who just had to look good in a swimsuit and say something about world peace are over," says Johnston, who believes that judges look for a little more substance in contestants these days. Born in St. Catharines, Ontario, and currently based in London, England, where she works in public relations, Johnston was able to compete for the title of Miss U.K. because both her parents are originally Brits and she holds dual citizenship.
At McGill, Johnston studied history and classics. At least one professor made a lasting impression. On the Miss Universe website, Johnston paid tribute to a teacher who sparked her interest in archaeology, McGill anthropology professor Michael Bisson. "He managed to make lectures and labs about 100,000-year-old rocks fun."
Natalie Glebova, Miss Canada, ended up winning the Miss Universe title and Johnston was pleased to see a fellow Canuck take the crown. "She's not only beautiful, but very bright and sweet."
Johnston believes her involvement in pageants has helped her conquer her shyness. "I used to be a terrible public speaker. Now I can get up on stage and talk in front of an audience of 5,000. And I can wear a bikini in front of [a television audience of] one billion."
Wrong Read on Reagan
For an easygoing, affable fellow, Ronald Reagan stirred up plenty of passion in others. Many on the left saw him as a war-mongering, mean-spirited reactionary. Right-wingers celebrated him as a dyed-in-the-wool conservative. Gil Troy thinks they all have it wrong.
"I often joke that studying Ronald Reagan is not for the faint-hearted - or the untenured," says Troy, a McGill history professor whose latest book, Morning in America: How Ronald Reagan Invented the 1980s, examines how "the Gipper" both shaped and was influenced by his times.

Reagan was more of a centrist than either his admirers or abhorrers care to admit, says Troy. His conservative tough talk, while gratefully received by the true believers, rarely resulted in any revolutionary policy shifts. Troy adds that though he was hardly a policy wonk, Reagan could be quite shrewd in advancing the causes he cared about most deeply.
One of the great achievements of his administration, the peaceful conclusion to the Cold War and the fall of communism, is a testament to how both sides get Reagan wrong. Reagan vilified the Soviet system (to the left's dismay) but quickly sized up Mikhail Gorbachev as a man he could do business with (to the right's initial consternation). Reagan's tough-minded strengthening of America's military put considerable pressure on the Soviets, while his yearning for peace and willingness to shift course enabled him to put that pressure to positive use.
Reagan's other great achievements stem in large part from the failures of his four predecessors, Troy believes. Having suffered through Vietnam, Watergate and the Iran hostage crisis, American national morale was low when Reagan came to power and his relentless optimism helped re-energize his country.
Troy's assessment of Reagan isn't altogether positive. He believes Reagan's policies encouraged a toxic rise in greed and self-centredness. The gulf between the haves and have-nots became greater. "Too many groups felt they weren't invited to the great American barbecue," Troy says.
One of the genial president's lasting legacies is the electorate's intolerance for public crankiness in their politicians. Troy teaches a seminar on Reagan at McGill and recently played New York governor Mario Cuomo's address to the Democratic convention in 1984 - a speech many believe to be among the best of the last 25 years - in which Cuomo assails Reagan for the toll his policies have had on society's more vulnerable members. Troy was surprised by his students' response.
"They all said he was too angry. And these are all people - mostly left-of-centre university students - who should have a natural affinity for someone like Cuomo."
Young Man Goes West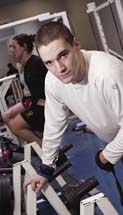 Andrew Dobrowolskyj
At 21 years and four months, McGill receiver Robert LeBlanc, BCom'05, was the youngest player chosen in the 2005 Canadian Football League draft in May. The Vancouver native was selected by the Edmonton Eskimos in the fifth round, 40th overall. Best of all, he got the nod on the same day he wrote his final exam. "To be finished with school and drafted the same day felt great," says LeBlanc, a two-time all-star in the Quebec University Football League who finished second among the league's receivers last season despite playing with a broken thumb.
In eight regular-season contests, the 6-foot-1, 190-pound slotback snared 30 passes for 486 yards, a 16.5 average per catch, and four touchdowns. He was the 2003 Quebec conference nominee for the Russ Jackson trophy, awarded to the player who best combines football with academics and community service. (He helped launch a group which conducted food drives and hosted kids from the Shriners Hospital and seniors at Redmen games.) LeBlanc is also a four-time Academic All-Canadian and honoree on the Principal's student-athlete honour roll.
LeBlanc enrolled at McGill in 2001, made the Redmen as a 17-year-old and quickly landed a starting role. The next year, he and his brother V.J., who graduated with a BSc in 2003, had the distinction of being the first brothers in McGill history to earn all-conference and Academic All-Canadian status in the same season.
LeBlanc is one of seven former Redmen attending a pro camp this year. He joins J.P. Darche, BSc'97 (Seattle), Randy Chevrier, BEd'00 (Calgary), Val St. Germain, BEd'97 (Ottawa), Samir Chahine, BEd'98 (Ottawa), Mike Mahoney, BSc'98 (Saskatchewan) and Jim Merrick, BEd'04 (Hamilton).
Brain Gain Maintained
McGill is drawing in some of the brightest minds from around the world, thanks in part to the Canada Research Chairs (CRC) program, created by the federal government to help universities attract world-class researchers. "We're continuing to bring in really high-powered, talented and exciting people," says Hudson Meadwell, Associate Provost.
McGill is the only university in Canada that has used the program exclusively for the recruitment of professors. It now boasts a total of 103 Canada Research Chairs, with three-quarters of the newest recruits coming from other countries, including the U.S., France, Germany and Australia.
Edward Ruthazer is one of them. Signing on to the Montreal Neurological Institute (MNI), he was recruited from the Cold Spring Harbor Laboratory in New York and is studying how nerve cells connect to one another in the brain. Looking at the "plasticity" of the circuits of the brain could help with therapies to treat developmental disorders and in recovery from injuries of the central nervous system.
"Receiving a Canada Research Chair played a large role in my decision to come to McGill," says Ruthazer. "[The chair] and other funding programs offered me the highly desirable opportunity to benefit from the strengths of McGill and to focus on science, instead of finances."
Darin Barney is another recent arrival. The new Canada Research Chair in Technology and Citizenship is the author of a critically acclaimed book, Prometheus Wired: The Hope for Democracy in the Age of Network Technology. In it, Barney examines how the digital revolution does not necessarily translate into broader democratic participation and opportunities for citizenry, and can in fact impede our personal freedom - through surveillance and control, for example.
Barney's new projects include looking at the recent restructuring of schooling in Canada in response to new technology, and the impact that has on the education of our young people. He'll also examine how technological change affects rural societies: what happens to rural Canadians, socially and politically, when new technologies replace old ones?

istockphoto.com
"There is a long tradition in Canada of critical scholarship surrounding the politics of technology," says Barney. "The CRC will make it possible for me to continue this tradition in the context of emerging technological challenges."
Barney and Ruthazer are just two of 19 academics joining McGill through the CRC program this year. This new McGill CRC expertise includes tracking epidemics with computer technology, investigating dark matter and dark energy in the universe, and looking at the importance of biodiversity in providing "ecosystem services" that help keep our water and air clean, protect us from extreme weather, and control pests and disease.