Warming Words
Sincere congratulations for the last issue of McGill News. The publication is always interesting and informative but I appreciated especially the article by Stanley Frost, "Prima Donna Donalda," and the one by James Caddell and Tara Newell, "How the Tsunami Changed Two World Travellers." It is truly inspiring and heart-warming.
I like also the pictures and notes about the alumni activities across the country. Continue your wonderful work!
Marie Zielinska, MLS'69
via email
Happy Memories
It was a thrill to receive my Winter issue of McGill News after such a long spell. I particularly enjoyed reading the interview with the new Principal, and I wish her well as she tries to fulfill her desires and ambitions for McGill and its students. She sounds so dynamic. Her unbounded energy is to be admired and envied.
I was also pleased with the article about Anne Coleman, since I too had a secret crush on Professor Hugh MacLennan, one of my most flamboyant teachers in English at McGill. There were others, like Gordon and McCullough (Classics) who made their lasting mark on my then "ignorant" mind. I have so many old photos of me sitting on the steps of the Arts Building that the cover of the magazine certainly brought back memories of youth and gaiety when I bounced up those steps to attend classes (1958-63).
By the way, please do have someone do an article as a "memorial" to RVC, where I lived for four years during my student days. Despite its rigid rules of dress and hourly passes (we all had to have a special pass if we were going to be out later than 11 pm), it was a lot of fun. There used to be fire drills at ungodly hours of the night to check on delinquent girls. When one girl was still out, her buddy answered "present" for her.
It would be great to have an "old girl" do some research and writing about RVC for a future issue. My best wishes for continued success in upcoming bulletins. I live in Spain but my heart is always in Canada.
Adios por ahora!
Marva Prada, BA'63
Burgos, Spain
It's Old News
You announced that McGill will offer a combined Arts-Science degree this fall and a recent article in the Montreal Gazette reported that thousands have applied. Here is a story that might interest you.
In 1894, my aunt, Mabel Walbridge, entered the Faculty of Arts, at that time the only Faculty that accepted women. We have a very faded picture of the graduating class of Arts 1897, including Mabel.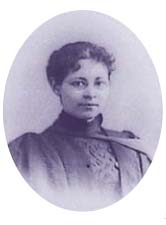 McGill Archives
Now the story. Mabel contacted the Dean of Science and explained that she wished to study Science, with a particular interest in Geology. Mabel and the Dean came to an agreement that she would "audit" all the Science lectures for four years, perform the laboratory work and write the exams, all the while studying for a BA. Mabel completed the requirements for a Bachelor of Science but could not receive the degree. Done - Arts and Science at the same time.
The Director of Trafalgar School for Girls in Montreal contacted the Dean of Science to explain the school's need for a science teacher. He would have to be carefully selected, the director explained, as he would be teaching the daughters of Montreal's elite. The Dean said, "I can do better than that. I can send you a qualified lady Science teacher." My aunt taught at Trafalgar for eight years. Thereafter, she taught physics in a Chicago high school for many years. She terminated her career as a librarian at Cornell University in Ithaca, N.Y.
So 108 years later, McGill is offering a "new" combined BA/BSc degree.
Stephen Walbridge, BCom'37
Pointe Claire, Que.
Family First?
Could you tell me the name of the first woman graduate of McGill?
Someone said my ancestor, Emily Goodwin, was first.
Thanks.
Janet Erskine, BLS'54
Sackville, N.B.
Ed. note: According to Emeritus Professor of Education Margaret Gillett's book We Walked Very Warily, the first woman to receive a diploma from McGill was Mina Douglas in 1877, who received her Senior School Certificate. The members of the first graduating class of McGill in 1888, the "Donaldas," were Eliza Cross, Martha Murphy, Blanche Evans, Octavia Grace Ritchie, Jane Palmer, Alice Murray and Donalda McFee. No luck so far in tracing Emily Goodwin.
On the Street Where We Live
Once in a while I get the urge to write to the University - the administration, a faculty, a library, or other specific area - and I don't know how. I'd like to see in one issue each year a page of the postal (and perhaps e-mail) addresses of the heads of the various branches of the administration, the deans of the faculties and schools, the heads of ancillary services or installations (libraries, museums, etc.). I suggest the fall issue so new students could send it home so their parents might feel closer by having a sort of McGill directory at hand.
At the moment, I should like to address the Dean of the Faculty of Music. How do I address a letter to him? Perhaps McGill has an efficient mailroom that sorts all incoming mail and delivers it (assuming there is an "Attention of" tag affixed), but I cannot even find a general address for the University.
P.D. Tuttle, BEng'40
Marshall, Texas
Ed. note: We put Mr. Tuttle in touch with Dean Don McLean and will consider his suggestion. In the meantime, we would advise readers that McGill's website does contain extensive contact information (even maps showing building locations), although it is a little subtly placed. For instance, McGill's home page (www.mcgill.ca) gives the general address for the University at the very bottom of the page. If you follow links to the faculties, schools or departments shown at the top of the site, you will find contact information for each unit in the same location. Other helpful tools which appear on all centrally administered McGill web pages are a staff directory and a unit directory, as well as a search box. These are shown at the top right-hand corner.
Heroic Hall of Famer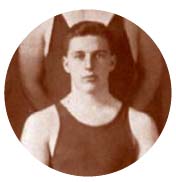 I always read the McGill News with great pleasure cover to cover. I was delighted to be reminded of George Hodgson in the article on the McGill Sports Hall of Fame. He was 19 when he won his Olympic gold medals in the 400- and 1,500-metre freestyle swimming events. I had the privilege of looking after him in the early 1980s as his physician and he told me an interesting story. He had visited Dr. Eva Arendt-Racine, BA'41, MDCM'49, at the Montreal General Hospital with a rheumatic complaint.
She asked him, "Do you like to swim?"
"Yes!" he replied.
"Then you should take up swimming regularly. It will help your joints," she advised, not realizing his sports background!
It must have been good advice as he swam regularly at the Montreal Amateur Athletic Association well into his 80s.
Ian M. MacDonald
BSc'72, MSc'74, MDCM'79
via email
Ed. note: George Hodgson won medals for prowess in the water not only at the 1912 Stockholm Olympics. Serving as an officer of the British Royal Naval Air Service during the First World War, he received military medals for heroic rescues made at sea.
Ring Again
I read "The Return of The Ring" in the Spring 2005 issue of the News and am hoping that someone will be able to help me with a lost ring. My mother, Edna Beatrice (Rettie) MacRae, who graduated with a Bachelor of Household Science from Macdonald College in 1940, would like to obtain a graduation ring from her year. You see, she lost her first ring and then it was found, only to be lost a final time shortly after.
She is in her 88th year, living in a nursing home in Kingston, Ontario, and is in dialysis treatment three days a week at Kingston General Hospital. She is an absolutely dear mother who has all of her mental faculties and loves to read, even though macular degeneration has recently been diagnosed. She is such a positive person and she is my hero. Although there are many limitations to her life, she makes the best out of every challenge that comes her way.
I am her only daughter and would love to fulfill her dream of obtaining one of these original rings (any size is great, she says she'll wear it on a chain around her neck). Perhaps someone might even be able to provide me with a photo so I can have a replica made for her. They apparently changed that style a year or so after her graduation, and that is why mom never got one after losing hers.
She told me that there was a McGill crest at the top and that there were red stones (ruby-like) and pearls (two or three of each) on either side.
I can be reached at (514) 697-2437. Thanks to your readers for any help.
Liz MacRae
Pointe Claire, Que.
All Fired Up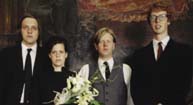 I wanted to thank you for including your blurb on the musical group Arcade Fire in the Winter 2004/05 edition of the McGill News. Spurred on by your article and friends in New York raving about the band's debut album Funeral, I decided I had to check out their European debut in London in March.
Sadly, the show was completely sold out. I decided to go anyway and waited outside the tiny concert venue at King's College in central London hoping to find someone with an extra ticket. I was not the only one - I bumped into a few other McGill alumni and former Montrealers who were also looking for tickets. The gods were smiling on me that day and I found a ticket for only £10 and thoroughly enjoyed the concert. The raw energy of the band filled the room and they certainly made a huge impression on the music industry movers and shakers in the audience.
It's not at all surprising to me that the McGill environment nurtured such great creative talent. Watch this space - I am sure Arcade Fire will go on to continue to create great music!
Imran Amed, BCom'97
via email
Timely Topic
I read with interest the article "Battling Bird Flu: Are We Facing a Pandemic?" in the Spring 2005 issue of the McGill News. Thank you for this informative article that demonstrates the value of McGill's researchers to current, topical news issues.
Jason Latremoille, BA'99
via email
Big Day Remembered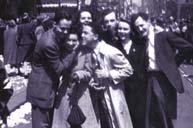 In the In Memoriam column of the latest issue, I noted that Dr. J. Pepper passed away in November 2003. This item, together with the current emphasis on VE-Day, brought to mind some old snapshots I had been looking at recently. I thought one would be of interest.
The enclosed photo, taken by yours truly on VE-Day on Montreal's St. Catherine Street, shows a group from the old Pulp and Paper Research Institute. The four men, from left to right, are Ramsey Christian, BSc'42, PhD'46, Ronnie Glegg, BSc'43, PhD'46, Jim Pepper, PhD'43, and Ray Lemieux, PhD'46, DSc'84. The two women in the background were staff members of the CPPA Technical Section whose offices were in the PPRIC building. The other woman is unknown to me.
Jim Pepper, who received his PhD in 1943, stayed on at McGill until the end of the war working on defence projects. The other three were graduate students working under Professor Purves.
A little bit of history.
Hugh McFarlane, PhD'50
Surrey, B.C.
Ed. note: Thanks to Hugh McFarlane for the photo. For history buffs, there is an item in our Newsbites section on a special web page to remember McGill participation in World War Two. This issue's Epilogue goes back even further to cover battles of a different kind. In the 1800s, university football was so brutal it was banned, but it was a McGill team that eventually helped shape the modern North American game.