A Great Place to Do Business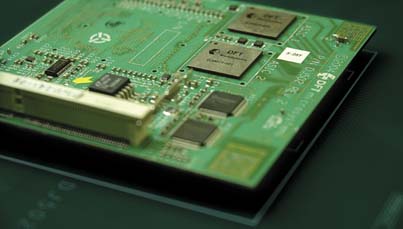 McGill Engineering researchers are succeeding in the marketplace with a wide range of technologies.
"Engineering research is motivated and driven by problems," says Frank Ferrie, Associate Dean, Research. "Very often, industry problems complement the scientific research we do." When industry and academia come together, the Office of Technology Transfer (OTT) officiates at the ceremony.
Richard Bruno, BSc'67, became the Director of the OTT last summer, the latest position in a lively career in which he has been an academic; chief technical officer with Philips Electronics, spearheading the development and standardization of optical media for Sony-Philips; and an entrepreneur who built and sold several companies. Bruno meets regularly with Ferrie and the dean of Engineering to discuss technology transfer issues.
"We have a very effective satellite office in Engineering," he says, noting the faculty's success in getting the goods to market. But there can be challenges in getting university culture to consider the morass of issues surrounding business beyond the Roddick Gates. While the concepts of technology transfer and academic entrepreneurship are certainly in the air, most faculty members are still learning the processes involved.
When a professor decides to commercialize a technology, the OTT manages the entire contractual side of the process. Tasks include licensing, setting up spin-off companies and up-front coordination with the professor of all details associated with the production process. Similarly, professors with industry-sponsored research contracts are assisted by the OTT in the negotiation of the contracts right through to the end product. Progress is monitored by the OTT throughout the entire process, to ensure that the project performs as the partners expect.
"But that's in an ideal world," says Bruno. Currently, the world of McGill is still on the path to achieving that ideal. "A lot of deals start off with the professor having a discussion with a company, but if the professor starts negotiating financial details, underselling his or her project and the contract terms, and then goes to the University to get a rubber-stamp signature, often we have to un-negotiate things - which is frustrating to everybody."
The OTT's responsibilities involve making certain that the professor and the University are properly insured, are working at an appropriate market value and are not in a conflict of interest situation. Bruno has developed a series called Workshops on Entrepreneurialism and Technology Transfer, which uses real-life tech-transfer case studies to familiarize faculty members with the OTT's role and that of the researchers themselves. "When professors come to us saying they've had discussions with companies and ask us to negotiate terms, we embed them in the process," he says. "They are part of it."
But professorial culture isn't the only thing changing: Bruno has also revamped the OTT itself. "You need to interact with the market as quickly as possible," says Bruno. "At McGill, researchers are giving us an incredible range of technology, everything from nanotechnology to robotics to photonics to flexible plastics." But how does one get marketable innovations to industry efficiently?
"We already have the technical staff who meet with the University researchers," he says. Recently, he has been busy hiring and training business development and marketing people who will confer with OTT officers to translate new technologies into business opportunities. Once the opportunities are identified, the business development staff will put together a strategic business plan and a marketing package that they can bring to the relevant industry sectors. "And it will be wrapped up in a package that says, 'McGill is a great place to do business,'" Bruno says with satisfaction.
"Richard has a lot of experience, both on the academic and industry sides," says Ferrie. "He understands the dynamics that exist between consumers of our research and the academic scientists. We want to interact with industry and at the same time do all the things that academics must do." The faculty is also developing strategies to help get its research to the public. "We're understanding the needs of our faculty first. Then it becomes easier to engage people outside," says Ferrie.
Initiatives such as SYTACom, the new McGill-based Centre for Advanced Systems and Technologies in Communications, will cultivate industry relations. "We are also developing a phenomenal group in nanomaterials, and it will be exciting to see what happens in that area," he says. "We want to organize ourselves to connect disciplines and to build strengths. Then we have to let people outside see what kind of work we're doing. It's a process of engaging industry partners."
One example of bringing academic research to market is found in the DFT Microsystems office, overlooking Ste. Catherine and University Streets in Montreal, where they are launching a technology that could revolutionize testing of integrated chips (ICs). These tiny squares of silicon, carrying millions of transistors to make up an electrical circuit, are the building blocks of the computer age but, while ICs have been shrinking over the years, the equipment used to test them has remained massive and slow.
"There had to be a paradigm change," says Mohamed Hafed, BEng'97, MEng'98, PhD'02, senior member of the DFT technical staff and company co-founder. The company, whose acronym stands for "Design for Test," plans to shift that paradigm with a product both less expensive and faster than current technology, slicing test time from a matter of minutes to a few seconds. As every IC has to be tested, DFT is offering considerable savings in time and money for its clients.
Founded with seed money from MSBi Capital, a venture group supporting technology transfer from McGill, Sherbrooke and Bishop's Universities, DFT had a cohesive team from the beginning; most of its members carried out their graduate research in the McConnell Building lab of the Department of Electrical and Computer Engineering. Professor Gordon Roberts, who took a temporary leave from McGill to serve as DFT's President and Chief Technology Officer, says, "We weren't thinking about forming a company, but we filed four patents based on our research and then started looking down this path." McGill owns stock in the company and receives royalties on the patents developed in the University's labs.
"Business is often mysterious to engineers," says Hafed. "But in differentiating our product from others on the market, we're doing something similar to what a researcher does in finding new and important problems to investigate. We're trying to keep it real by addressing issues that people are facing." In November 2004, Hafed won one of three inaugural Young Innovator awards established by the federal Networks of Centres of Excellence program to recognize researchers across Canada who have moved a technology from academia to the market.
"In university research you are less constrained and are allowed to dream," says Hafed. "Here we're focused on one thing." But that focus still allows flexibility of a sort. "Everyone is involved in everything. If I need to be working on the bench, I'm there," he says. Recently, Hafed's main role has shifted to market research, identifying customer needs.
DFT's team has retained its focus through the move from academic labs to downtown offices. Working alongside Roberts and Hafed are a group of McGill engineering graduates: Antonio Chan, BEng'99, MEng'02, Geoffrey Duerden, MEng'02, Sébastien Laberge, BEng'99, MEng'02, Bardia Pishdad, MEng'02, and Clarence Tam, BEng'99, MEng'02. "We are a small company, so everybody's effort counts; you can see how your contribution affects the big picture," says Hafed. "And you become well-rounded. The other guys are designers, but they are doing all sorts of things."
Roberts agrees. "Everyone is still here and feeling positive," he notes. "We have the right group of people."