Honours and Awards Recipients 2005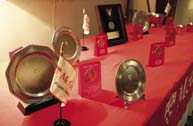 PHOTOS BY NICOLAS MORIN
It's too late, you missed it. The McGill Alumni Association's Honours and Awards Banquet has always been a popular event, and this year was no exception. The MAA gathered at the St. James's Club on May 19 for great company and bad jokes, and to pay tribute to some of the best volunteers of the year among McGill graduates, friends, faculty, students and staff. The News is pleased to offer warm congratulations to all award winners and thank all of McGill's extraordinary volunteers. For those who didn't make it to the event, here are some snapshots of the evening's highlights.

Award of Merit
Derek Drummond, BArch'62
D. Lorne Gales Award
Engineering Class of 1944
E. P. Taylor Award
Eric Rodier, BCom'67, MBA'73
Michel Saint-Cyr, BEng'68
Event of the Year
100th Anniversary Dentistry Ball
David Johnston Award
Deborah Buszard, Dean of Agricultural
and Environmental Sciences
Charles Peters Branch of the Year
McGill Alumni Association of Northern California
Distinguished Service Awards
Roland Greenbank, BSc(Agr)'47, DipEd'56
Angela Arkell, BA'67
Eleanor Nicholls, BA'70, PhD'94
President of the Year
Lloyd Olsson, BSc'83, New York Branch
Honorary Life Membership
Don McLean, Dean of Music
Student Leadership Awards
Andrea Drager, BCom'05
Eileen Lam, BSc'05
Emeritus Professor of Architecture Derek Drummond, renowned host of the Leacock Luncheon and fundraiser extraordinaire, receives the Award of Merit from Master of Ceremonies Michael Richards, BA'60, BCL'63.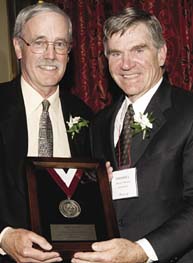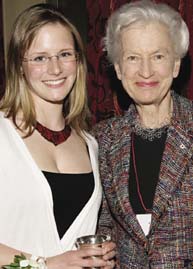 Andrea Drager, BCom'05, received a Gretta Chambers Student Leadership Award from Chancellor Emerita Chambers, BA'47, DLitt'01, herself.

Dr. Herb Borsuk, DDS'72 (far right), was the head organizer of the 100th Anniversary Dentistry Ball which won Event of the Year. He had some special guests on hand, including (left to right) Amy Archambault, DDS'01, Andy Larocque, Debbie Larocque, director of the Faculty's Development and Alumni Relations Office, Dean of Dentistry Dr. James Lund, Andrew Toeman, DDS'66, Paul Morton, DDS'03, and his wife Eileen Borsuk, BPhysTher'72, BSc(PT)'86.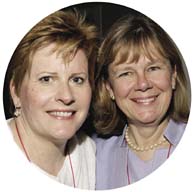 Deborah Buszard (right) was presented with the David Johnston Award and is shown with Vice-Principal (Development and Alumni Relations) Nancy Wells.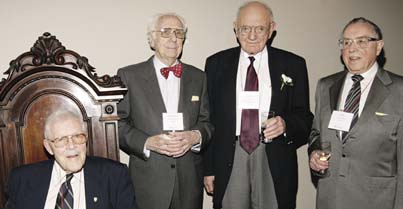 Members of the Engineering Class of 1944 received the D. Lorne Gales Award for maintaining close ties to McGill and for their special fundraising projects, providing more than $2 million to the University over the years. Show here are class organizers Rex Ford, BEng'44, Reuben Brasloff, BEng'44, Tom Pavlasek, BEng'44, MEng'48, PhD'58, and Joe Josephson, BEng'44.
Rié Shigematsu Collett, MBA'96, president of the Northern California branch of the Alumni Association, accepted the Charles Peters Branch of the Year Award from Gordon Peters.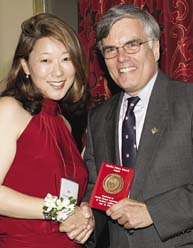 Eric Rodier, BCom'67, MBA'73, received the E.P. Taylor Award and is shown here with his wife Donna, BOccTher'69 (left), and the Director of the McGill Annual Fund, Wendy Corn, BA'82.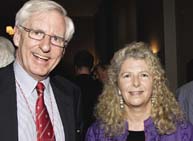 Eleanor Nicholls, BA'70, PhD'94, received a Distinguished Service Award and is shown with Kip Cobbett, BA'69, BCL'72.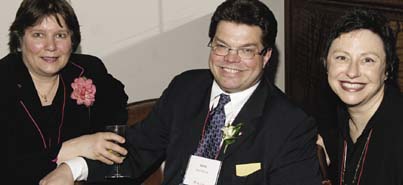 Dean of Music Don McLean received an honorary life membership for leading the Faculty of Music through a period of remarkable growth. He's shown with his wife, Diane Martello (left), and Dr. Jocelyne Feine.
Lloyd Olsson, BSc'83, was named President of the Year for his great work with the New York alumni branch and is shown here with Alumni Association Board member Louise Kierans, BA'84.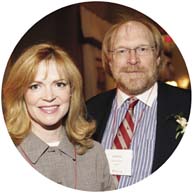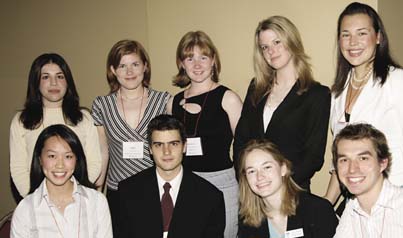 Eileen Lam, BSc'05 (front row, left), received a Student Leadership Award for her wide range of volunteer work, including serving as president of the Student Organization for Alumni Relations (SOAR). With her are SOAR members and friends (top row, from left) Penny Alexandrou, Abby Samp, Jessica Snelgrove, Shawna Starnes, Nina Resetkova, BSc'05; (bottom row) Bosko Milekic, BEng'05, Katherine Rhodes, BA'04, and Jean Bernard Ricard.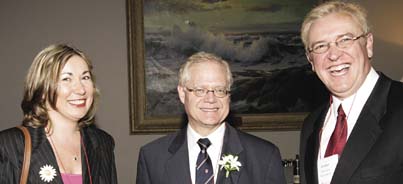 E.P. Taylor Award winner Michel St. Cyr, BEng'68, is pictured with his wife, Ingrid Vanden Hecke, and Harry Zarins, BEd'74, MEd'79 (right).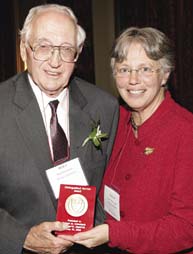 Roland Greenbank, BSc(Agr)'47, DipEd'56, was presented with a Distinguished Service Award by Alumni Governor Sally McDougall, BSc'68, DipEd'69.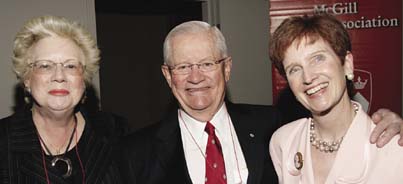 Executive Director of Alumni Relations Honora Shaughnessy, MLS'73 (right), is pictured with Warren Chippindale, BCom'49, LLD'95, and Joan Chippindale.
Distinguished Service Award winner Angela Arkell, BA'67, is a long-time organizer of the Vancouver Leacock Luncheon and is shown with its well known master of ceremonies.