Homecoming and Human Rights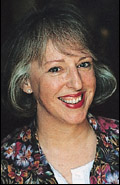 Homecoming is almost upon us and the excitement is building as it always does with just a couple of weeks to go. We've reached the ticket sorting, speech polishing, flower ordering stage of preparation when adrenaline begins to overcome fatigue. The worker bees right now are primarily those in Development and Alumni Relations, but the tingle of anticipation reaches right up to the Principal's office and through all the faculties and schools on the downtown and Macdonald campuses as deans and directors, faculty, staff and students prepare to meet and greet thousands of returning grads.
There will be the traditional activities - the always-popular Leacock Luncheon, which now attracts close to 800 guests, the Homecoming football game, the rugby game at Macdonald where courageous alumni take on a student squad, and the anniversary class dinners and receptions.
But it's not all sports events and schmoozing; there's plenty of food for thought as well. For instance, the School of Architecture will host a symposium on the life and achievements of John Bland, BArch'33, who directed the school for 30 years, the Faculty of Education will look at who is "special" in our increasingly diverse world, while at Macdonald Campus, a panel of experts will discuss the world's food supply and how it is affected by genetically modified organisms.
A highlight of the "academic" side of Homecoming will be a talk under the auspices of the Faculty of Graduate and Postdoctoral Studies by Mary Robinson, former UN High Commissioner for Human Rights. Before her UN appointment, Robinson was president of Ireland, and she made her presence felt in both jobs. The Irish presidency had been a largely ceremonial post, with lots of handshaking and ribbon cutting. Robinson brought feminist, socialist and human rights issues to the fore, and signed into law bills making contraceptives available and decriminalizing homosexuality.
Once appointed by Kofi Annan to the UN post, she challenged nations that abused human rights, regardless of size or influence. She took on everyone from Algeria to the United States and decried the suspension of basic rights under the guise of fighting terrorism. She spoke of the need to stand up to bullies and be "an awkward voice." In a Salon.com interview, Robinson said, "I came into this position to do a job not to try to keep a job."
Robinson now heads the Ethical Globalization Initiative, whose goal is to bring norms of human rights into the globalization process. She looks to organizations like universities to help promote the links between the establishment of human rights and the acceleration of social and economic progress in developing countries.
As well as being time for Homecoming, October is Stamp Collecting Month around the world. Our spring issue this year reported on philatelic connections to McGill, and last week, another three alumni were commemorated by Canada Post. Eight stamps were unveiled to recognize more than four decades of this country's involvement in space exploration, one for each astronaut who has been part of space missions. Our out-of-this-world alumni are Robert Thirsk, MDCM'82, Dave Williams, BSc'76, MDCM'83, MSc'83, and Julie Payette, BEng'86, DSc'03.
Three out of eight ain't bad, and another set of McGill achievers was recognized recently. Four of the ten finalists in the "If I Were Prime Minister" essay contest are McGill students. Sponsored by automotive manufacturer Magna Inc., the contest asked what political vision students would offer "to improve our living standards and ensure a secure and prosperous global community."
Finalists Noah Billick, Nicholas Gafiuk, Reynolds Mastin and Amitabh Saxena, BEng'02, responded with suggestions ranging from reform of the United Nations to establishing a knowledge bank of expertise that developing countries could draw on. Each earns $10,000 for making it this far (there were 500 entries across the country), and the next step will be to defend their ideas before a panel of judges. The big winner, to be announced in November, gets another $10,000 and a year-long internship at Magna or with an NGO. A Magna spokesman told the McGill Reporter that he couldn't recall such a large contingent of finalists concentrated at one university before.
Better keep an eye on these students - one of them just might make it to the PM job one day. At least they'll be going in with prize-winning policies.