Weighty Matters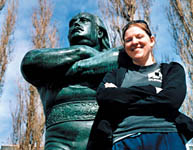 Linda Dawn Hammond / indyfoto.com
Pavia, Italy, is quite a piece away from Whitehorse, Yukon. For Jeane Lassen, it's the latest of many places around the world where she has earned a bunch of weight-lifting medals since leaving her home in the North five years ago.
Now 22 and a Canadian record holder in her sport, Lassen began weightlifting at the age of 12, training in a shack in the dead of the icy Yukon winter. Back then, she participated in just about every sport her junior high had to offer. "Weightlifting was something my coach suggested to me since it complemented my other sports - and it got me out of doing the dishes. I didn't take it that seriously until I started winning some medals."
In her fourth year of study of teaching English as a second language, she's able to lift 276 pounds - about the weight of a baby elephant - over her head. You'd never guess it to look at her. Weightlifters, contrary to popular belief, are not to be equated with bodybuilders. More muscle can be a hindrance in weightlifting, as it can interfere with flexibility. Also, since it is a sport with weight classes (Lassen is in the 69-kilo class), athletes don't want muscle mass that doesn't contribute to performance.
Weightlifting dates back to the ancient Greeks and Egyptians. It was one of only nine sports featured at the first Modern Olympics in 1896, but it was more than 100 years - at Sydney in 2000 - before women entered Olympic competition.
"I train a few hours a day or so," she says, a major time commitment when you factor in school, tutoring and a part-time job, but one that has definitely paid off. At the University World Weightlifting Championships in Italy in July, Lassen placed second overall, earning three silver medals. The sport has taken her farther than she ever imagined while training during those long Whitehorse nights. She's performed in competitions from Japan to Bulgaria and so far, she says, the most memorable trip was to Cape Town, South Africa. This summer's competition in Pavia left something to be desired, though. She sums it up as: "Not well organized, no sightseeing, no pizza and no air conditioning - in the middle of the European heat wave!"
In November, Lassen will compete with the Canadian team for a shot at the Olympics. If all goes well, she will be travelling again come 2004 - this time to Athens, Greece.
Heard the One About the Blaring Cell Phone?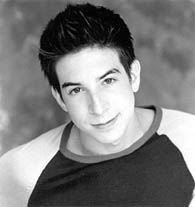 It was the chance of a lifetime and Ryan Wilner, BCom'03, was facing off against top comedic talents from across Canada. Performing recently at the Montreal Just For Laughs comedy festival's annual "Homegrown Comic Competition," Ryan Wilner was on a roll. Then some knucklehead's loud cell phone rang in the middle of his act.
"I had a split second to decide what to do - should I go on with the routine or address the interruption? I decided to address it in a major way," recalls Wilner. There were expletives aplenty and intimations of violence towards the perpetrator. The audience, no fans of bad cell phone etiquette, roared its approval. The event's judges were so impressed with how Wilner dealt with the unscripted intrusion, they pronounced him the winner. He didn't learn until the competition was over that the cell phone culprit was his uncle.
Just for Laughs is the world's largest comedy festival and it is renowned for transforming such comedians as Tim Allen and Ray Romano into sitcom stars. "As a comic, you're always being judged, but this competition was especially nerve-wracking," says Wilner, although this wasn't his first success. He was a finalist for "best newcomer" at the 2001 Canadian Comedy Awards and he starred on the YTV sitcom Radio Active for several years.
The baby-faced Wilner - as a 21-year-old, he easily passed for the young teen he portrayed on Radio Active - pokes fun at his own youthful appearance in his stand-up routine. He also makes ample use of some of his most miserable experiences - including failing one of his McGill courses. "When my heart gets broken, it's worth it if I'm able to do a good joke about it."